Being on a work sabbatical because of an important exam coming up, I usually spend my days and evenings going over to my girlfriend's apartment to study whenever she is not there, so as to babysit our new puppy. It is more quiet over there as I am alone at her place, unlike my apartment filled with UPSC coaching friends discussing about issues and subjects that I cannot afford to take part in right now.
There are actually two puppies, one is ours and the other belongs to my good friend Tawia (Zorema) who can't keep the puppy with him for the time being because he is still busy currently relocating. And of course I am just shamelessly using the pronoun "our" even though technically they belong to my girl (and I miserly never spend a dime on their expenses like food, milk etc) because in a relationship, everything becomes "our" "our" "our" and "our", like "our newspaper bill", "our gas stove", "our water supply", "our eyeliner"

And of course my girlfriend asks, "If everything is "ours", then how come you never spend anything on OUR puppies?" and I would look deep into her eyes and softly whisper, "I love you".
Because of my exam, I cannot afford to socialize. And with my girlfriend always at work, these two puppies have become the perfect companion one can ask for. The only time they ever disturb me and my studies is when I would spend a couple of minutes just looking at them, admiring them, the way they sleep, the way they play, the way they behave, the way they learn… they are so human and adorable.
For 2 months I have watched them grow up now. 2 months I have fed them their meal, cleaned their crap, wiped their pee, scolded them when they are naughty, hugged them when they act cute, walked them at the park, shared their pain when anyone steps on them, and tried my best to toilet-train them. In two months, I have gone through that fatherly nostalgia every dad goes through. Because they are not even 3 months old yet, and they are already sooo big! It's like looking at evolution on a fast-forward mode.
2 months ago, while searching on the net for puppies to buy, we came across one such advertisement. Malleka Gupta. From that day onwards, our life has changed forever.
Malleka's one of the sweetest person I've ever met online. When I called her up and asked her about the cost of the puppies, she surprised me by saying it was free! I then had to answer a barrage of questions ranging from what I do for a living to how experienced I am with pets! It felt like one of those "good cop – bad cop" interrogations on those American TV Cop shows, except that she was playing the role of a "bad cop" most of the time. Lolz

Nah, it wasn't that bad, but she was extremely concerned about her puppies and wanted to be a cent percent convinced that her puppies will be in good hands.
So while I was in Mizoram last September, my girl and two other friends of mine met Malleka and were given three lovely "Indian" puppies. I heard a lot about them over the phone and finally got to meet them when I got back to Delhi.
Love them!
Since then, Malleka had become a very good friend and we would talk over the phone about pet and stray issues here in India. There is still one puppy left for adoption. It's a female, and she already got her first two vaccinations, is properly toilet trained, understands some of the basic commands and is a whole lot of fun and excitement.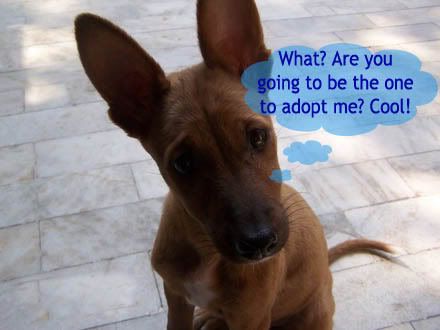 It will also save you so much trouble of dealing with all those irritating crying in the middle of the night or uncontrollable bladder release anywhere they please. And at the same time, the puppy is old and clever enough to give you all the companionship and love you can wish for. And the best part is,
it's free!!!
So what are you waiting for? Contact Malleka immediately on the following details given below. Plus this will also be a great chance to get to know all the other wonderful people who have taken her puppies up for adoption, as Malleka plans on conducting an "Adopters get-together" party sometime later in the upcoming future, a BYOP (Bring Your Own Pup) party

. Yes, even Malleka herself doesn't know about this plan of hers yet

And oh guys, did I not mention Malleka's very sweet and cute too?
Name: Malleka Gupta.
Residence: Sarita Vihar, New Delhi.
Phone number: 011-26940653.
email: guptamalleka@gmail.com
Orkut id: Adopt Me.
All together, she gave us three puppies. One for my girlfriend, one for Tawia, and one for nu Mateii's family. My girlfriend named our pup "Tawia", and Tawia named his "Michael Scofield". But since we are looking after both of them, both the puppies respond only to the name "Tawia" and they now think it is both their names! There is nothing more funny than Tawia having to call his own puppy "Tawia"

The original "Tawia" is our favorite one, because he is extremely dumb! He is stupid in that very cute way. I mean he is clever enough to recognize me and stuff, but he does a lot of really really stupid things. Like for example, when I play with the dogs, I cannot fool Tawia's dog with the same trick at one stretch. But I can fool our puppy with the same trick over and over again, and he will always fall for it. If I cover Tawia's dog with a sheet and call him, he removes the sheet first and then comes running to me. If I do the same on "Tawia", he comes running towards the sound of my voice with the sheet still over his head, banging on anything that lies in his path!
Tawia's dog was disciplined much earlier than "Tawia" because we never used to scold "Tawia" as much as we scolded Tawia's dog, as "Tawia" simply never used to do anything bad. Eventually, when he did started doing bad things (chewing on the cable wire, tearing newspapers) etc, it was nearly too late because if we slap him, he thinks we are playing with him, and he would roll on the ground in that cute way, making it impossible for us to act as if we are angry and scolding him. Sigh!
This was when they were small. Picture taken 2 months ago. Now one of them doesn't even fit inside the cardboard box.
Yes, aren't they just adorable? The one on the left with the black nose is "Tawia". The dumb one. The one on the right is Tawia's dog, "Michael Scofield" [of Prison Break]. What a stupid name for a dog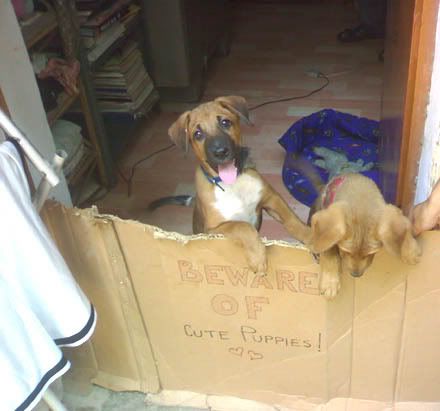 And of course we are the victim of many smart-ass remarks because of the sign we put up below our door. Like, our dear friend u Mafaka (of Delhi Mizoram House) who comes regularly to our place, and on seeing the puppies exclaimed, "Oh my God! You're puppies are soooooo cute! Are they, by any chance, cute puppies?"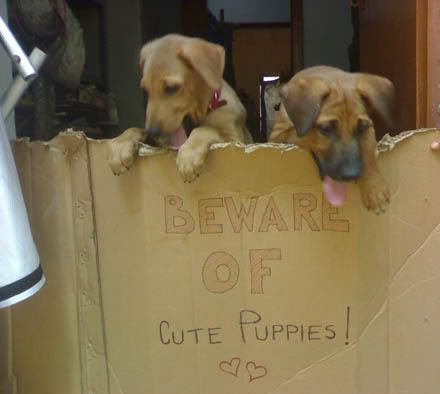 Another reason why I love him so much. He sleeps in a very unorthodox position, always!
Hence the reason why I just love Malleka's little puppies, and am ever grateful to her for making our lives so much brighter, exciting and full of fun. I pray that our puppies' sister will also find a warm loving home soon.
-------------------------------------------------------
Breedism: A form of non-human racism.
The other day we walked into a pet shop, a reputed pet shop at Khan Market, to buy food and accessories for our extremely adorable new puppies. We walked up to the counter.
"Good afternoon sir, good afternoon madam."
"Good afternoon. Uhh… we are looking for some food, collars, food tray and all the other
stuff
, you know, for our new puppies."
"Of course we have all the things you require, Sir. What breed is your dog?"
"Indian."
I noticed the immediate raised eye-brow. His smile disappeared for a fraction of a second (probably less than 1/100 of a second, if I was allowed to exaggerate), but it felt like eternity to me (no exaggeration this time). He of course immediately reverted to his calm and cheerful self. His eyes and smile lied, but that brief moment of facial expression betrayed everything.
That's the problem here in India. You say "Indian breed", and the most common reaction one gets here is of utter disgust. Because Indian breeds are always held synonymous with stray dogs. I don't blame them, after all, that's the breed stray dogs here in India supposedly belong to.
I really used to hate those so called "dog lovers" who put on a theatrical "awwww chhoo chweet" expression whenever they see a well groomed expensive pedigree, but immediately show a disgusting "ewwww" at a malnourished street dog. I wondered how such people could call themselves "DOG lovers" and I used to think they were better off carrying the snooty tag "High breed Pedigree Lovers" rather than "dog lovers".
But when you really think about it, I guess it all boils down to "one man's Indian is another man's Pedigree". A self-acclaimed "food lover" (or "foodies" as the P3 calls them) need not necessarily love EVERY food, and are usually crazy about only those exotic dishes. Likewise, a so called "car lover" won't even look twice at a rickety old ambassador, or how a "bike lover" is in love only with the imported ones.
But one fact remains clear: Indian breeds are called strays because of us. None of them ever wished to become strays out of their own volition; it is society that makes them strays. If only there are more people like Malleka Gupta, then we can truly rid India of all its strays.