I made a new blog resolution. Having crossed my
200th post
recently, I am going to call it my Bicentennial resolution.
| | |
| --- | --- |
| | To read at least one fiction novel a month, written by somebody who does not belong to the mainstream group of fiction-thriller I usually read like Jeffrey Archer, Robin Cook (L), Robert Ludlum (L), Louis L'Amour (L), Tom Clancy, Ken Follett, Frederick Forsyth, Mario Puzo and Ian Fleming. |
Like how my good friend P would always criticize me: "sheesh, you guys are all so predictable! You're all a bunch of typical stereotyped males with no appreciation for real literature".
And then we would get into a never ending argument about how my Ludlum main character could kick the ass of her Nora Roberts main character.

Anyway, jokes aside, such type of books, the number I have read, on my fingers, I could count, meekly.
Made a resolution to read such a book every month, and I'm telling you, the experience and journey were amazing right up to the very last punctuation.
The book I am talking about is "Half of a yellow sun" by Chimamanda Ngozi Adichie, and I highly recommend that you read it too.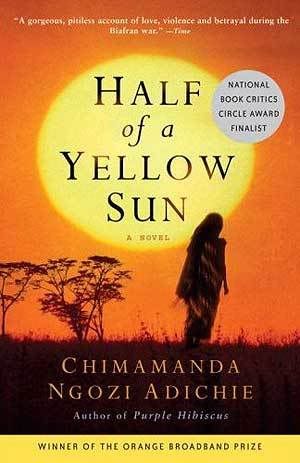 Also available in other covers:
For those of you who were moved by movies like
Hotel Rwanda
and
Sometimes in April
and could watch them over and over again, this novel is a must read.
Even till now, I go teary-eyed at that part in "Hotel Rwanda" when all the foreigners were just about to leave in the bus amidst the rain and then suddenly a voice cries "No waitttt!" and then we see an exodus of people hoping to be transported along with the white people while the song of Wyclef Jean's
million voice
** in
Kinyarwanda
dialect is played in the background.
Ni ryari izuba rizagaruka hejuru yacu? Ni nde uzaricyeza?When will the sun return above us? Who will reveal it to us once again?
** nominated as best film song for the Golden Globe in 2005 and the Grammy Award in 2006.
Like I said before, this book was a totally new experience for me. It's about the civil war in Nigeria during the Biafra separatist movement in 1967. Even though the war was coming from a woman's perspective and had none of the usual Ludlum-Clancy style of counter-espionage and lethal upper-cuts that I've grown accustomed to, it was nevertheless an amazing piece of work, a masterpiece if I may say so, wherein I was transported all across the war ravaged country with each chapter engaged.
[
source
]
It's like a drama, with lots of bloodshed, rape, sex, emotions, and innocence.
Having Rwandan best-friends for 4 years back in college, this novel definitely opened a sluice-gate for me. That, and also the fact that this bloodshed took place due to the same mistake the British made here in India – Conquering a particular region and then making a country out of it without considering any religious, ethnic, linguistic and cultural differences that have existed there for ages before they arrived. It's like a déjà vu of what took place here in India.
Once again, I do hope you get to read this wonderful novel and I really must admit, the powerful and honest narration by the author is bitter-sweetly poetic.
[ Chimamanda Ngozi Adichie –
source
]
--------------------------------
My favorite War quotes:
War does not determine who is right - only who is left.
-- Bertrand Russell


When the rich wage war, it's the poor who die.
-- Jean-Paul Sartre


I think war might be God's way of teaching us geography.
-- Paul Rodriguez


It is forbidden to kill; therefore all murderers are punished unless they kill in large numbers and to the sound of trumpets.
-- Voltaire, "War".


Men love war because it allows them to look serious. Because it is the one thing that stops women from laughing at them.
-- John Fowles (The Magus, 1965)


We have women in the military, but they don't put us in the front lines. They don't know if we can fight or if we can kill. I think we can. All the general has to do is walk over to the women and say, "You see the enemy over there? They say you look fat in those uniforms."
-- Elayne Boosler


------------------------------

Interesting reads: