Since today is April Fool's Day, I think this post is quite apt for today.
I have been fooling a lot of friends the past one month using
Foursquare
. Before I begin, let me tell you what Foursquare is all about if you don't know yet.
It is a location based social networking service. It's for people who love to travel or eat out, party, pub-hop, and socialize with others at the same time. There are over
450,000
4sq members currently.
Here's how it works. When you reach a particular venue, you "check in" from your phone. You do this by visiting the site using your iPhone, BlackBerry or Android. Using GPS, it will scan the area and show you the list of popular venues nearby where you can check in, or enter a new location in that area.
Hence you simply select the location and you are checked in. Now you can see other people who have been there or currently there. When you have visited a particular location (restaurant, club, hotel, etc) a lot of times and have the highest visit among other visitors, you become a Mayor of that place!
Being the Mayor gives you no perks except fame and recognition from other visitors, but this is a vast area for marketing opportunity! For example, many outlets like café and bars are already offering discounts to the Mayors of their respective outlets. Hence people are more likely to visit that place in order to become Mayor (you can replace a Mayor if you visit that place more times than him/her after 2-3 months)
And you earn various badges for various achievements. Examples like: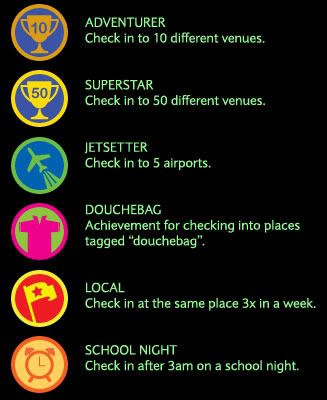 You can also leave tips at various places you've been. (
Example
:
"Try the Bruschetta and Long Island Ice tea at Banana Bar."
) Other visitors can now do what you've done because they know somebody has done it and liked it (personal review). You can also make new friends this way, just like any SNS.
You can also integrate this with your Twitter and Facebook account so that friends and followers will know your activities (and stand a chance of running into you and catching up). Otherwise you can check in without telling others about it. This way, you have your privacy while getting points for checking in (take for instance, you don't want your boss to find out you're at a theatre watching a movie while you've reported in sick).
So where's the bug?
Well, check out
my profile
and you'll know. As I mentioned above, you can check in using your iPhone, Android and BlackBerry. For Windows Mobile users (WinMo), you can check in from the
mobile site
.
And here's the big glitch. If I visit the
mobile site
from my desktop, I can simply visit ANY place I want!! There is no GPS check or validation from the WinMo site, so I am free to check-in anywhere.
This way, I have become the Mayor of
Golden Bin Bar

,
Boat Club
, a few places in Mizoram like
Sertawk Bar
,
Millennium Center
and
Zote Bakery
without even leaving my office in Mumbai.
I can do so much more, and even Mayor the entire city if I want, but I did the above just to test and see if this happens. By all means, I am no Kill-Joy.
To show what I mean, here are the places I've been to just a couple of minutes ago!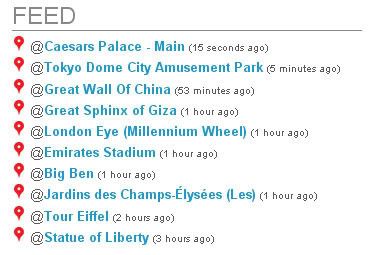 You see what I mean? In a span of 3 hours, I was in Aizawl, New York, Paris, London, Egypt, Beijing, Tokyo, Las Vegas and finally back to Mumbai! And yes, all these places recorded my sign-in. This way, I can actually unlock any badge I want (since it is almost impossible to unlock every 4sq badge as many of them are geo-specific).
I hope Foursquare seriously takes a look into this. It is really unfair as one can easily become the Mayor or take over the Mayorship from somebody without even actually being there, or climb up the leaderboard and overtake others who are genuinely and sincerely playing this "game".
See what I mean below. In just 5 minutes, I have climbed up to the Top Ten 4sq users within Mumbai in the Leaderboard.
I know my Foursquare account will probably get suspended for publicizing this. I don't mind. But Foursquare should fix this "bug" if they want to start business ventures and create alliances. If I was a restaurateur, why the heck should I sign an agreement with 4sq (discount to Mayors and top visitors) when in fact such people don't even need to come to my restaurant to unlock badges or become the Mayor of my restaurant. What would I gain then? It's like handing out discounts to random people and also paying 4sq for "driving" them to my restaurant.
Apart from that, this will also discourage people from playing 4sq when they find out you can easily cheat from the sweet comfort of your home or office. Hence I don't want to upset my boss
Meghana
and
Vulturo
who are so into this game that it's cute watching them fight with each other just to become Mayors wherever they go

You don't see such enthusiasm and happiness everyday in our hectic line of work. I don't wanna take that away from them.
Cheers everyone. And peace.