10 years ago when the World Trade Center came crashing down, I was in college. My roomie Thomas Joy's dad called us up immediately to tell us about the shocking news. Those days, mobile phones were still a luxury and we even had to pay for incoming calls.
10 years later, many of us here in India woke up, checked our mobile phones as usual without leaving our beds yet, only to find our twitter timeline flooded with breaking news about the death of Osama Bin Laden, the man behind the attack on WTC.
Technology sure has changed a lot during these past 10 years. And it is now so advanced that a man in Pakistan, an IT consultant called
Shoaib Athar
, was actually live-tweeting the entire attack without anybody else (including him!) knowing it was Osama that was being attacked!
Well of course President Obama and his small team of suit clad bureaucrats would have known about the attack, after all they planned it. But the rest of the world was oblivious of this attack until much later. And Shoaib dude was just sitting there, tweeting about the incident and not knowing the significance of his tweet or that it would make him an overnight celebrity.
Helicopter hovering above Abbottabad at 1AM (is a rare event).Go away helicopter – before I take out my giant swatter :-/
When he realized from others that the incident he was tweeting about was the attack on Osama, he tweeted immediately –
Uh oh, now I'm the guy who liveblogged the Osama raid without knowing it!
His followers went up from around 200 to 100,000 in just one day, and he was bombarded with calls and requests from journalists all over the world. Watch video about him
here
[in English] or read it
here
[in Mizo].
As for me, I am a complete TV series junkie, and some of my favorite shows are about the CIA, black ops and covert operations (NCIS, Covert Affairs, 24, Alias, The Agency etc.) so maybe it's because of all that that I couldn't help thinking how Obama would have reacted on reading Shoaib's tweets while the rest of the world didn't know about this clandestine attack. I mean, comon, the CIA obviously listens to "chatters" for certain keywords, and I'm sure "Osama" or "Abbottabad" were high on the list of words they were keeping a tab on that day.
Imagine some of the analysts and advisers in the "Situation Room" telling Obama about Shoaib's tweets before the attack started… would it have gone like this?
@ReallyVirtual
: Helicopter hovering above Abbottabad at 1AM (is a rare event).
@BarackObama
: @ReallyVirtual hehehe… if only you knew, dude :D Watch the fireworks in a few minutes. SEALS #FTW #Winning

The internet has so revolutionalize the way we get information that within a few hours, many netizens have already reviewed the location of Osama's hideout on
Google Maps
!
And some of the reviews are really funny –
- Heat sources are undeniable. This place is blazing!- Cold and drafty at night, walls full of holes.- Located in cozy, quiet neighborhood. Interrupted only occasionally by machine gun fire.
And of course Foursquare wasn't far behind. Somebody has already made a picture of this (Would love to give credit but don't know who made this).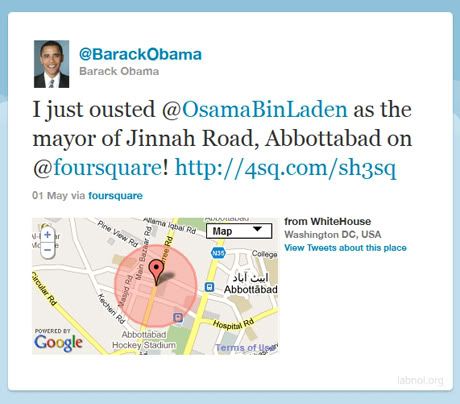 And the reviews on
Foursquare
are equally hilarious too –
- Crappy food and no beer- Shhh! Don't tell anyone we're here!- Hey you looking for Osama? He's over there, and there, and a bit over there!
According to
mashable.com
, various statistics reports on that day alone are –
- News sites saw 4 million page views per minute
- Search for "Bin Laden" went up by 98,550% on Yahoo search alone.
- 13,000+ uploads on YouTube within the first few hours.
- Pic of Obama & his staff at the Situation Room saw 600K views in 1hr.
- 442,000 likes on Facebook page "Osama is dead" within a few hours.
- 12.4 million tweets/hr on twitter immediately after the news broke out.
And here is the kicker. Mashable conducted its own poll regarding how people heard about Osama Bin Laden's death, and from the 20,000+ people who took part in the poll, 31% said they heard the news on Twitter, while 20% said Facebook. 17% said they saw it on television and 12% heard it from phone calls. Clearly twitter is leading the frontline when it comes to breaking news.
As I have said before, things are definitely different from 10 years ago. The internet has changed everything about the way we receive information. Another clear proof of this is – just take a look at the numerous number of viruses and malwares floating around on Facebook and other popular destination, all masked as something that is related to the Osama killing. Lolz.
Just. Don't. Click. On. Any. Of. Those. Links.