After three weeks of continuous work and releasing our latest Android game on Google Play, I finally had a Saturday I could truly call a day of rest. My plan for yesterday was to watch movies or TV shows the entire day with a bucket of KFC fiery grilled chicken wearing nothing but my boxers…
And then my phone rang in the morning, waking me up from a dream where I was just about to find out if it was the chicken or the egg that came first…
"Oh shit, you're still sleeping? Hahaha. Sorry man. Hey, today we have a very very important North East Helpline meeting at Vakola Police Station. Our agenda is blah blah blah…"
I drifted back to sleep now and then. All I could hear were the words "important" and "very important" a couple of times.
After the call, I groggily checked my phone to see the messages regarding the mentioned meeting. It was indeed an important meeting. Executive members were going to be appointed, along with the finalization of our recently framed NEH-M Constitution, so it was compulsory for every community representatives to be present.
First thought on my head was, "There goes my Saturday!"
So I got ready at 3 and reached the venue around 4 PM yesterday.
Manipur, Nagaland and Meghalaya representatives were already there. Arunachal Pradesh and Assam representatives could not make it due to last minute work but they were available the whole time on mobile phone. We just had a problem contacting the representatives from Tripura and Sikkim. Other than that, it was a very good attendance (not in terms of numbers but the presence of those who had been appointed to represent their states/communities). Apart from that, the Resident Commissioners of various North Eastern states were actively updated about the ongoing discussion, and I too kept updating members of our Mumbai Mizo Association on our WhatsApp group.
Since it was an official NEH-M meeting corroborated by the Vakola Police, the meeting had to be held somewhere within the vicinity of Vakola Police Station. DCP Namdeo Chavan (Zone 8) sent the required permission to Vakola Police Station senior PI Damodar, but the only good location we could get without being disturbed by others was their gym, so there we were, discussing inside the Vakola Police Station gymkhana, surrounded by dumbbells and treadmills :D
We first discussed among ourselves about the way we should take this meeting forward, and then we started the nomination for executive members. As we have all known each other quite well ever since we had our first NEH-M meeting way back in March 2014, it was easy picking out our candidates. In addition to that, Major Simon (Manipur) from the Indian Army who was also present at the meeting, gave us extremely valuable information and guidance on how to properly go about registering such an official association.
The main discussion we had about the candidates was not about how qualified or not that person was, but rather about how available he/she would be. In our situation, it is of utmost importance that whoever is going to hold an important position, must be somebody who is available all the time. And since all this is voluntary work with all of us having our respective occupations, sacrifices needed to be made.
I will not divulge on what exactly took place in the meeting and who were the candidates and elected personnel, as this is just my personal blog. We'll update what took place at the meeting, the minutes, and the result, all at the NEHM Facebook group soon. But we all succeeded in electing our President, VP, Secretary, Treasurer, Media officers and State Representatives during the 5 hours long meeting.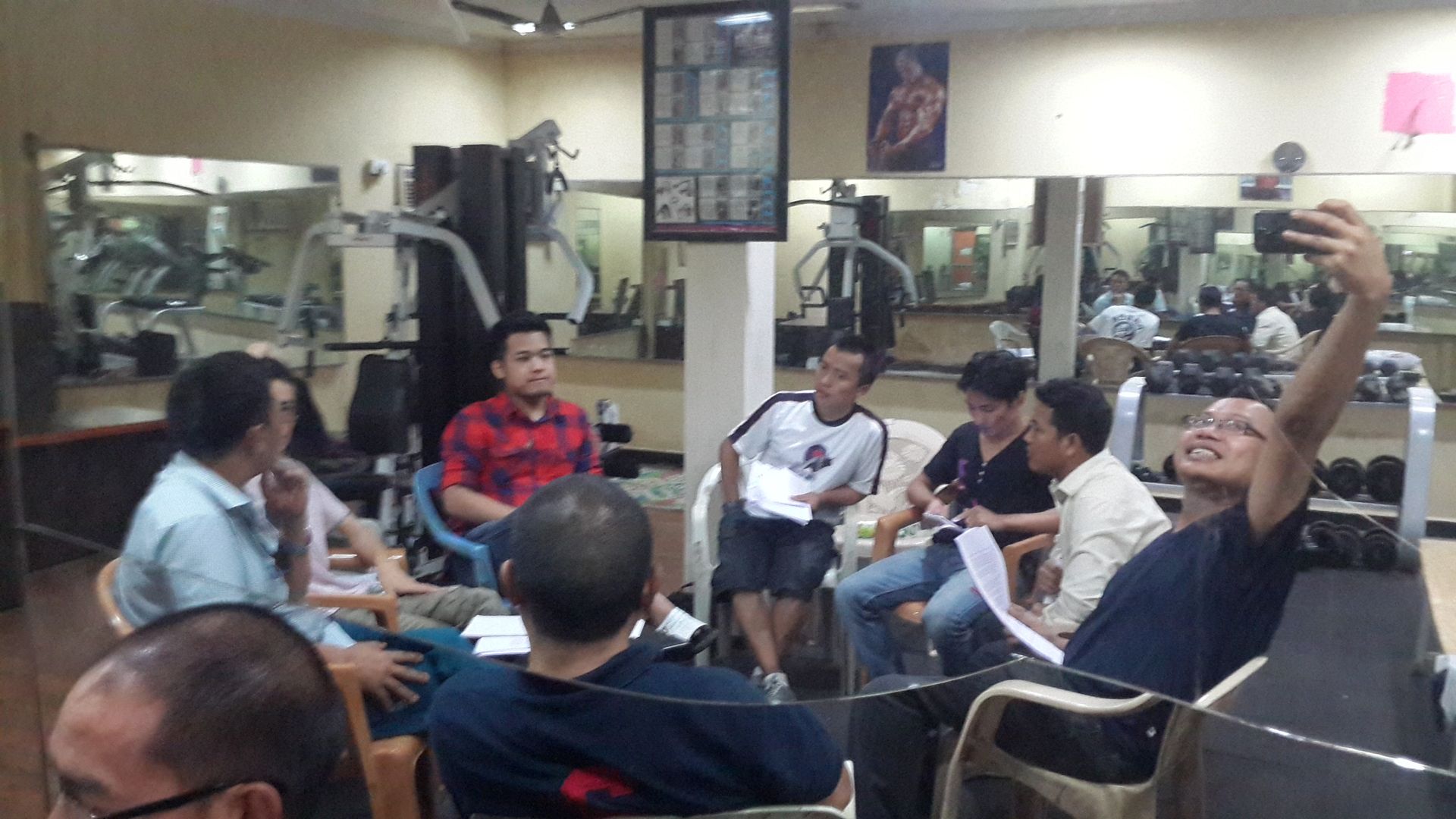 And later we had a long one-on-one discussion with Inspectors Kharal and his colleagues about all the problems we North Easterners faced, especially those living in Vakola and Kalina areas. We discussed about steps and means to curb racial discriminations along with a lot of other issues like a well formulated plan to invite NE community members at various Police Stations on 15th August for the Flag hoisting ceremony etc , which again, will all be officially announced by our NEHM account.
After the meeting, we all went our separate ways. It was raining and there was a lot of traffic, so knowing it was going to be almost impossible to find an empty auto, Soso said let's take the "Skywalk", and I ended up walking with him for 2.5 KM on one of Mumbai's longest skywalk routes, all the way from Vakola junction to SV Road.
And that was not the end of it! Since it was still raining, autos were hard to find on SV Road, and so I ended up walking from SV Road till home!!!!! That's another 3.5 KM according to my Google Map, that too amidst the rain and vehicles splashing water all over me. Yeah, next time Soso asks you to take a walk with him, do NOT trust him! :)
All in all, it was a great meeting, and looking forward to more positive changes in the future.