"There are worse crimes than burning books. One of them is not reading them." - Joseph Brodsky.
Recently, a lot of my friends have tagged me in the latest series of a viral pastime on Facebook called "Top ten favorite books of all time – The Book List Challenge", where people are supposed to list out their top 10 favorite books and tag others to take up the challenge.
And surprisingly, I got tagged quite a few times, especially by friends with a literature background or academicians or people whose passion for books is obvious from their daily status updates and shares. I, on the other hand, am actually not an avid bibliophile. Which is why it is quite embarrassing for me because after going through all the classics and rich books they've mentioned, I realized I haven't read any of them.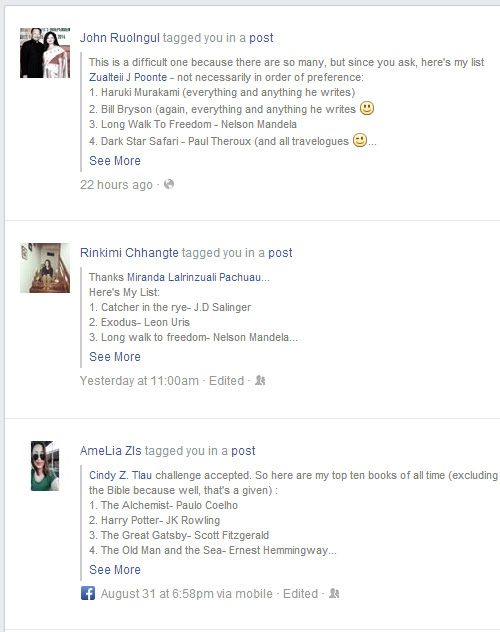 If you take a look at some of the most common books people mentioned - The Catcher in the Rye, The Alchemist, Vernon God Little, Atlas Shrugged, 1984, To Kill a Mocking Bird, The Great Gatsby, Lolita and so on… Yes I am familiar with the names of such renowned books, but I actually haven't read any of them. For crying out loud, I haven't even read a single Harry Potter book.
That is how much of a non-enthusiast I am when it comes to reading.
I may have a passion for writing, but I haven't read a good book in ages. Sure I started reading early back in school, starting with my Enid Blytons when I was in junior school - The Secret Mountain, The Secret Island, The Wishing Chair, The Famous Five series, The Secret Seven series, Malory Towers series, those were my favorites. I thought Enid Blyton was the only person who wrote a novel back then.

And then 7th standard onwards, I moved up to a more composite genre of writing, like juvenile sleuth detectives - The Hardy Boys, Nancy Drew and The Three Investigators. Man those were some great moments spent with the characters, and how they all had relationships that were completely platonic.
It was only years later that I found out from the internet that the so called author of "The Hardy Boys" series "Franklin W. Dixon" was actually a pen name used by different ghost-writers writing the series, and that the creators of both The Hardy Boys and Nancy Drew series was the same freaking person. I still remember how excited I was reading the first "cross-over" series featuring both the Hardy Boys and Nancy Drew. And to this day, I still remember how I felt when Lola Morton, the girlfriend of Joe Hardy and the sister of Chet Morton, was killed in a car bomb. And then later finding out that the authors of both these two series was the same person/publication was such a knee jerk to the guts. Daymmm it was like a "My whole life has been a lie" moment!
Soon I graduated to an even more mature genre of writing towards Higher Secondary School – Sydney Sheldon, Robin Cook, John Grisham, Jackie Collins, Jeffrey Archer, Ken Follett, Frederick Forsyth, Mario Puzo and my all time favorite author Robert Ludlum (I even made a very comprehensive and popular GeoCities webpage dedicated to Ludlum and all his novels, may his soul rest in peace, which had been taken down now after geocities was discontinued in 2009).
I was crazy about Ludlum and his protégé "Jason Bourne" who was like the Jack Bauer of espionage novels (by the way, the Bourne movies suck compared to the novels, but then again, have movies ever been as good as their novels?). Robin Cook too influenced me to such a level that I actually went for medical college entrance exams tutorials after school because I wanted to become a doctor, until my doctor-cousin burst my bubble, telling me that life in the medical field was never as glamorous as that in Robin Cook novels.
After that, I joined Engineering College and did my Computer Science Engineering, and suddenly, I stopped reading.
Stopped reading initially because there were too many other things to be read regarding computers and technology, which were unfortunately nothing like the Isaac Asimov or MechWarrior/BattleTech kinda novels that I was also a fan of.
Instead, it was boring Theory of Engineering Mechanics, Operating Systems, Data Structures, Design Applications, Microprocessors, Digital Signal Processing, Compilers etc. Even though we had free time now and then, those times were spent on activities other than reading, and soon, that lull started becoming more permanent. Throughout my entire Engineering course, I didn't read a single novel.
Soon it became a habit, a habit not to read leisurely. Even after college, during my CAT and UPSC coaching classes, again I was required to do a different set of reading, readings that were more on the technical lines rather than pleasurable time-pass. MBA days required a lot of reading on various corporate case studies, market research and consumer behavior, not to mention subjects I had never studied in my life before like Economics and Accounting, while UPSC coaching again demanded more subjects I had never studied in my life before like Political Science, Sociology, Public Administration and Anthropology.
But that definitely does not mean one must stop reading good books just because one is busy concentrating on one's work. I had a lot of peers who kept reading despite their hectic schedule. At the end of the day, it's all about effort. I was just too damn lazy to take that extra effort to do some serious reading. Higher studies definitely doesn't mean lesser time to read, or write. I mean, take a look at one of today's most successful Indian authors - Chetan Bhagat. Whether you agree with his style of writing or not, you can't ignore the fact that many people adore his novels. And he is an IIT-Delhi and IIM-Ahmedabad grad. And then there are the likes of Sidin Vadakut, Rashmi Bansal, Amish Tripathi, Ravi Subramanium and a lot of others from the IIMs who have an enormous fan following because of their writing. It all depends on how you prioritize your work and passion.
Someday, I really wish I get to read all those fantastic books my friends have listed out. I want to read them not just because sometimes I feel left out… but because I want to experience what my friends felt, the addiction, the emotion, the satisfaction. As Francis Bacon once said, "Some books should be tasted, some devoured, but only a few should be chewed and digested thoroughly." That is what I want to experience too. Definitely there on my bucket-list now.
Happy weekend, and hope you understand now why I don't take up the Book-list challenges I get. It only made me realize what I've been missing in life. I'm taking this book list challenge in a different way - to read the list of books my friends have listed out before this year ends. What are the good books you would recommend to me?