What an awesome weekend this had been for Arsenal fans! We played an amazing game on Saturday, and Ozil who had been criticized since the start of this season, was all over the ground and even scored a stunning goal assisted by Welbeck, silencing all his critics.
Next up, all critics of Welbeck, including a lot of ManUtd fans who mocked and laughed at Arsenal fans for buying their "useless player who was not even worthy of playing in their main team" were silenced, as Ozil returned the favor and assisted Welbeck to his first Arsenal goal.
And then the third goal came again, all in a span of three minutes, and one of the commentators even exclaimed if this was a new record for the fastest three goals in Premier Football history.
What an adrenalin rush it was. And the best part was looking at the other match results - While Arsenal won and got 3 points, here are some of the results of the other top-table and mid-table clubs:
The funniest thing was watching Manchester United lose. Just last week, after they finally got their first victory this season by thrashing QPR 4-0, every ManUtd fan was rejoicing and cursing other rival club fans, and a lot of my FB friends had finally put back that "Works at Manchester United Die Hard Fans" job description on their FB profile, something that a lot of them had silently removed since the end of last season…
And last night after watching them go down to a recently promoted team, I was rolling all over the floor laughing like an insane person. And of course, rather than focus on their loss, there were a lot of hate posts and status updates abusing Arsenal fans. Lolz. I fail to see the logic behind that, and even had to make this comic strip this morning :D :P
[click on pic to enlarge]
Hehe, it is strange and at the same time so awesome to be hated so much, lolz.
But seriously, it was really funny watching ManUtd lose, considering the amount of noise and hype the fans made last week after beating QPR. My timeline was filled with ManUtd fans posting photos of Di Mario and Falcao, comparing them to Arsenal players and laughing at Ozil and Welbeck.
The best part was how one of my friends correctly predicted yesterday's scoreline!
Right after ManUtd thrashed QPR 4-0 last week, one of my friends posted this…
And he was absolutely spot on! Eight goals were indeed scored in their next match.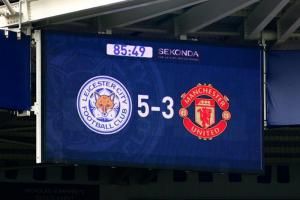 Bwahahaha!!!! What an awesome prediction! Give this guy a medal. I'm now going to ask him his prediction for next week's lottery winning numbers :D
What I truly admired during the enter Gameweek 5 was the Chelsea – Manchester City match where Frank Lampard scored a much needed equalizer against his old club, and then refused to celebrate. Now THAT is how you show respect to a former club. #Respect
I wonder how Danny Welbeck will behave when Arsenal meet Manchester United. It is obvious he still has close ties with his former teammates, but the way LVG announced in public that Welbeck was not good enough for United or not up to their standard was a soccer-punch below the belt. I mean, how can a manager diss his former player who had given so much for the club just like that? I really hope Wenger can transform Welbeck to the next Thierry Henry and kick LVG's sorry ass.
Funniest moment of the ManUtd match was when that Apollo Tyre advertisement video featuring Manchester United team kept playing even after ManUtd's humiliating defeat, adding more salt to their injury. It seemed to pass on the message that spending 150 million pounds will not necessarily grant you success because "there are no shortcuts to achieving your full potential" (Apollo Tyre tagline). Hahaha… Here, enjoy the ad to get a good laugh.
Performance. There are no short cuts indeed. Lolz.