What is your view on the issue of inner line permit in the states of Arunachal Pradesh, Mizoram, and Nagaland?-
Comment from asker:

Some people say that it is a violation of fundamental right of a citizen to move freely in the country and it alienates a part of the country economically and culturally (cultural and economic exchanges get slowed down).

While others say it's a necessary step to protect the pristine and fragile culture and population of these states. The inward flow of outside people will marginalize and destroy the culture of these regions making the natives a minority in their own regions.

What is your view? What do you think is the impact of IPL ? Should it be removed immediately, or it should be removed after a certain period of time or it should exist forever?
A very interesting question indeed.
TL;DR version - Inner Line Permit may hamper economic growth, but it serves as a means to protect the indigenous tribes from exploitation and preserve their fragile cultures and traditions. Removing ILP can lead to a mass influx of non-residents, especially from neighboring countries like Bangladesh and Myanmar (due to the porous border) which will greatly change the demography and the practices of the local indigenous tribes who had been co-existing there for many decades..
----------------------------------------
Now for those of you who might be interested in a bit more detailed answer, please feel free to continue reading -
Since the answer you seek is more of a personal opinion rather than the usual factual or informative answer we see here in Quora, I just want to explain a little bit more about the ILP as I answer your question. From your comment, it is obvious you definitely know what the ILP is, but hope you don't mind me taking this opportunity to explain what the ILP is to other Quorans who may not have heard of it?
The reason why I want to do that is because of the number of comments and sentiments I have read online from people who may have a wrong notion about the ILP.
So, what exactly is an ILP?
If you're an Indian citizen who is not a resident of Arunachal Pradesh, Nagaland and Mizoram and would like to visit any of these three mentioned states, then you need to get an ILP (Inner Line Permit) from the respective State Governments. And earlier, if you're a foreigner, you had to get the more complicated RAP (Restricted Area Permit) or PAP (Protected Area Permit) to visit these three states.
However, today, in order to boost tourism at these states, the Indian Government no longer makes it mandatory for foreigners to get an RAP/PAP, they only need to register themselves at the Foreigners Registration Office (FRO) within 24 hours upon arrival at any of the three states.
But if you're an Indian citizen, you still need to get an ILP to visit Arunachal Pradesh, Nagaland and Mizoram, which raised many eyebrows because currently, it sounds like it is easier for foreigners to visit these three states rather than Indian citizens!
I'm from Mizoram, brought up outside the state, and the first time I told any of my friends about the ILP, their immediate reaction was always, "Whaaaat? Why do I need a special permit to go to a part of our country? Isn't that against my fundamental rights?"
So let me just try to explain this whole thing in detail.
As mentioned above, I have met a lot of people who are unaware of the ILP. Even those who have visited the North East, usually visit just Meghalaya (beautiful Shillong, wet Cherrapunji, Tura peak, and the serene view of the Khasi, Jaintia and Garo hills), Assam (60% of the NE population, Kaziranga National Park, Bihu festival, the land of Bhupen Hazarika and Arnab Goswami) and Manipur (Dzukou valley, Loktak "floating" lake, Shri Govindjee temple, land of "Iron lady" Irom Sharmila and NE sporting giants such as Renedy Singh, Thoiba Singh, Devendro Singh, Bombayla Devi, Mary Kom, Sarita Devi, Kunjarani Devi, Renubala Chanu, Dingko Singh etc). Tripura and Sikkim too have their own enchanting charm as well. None of these five Northeastern states requires an ILP, so as an Indian citizen, you are free to roam around at such places.
Indian citizens require an ILP to visit the other three North Eastern states of Arunachal Pradesh, Nagaland and Mizoram. They too are also great tourist destinations.
Arunachal Pradesh is famous for its orchids, Buddhist temples and breathtaking scenic views like Ziro, Bomdila, Tawang and Roing. If you haven't been to those places, it should definitely be on your bucket list.
Nagaland can boast of the tranquil Dzukou valley, which is currently sort of a disputed area (Naga tribe not ot allow Manipuris to enter Dzukou) with Manipur regarding ownership as it lies in the border separating the two states, with a lot of Angami Naga tribesmen settling in the Manipur side. This dispute may sound frivolous to some, but remember, we're talking about the ILP here. Technically, according to this law, if you're visiting the Dzukou valley from Nagaland, you require an ILP, whereas if you're visiting the valley from Manipur, you don't. Funny huh… :)
We Northeasterners too have our own quota of internal complexities and differences. If you are interested in visiting the beautiful Dzukou valley, here is a good travelogue you must read (travelspeak: The Enchanting Dzukou Valley). Nagaland also has their famous Hornbill festival, not to mention the heritage villages of Mokokchung, Mon, Wokha etc and the renowned Kohima War Memorial. Here's a list of places to visit in Nagaland - (goindia: Five Popular Nagaland Tourist Destinations)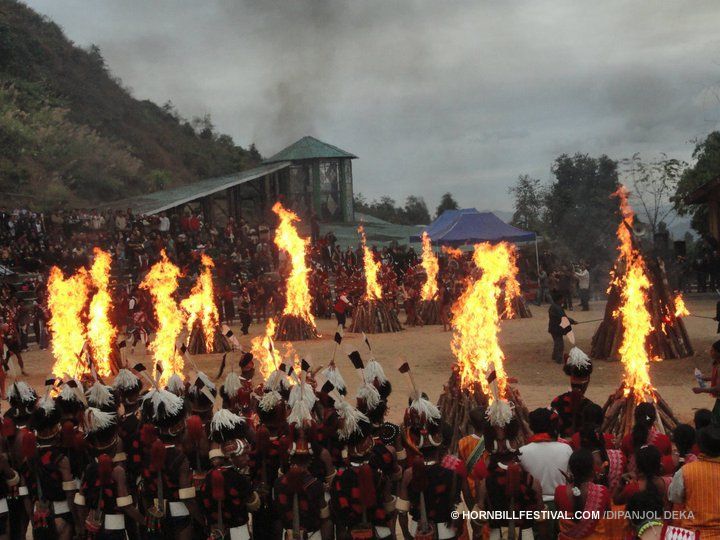 Mizoram too has the recently popularized Anthurium festival as one of our annual tourist attractions.
Apart from that, we have a few tourist destinations like Phawngpui hills, Tam dil, Sibuta lung, Vantawng khawhthla etc., but frankly speaking, I think our tourist attraction kinda pales compared to the other North Eastern states (or maybe I just feel that way because I'm from there).
All in all, if you are not a resident of Nagaland, Mizoram and Arunachal Pradesh, then you require an ILP to visit these places, and many people assume this hampers tourism. It shouldn't, actually.
What is the origin of ILP? How did it come into being?
Back when we were under the British, there was the Bengal Eastern Frontier Regulations Act passed in 1873 which prohibited non-indigenous people from settling in certain areas in what is now currently North East India, so as to preserve the cultural heritage of the much more regressive tribes and protect them from exploitation. ILP is nothing but an off-shoot of this act.
Now I have read quite a few comments from people saying that their states too should implement ILP like how some of the North Eastern states have done. As far as I know, getting an ILP status is not that easy, and the Indian Union is very likely to reject any such proposal. There was even that recent push from student activists in Meghalaya and Manipur for an ILP status which was denied – (MHA denies ILP to Meghalaya and Manipur). Changing the status of an ILP for a state requires complex legal and constitutional amendments, pretty much like Article 370 of our Constitution that grants special autonomous status to Jammu and Kashmir. I really don't know how ILP was introduced in Arunachal Pradesh and Nagaland, but in the case of Mizoram, ILP was one of the points included in the "Mizoram Accord", a landmark peace agreement signed between the Indian Government and Pu Laldenga (you can read more about this in my Quora answer to the question Quora: What do people of Mizoram think about rest of India)
You can even download this important memorandum from the United Nations official website here (UNO: Memorandum of Settlement - The Mizoram Accord) as it made an interesting case study, being one of the few instances across the world where insurgency in a conflict zone was successfully ended with the stroke of a pen. Mizoram today is one of the most peaceful states in India.
According to the Memorandum of Settlement (Mizoram Accord) mentioned above, the Indian Government had invoked ILP on Mizoram as a part of the agreement. And so, that is how Mizoram till today continues to be under the ILP.
The reason why I need to clear the air about the ILP is because of the numerous comments I have read online. One such popular sentiment was - "Northeasterners often complain about being racially abused and discriminated when they come to Delhi, and yet we need a special permit to visit their states which is a part of our country. Isn't that hypocrisy?"
First of all, this is not a Northeastern versus Non-Northeastern issue. To enter Mizoram, if you're a resident of Maharashtra, Tamil Nadu, Jharkhand or any non-Northeastern state, you do require an ILP, just as how a person from Assam, Manipur, Sikkim or any other Northeastern state requires an ILP to enter Mizoram. Likewise, if I want to visit Arunachal Pradesh or Nagaland, I too have to apply for an ILP as well. Similarly, there is a large Naga population residing in Manipur, Assam and some parts of Arunachal Pradesh, and even they have to apply for an ILP to visit Nagaland. Only those Nagas residing within Nagaland (including a significant Gurkha community living in the state) don't require an ILP to enter Nagaland. So there is no such thing as a Northeast-Mainland division here. Secondly, only three NE states require ILP, there are five other beautiful Northeastern states out there that you can visit freely, so I really think it is unfair to compare or equate that to the discrimination Northeasterners face in Delhi or other places.
Thirdly, the ILP is not as bad as it sounds! I'm sure most of those who criticize Mizoram because of the ILP are people who haven't even been there or have no intention of going there. Ask any Indian tourist who has actually visited Mizoram and they will tell you how easy it is to procure one. If you're travelling by road into Mizoram, you can easily get the permit from the Liaison Officer of Mizoram House in Guwahati, Silchar, Kolkata, Delhi or Shillong, and then show that piece of paper to the security guards at Vairengte check-gate. Thadaaa, welcome to Mizoram. And if you're entering Mizoram by air, upon arrival at Lengpui airport, you just have to fill in the same form from the officer-in-charge at the airport and once he/she stamps your paper, you're good to pass through. It is just a formality procedure. No officials will ever harass you or search you or refuse your entry.
The aim of the ILP is not to curb tourism or prevent other Indians from visiting the state (you are always welcome to visit my home-state) but rather to keep a record of the number of non-residents within the state. This can later be used for security reasons, and to ensure that the local occupation, demography and cottage industry is not disturbed. The ILP enables the state government to keep a check on the number of non-resident laborers, business owners and other employees/employers residing within the state.
I have been asked a lot of uncomfortable questions regarding this issue, which can be summarized as, "Kima, do you find it fair that you can come to Maharashtra and work as a copywriter in an ad agency freely whereas to do the same in Mizoram we need to get a permit first?" (This was before I moved into mobile games development).
Yes, if you think that way, it does sound unfair. After all, this is India right? But there's more to this than meets the eye.
First of all, armed personnel posted in Mizoram like the BRO (Border Roads Organization), AMC (Army Medical Corps), Assam Rifles and CRPF do not require an ILP. Secondly, Central and State Government employees too do not require an ILP. There are many non-resident Government employees posted in Mizoram who do not have to apply for an ILP. Thirdly, Mizoram falls behind when it comes to the private sector, so I'm sure even if you were allowed to work as a copywriter in an ad agency in Mizoram without an ILP, you still wouldn't want to do that. That's the whole reason why I'm here in Mumbai. Hell, if there was a good ad agency in Mizoram, I'd rather work there than here in Mumbai as it would be a lot more convenient and cheaper for me.
What you should know about Mizoram is that, it is one of the smallest states in India, and area-wise there are quite a few districts alone in India that are bigger than the state of Mizoram. And the entire population is just around a million, which means there are more people living here in Andheri West in Mumbai than the entire population of Mizoram! Hence, an influx of people from outside the state can easily change the demography and customary traditions of such a tiny population that didn't even have a written script or knew how to read or write barely a 100 years ago.
In Tripura, the rulers of the Tripuri dynasty allowed open immigration so as to improve their administrative and economic conditions, and in 1875, indigenous people of Tripura constituted around 64% of the population due to a large influx of Bengalis. Even after India's independence, the migration of Bengalis from East Pakistan and later Bangladesh continued, and in the 2001 census, the indigenous people of Tripura were reduced to 30%, with Bengalis constituting 69% of the population of Tripura. The language Bengali has also become one of the official languages of Tripura, along with Kokbokri, the language of the indigenous people. Some may consider the addition of a more advanced culture as enriching to the existing one, but one cannot brush aside the decadent growth of the indigenous population and the decline in the number of people who now speak Kokbokri.
While assimilation is a good thing, the problem with assimilation is that people often mistaken assimilation with hegemony. As a Mizo, much as I adapt to the broader Indian cultural tradition, it does not mean I should let go of my Mizo cultural practices. It is a part of who I am and where I've come from. But when the population of a tribal group diminishes due to the increasing influences of a much more superior society, then that usually leads to either linguicide and disintegration of the customary tribal practices, or a struggle for survival, usually marred with violence.
Tripura too witnessed many troubled years due to the change in demography, with insurgent groups such as the National Liberation Front of Tripura (NLFT) and All Tripura Tiger Force (ATTF) formed by the indigenous tribes to combat the growing Bengali majority population in Tripura. In retaliation, counter-militant group such as the United Bengali Liberation Front (UBLF) was created to protect the Bengali population from the NLFT and the ATTF, and they were active in attacking the indigenous tribes. South Asia Terrorism Portal described UBLF as, "The modus operandi of UBLF was to throw bombs at a group of tribes from a distance. Their operation strategy is also different from that of the NLFT or the ATTF in the sense that UBLF terrorists move about in small groups and single out their victims at isolated spots. Their target could be a moving vehicle or a small conglomeration of tribes away from their settlement." (SATP: United Bengali Liberation Front)
Yes, the North East is definitely no stranger to inter-ethnic clashes.
All that started because of the clash between the Bodo community of Assam (one of the earliest inhabitants of the Brahmaputra valley) and the Muslim community (who were painted as being illegal Bangladeshi immigrants). Tensions have always been high between indigenous people and immigrants in the North East, especially since we have a very porous border with Bangladesh. Though words fail me as to how that eventually affected every other North Eastern community because of the Bodo-Muslim clash, the writing on the wall is simple – mi casa is not su casa.
And that is one of the many reasons why I think Mizoram is now one of the most peaceful states in India - because it keeps a check on the number of non-residents living in the state because of the ILP. Since you asked for a personal opinion, I guess this is my personal opinion, though rather a tad long one. Feel free to disagree.
I think it may be unfair to compare the situation in the North East to that in the rest of the country. We have to take into account the various complexities and numerous inter-ethnic rivalries and clashes that we don't read about in our mainstream Indian news media, but if you're from that region, you'll come across such news almost every day.
And of course, my personal opinion is that the ILP does hamper economic growth and development. That is a no-brainer. But case in point, you'll also need to consider what happened in other places where preservation was sacrificed for development, which really didn't work out well for the indigenous people of that place.
I can also admit that there had been many times when we Mizos ourselves had been frustrated with the ILP. I'll give you a couple of examples. Some of these may sound trivial, but nonetheless, it is happening because of the ILP. In our Mizo society, consumption of betelnut (paan) is extremely popular. The "Mizo Kuhva Zuar Association" (Association of Mizos who sells betelnut/paan) has a complete monopoly on the price of paan sold in Mizoram and they have the habit of increasing the cost of paan at their own whims and fancies, since paans do not come with an MRP tag. Now a lot of business traders from Assam and Bangladesh like paanwallas come to Mizoram without an ILP, offering a much cheaper (and sometimes better quality) paan that a lot of us love. When Mizo paan sellers realized people stopped going to them, they reported all those "outsiders" to the police and YMA, and the law agencies had no other option but to follow the written law and deport them from Mizoram since they didn't have an ILP. Now in a way, it makes sense because the "outsiders" threatened the livelihood of the local market. But one could argue that it wouldn't have led to many consumers going to the "outsiders" instead of them in the first place had the Mizo paan sellers association been reasonable with the price. See, the line between protecting local business and exploiting consumers is extremely blurry here.
Similarly, people who own contractual businesses where manual laborers are required often curse the ILP, because a lot of Mizos prefer not to do such menial work or are not proficient enough for the given tasks. And a lot of people prefer migrant mistiris (masons) rather than our own because they are usually more hard working and devoted to the given job. As the saying goes, "As you make your bed, so must you lie on it", I guess this is something we'll all have to live with if we support such a law all in the name of preserving one's culture.
At the end of the day, it all depends on how you look at it. If you take a macroscopic view, calling a spade a spade and demanding equal treatment for each and every Indian citizen, then yes, it is unfair to have a state under the Indian Government where non residents of that place need to get a special permission to visit or work. On the other hand, if you consider their historical backgrounds and all the complexities involved within the North East, including the fragile nature of the inhabitants and their decadent growth rate, you might think it may be better if things work differently at such places in order to preserve their culture and heritage.
In a way, I think it all boils down to an "Ayn Rand situation". Many intellectuals adore and worship Ayn Rand for her philosophical books on objectivity, and when it comes to her opinion about Native Americans and the "Trail of tears" incident, she infamously expressed, "I do not think they (Native Americans) have any right to live in a country merely because they were born here and acted and lived like savages".
And yes, a lot of people agreed with her.
Feel free to have your own opinion.