I was born in a generation where "eating out" in our Mizo culture wasn't popular at all. Inviting people over for dinner or taking part in a "local feast" was (and still is) a common practice, but having a private dinner at a restaurant was not a common social activity back then, unless you happened to be a traveller passing through a particular place.
Of course people used to meet their friends or lovers at a restaurant or tea-stall in the afternoons, but when it came to dinner, back then, most people in Mizoram would eat dinner at their respective homes. In fact there were just a handful of popular dining places across Aizawl in the early 80's that were open late in the night, and most people would dine at such places only on special occasions.
I still remember back in 1985 when "Highlander" a new Chinese restaurant opened up in Aizawl. It was located on lower Bazar road (where "Shanghai Bazaar" currently is now, right at the curve before the MUP shelter). I remember it quite well because the establishment was run by uncle Ronnie Cheng (of Aizawl's Hustler shop fame) and I remember how excited I used to be to have a family night dinner at that place.
The restaurant unfortunately had to close down soon because it wasn't profitable at all. As uncle Ronnie said, "Only just a handful of people would turn up for dinner, that too usually just relatives, friends and well-wishers. People weren't used to the concept of dining out. Even for lunch or snacks, the customers who turned up expected the rate of the dishes to be the same as the "thingpui dawr" rate outside on the streets". Well to be fair, that was in '85, so we can't really blame the mentality of the people back then :) :D
Likewise, another famous place for late-night dining back then was Hotel Moonlight at Chaltlang-Bawngkawn road. The place too closed down due to bankruptcy.
So yeah, having a restaurant business in Aizawl wasn't lucrative at all those days, and the few restaurants that managed to survive for a long time, owed much of their business to the visiting tourism market, and not from the local population.
Even post year 2K, dining out in Aizawl was still considered unnecessary by many. After I graduated from school and college (outside Mizoram), whenever I went home for my vacations, mom used to give me this extremely disapproving looks whenever I said I was going to have dinner with my friends at a restaurant.
"Why don't you just eat at home?" or "Why don't you invite your friends over here for dinner?" would be her main line of argument. To people like her, it made no sense eating food made by others (note: "Strangers") and then having to pay for the meal, when we could have the same food for free at home.
Back then, I didn't have much of a defense or counter-argument.
"But it's about the variety, mom" - I couldn't say that because what variety of food did we actually have at the restaurants in Aizawl back then? "It's about the ambience and experience" - Nah couldn't say that either. "It's about the service" - Hah, my ass. Back then, one of my biggest criticisms about most of the restaurants in Aizawl was the way the establishments treated its patrons. Of course the owner or the manager were extremely courteous and polite, but many of the waiters/waitresses were unfriendly, impolite and even arrogant.
But still, we dined out in spite of all the drawbacks because spending quality time with friends and loved ones was what made the whole experience of dining out wonderful.
And today, thankfully, a lot of things have changed. Dining out is now more about the quality of food (which it should be), and a lot of new eateries are starting to pop up across the city. Just yesterday, one of my online friends via misual.com Pu Maawma had just opened Mizoram's first Subway franchise! Four other friends of mine are already in the restaurant business in Aizawl as well. Things are slowly changing today.
But when it comes to Mizoram, I haven't written much about the food there. Sure I have written a lot of blog posts where I met up with friends at David's Kitchen, Octangle, Jeff's Cavern, Aizawl Masala, Pemarin, Cozy Den etc, but the focus of such posts were always on the occasion, rather than on the food [here's one such example].
Even if you look up on tripadvisor, zomato, burrp, lonelyplanet, timescity, foursquare, ixigo etc., there are hardly any reviews about the restaurants in Aizawl. The same can be said for yellowpages, sulekha and even at the official Mizoram government tourism website. Even at quora, the only mentions about restaurants in Aizawl are people asking about them. Lack of proper information everywhere.
It is a Facebook group where users submit their reviews of various restaurants in Aizawl, along with photos and recommendations. I think this is a very useful group, for both tourists visiting Aizawl and the local people alike.



And so, in the last three years, Mizoram has seen the rise of a new beast in the journalism space – "Mizo Only" discussion groups on Facebook. Aggregating news and disseminating updates and opinions from readers, these have grown rapidly. One of the biggest groups, Special Report, has 1.34 lakh members. Another, called Chanchinthar, has over 80,000 members. At present, every town in Mizoram has its own Facebook group, said Familia Fanai Laltansanga, one of the administrators of Special Report.
Now you see how a Facebook group is extremely efficient in Mizoram? It is bound to capture more users and crowd source contributions from other Facebook users more effectively rather than a review on zomato or tripadvisor.
So coming back to the Facebook group "Where Aizawl Eats", there are already quite a number of useful reviews. I'm just handpicking ten of them here, but do join the group to read or write more reviews, especially if you are a foodie visiting Aizawl or a foodie living in Aizawl. The reviews below cover not just the food but other aspects like service, quality, ambience etc.
[All images below are taken by the respective reviewers @ Where Aizawl Eats]
Michael Lalrinkima @ David's Kitchen
"Quick" lunch at David's Kitchen. Quick is in quotes because even though we tried to have a fast eat, waiting for over 45 minutes for 3 dishes when we were the only people in the entire restaurant kind of slowed us down. Ambience is still the same as last I came and its kinda low-key lighting with decent decorations. The waitress was polite, but the minute she brought us 6 magazines to read, we were worried it was going to take a while. Food was decent, not anything exceptional, but I have to admit, the Cantonese Chowmein tasted very authentic and had a nice almost smokey aroma to it.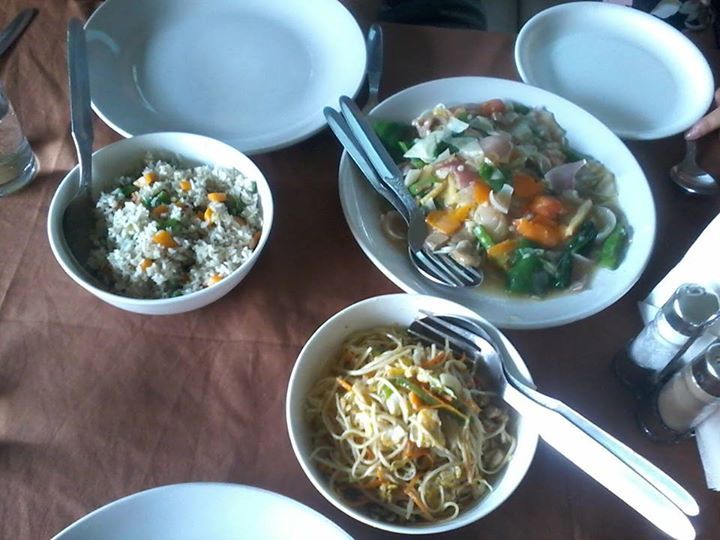 Ambience: loved 80% of it. They have two tables outside, quite nice but I would never choose to sit there with the bustling traffic just inches away! Food: Steamed chicken momo - just the way i like, thin wraps, fillings also taste yum! Chicken Spring Rolls: Fillings taste ok, but way too oily, no taste of dough.. would not suggest this. Veg. Noodle Soup - This taste yum, love the thick soup.. most of the other places have it bland.. they don't here. Service: They have lots to learn. We were never offered water to drink. I asked for it after 10 minutes of waiting. She served but never bothered to refill the empty glasses again.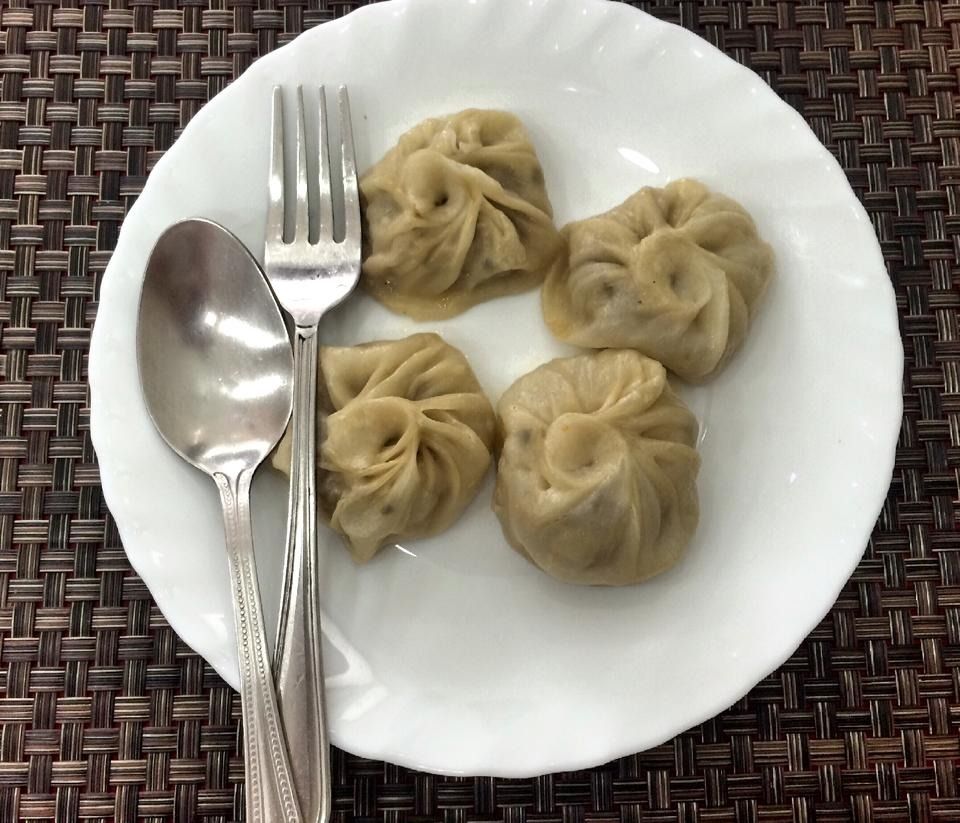 Rosy K Remsangpuii @ Cozy Den
Fish and chips @ Cozy Den Restaurant, Khatla. When I was in South Africa for around 2 weeks, I was living mostly off Fish and chips. The one at Cozy Den tastes exactly like those in SA, make sure you order for it too. Even their chow and soup are awesome.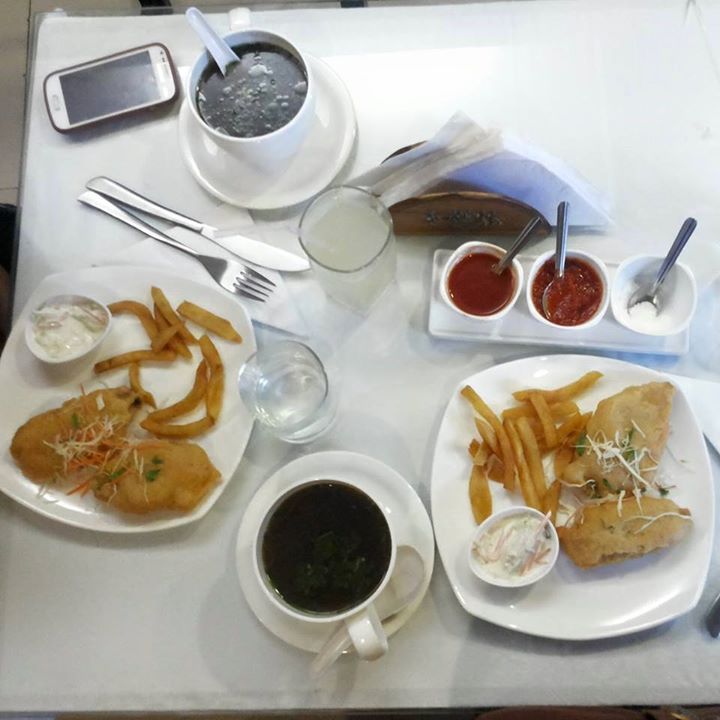 Dinner @ Zofood, 300 per person... good ambience and service... you get to use their free wifi too! :)
Natalia Sailo @ Blue Haven
Blue Haven Restaurant, opposite Millennium Centre - The fresh, crispy French Fries here I guess is the best so far you can find in Aizawl. The chicken chowmein and the paneer fried rice, though not much in quantity is one fine recipe you can trade for good money. The rich cream blended with the cold coffee, I say, is again the best in the city. Me and my stomach, always fond of good taste, me and my legs, always venturing about the city's places in search of good food, I think we are about to make a long stay here. Hats off to the main chef.
Fela Renthlei @ Jay Jay Restaurant
Sorry to say this but it was the worst French fries I've ever had, it was soggy and cold, I even suspect it was stale, I'm sure they can work out something in this matter. As for Kimbap, it is delicious, yumm3...low fats, rich in protein I guess. And Chicken Soup is soo yumm...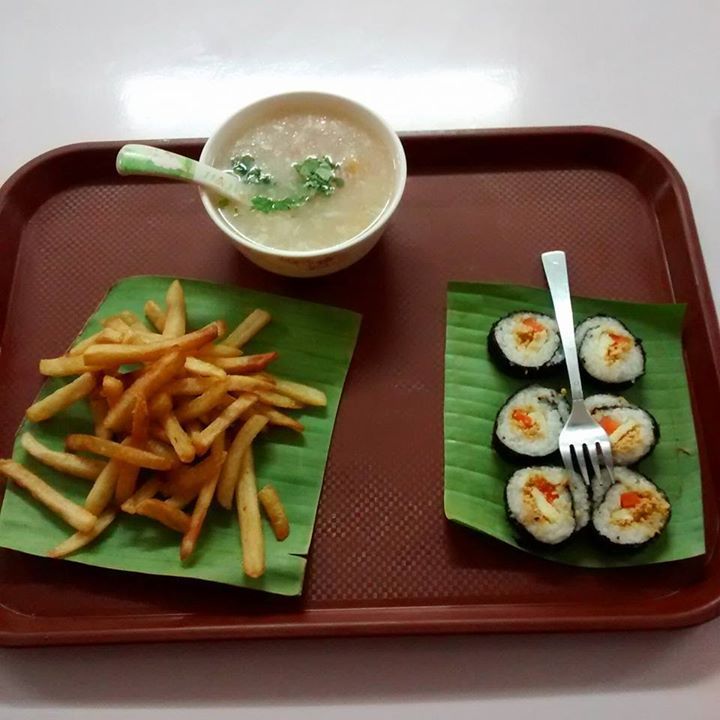 Mstr L Chhakchhuak @ John's Restaurant
Mi woo Noodles at John's Restaurant, Chhinga Veng. Considering the amoung of hype this dish has, I really don't think it lived up to that expectation.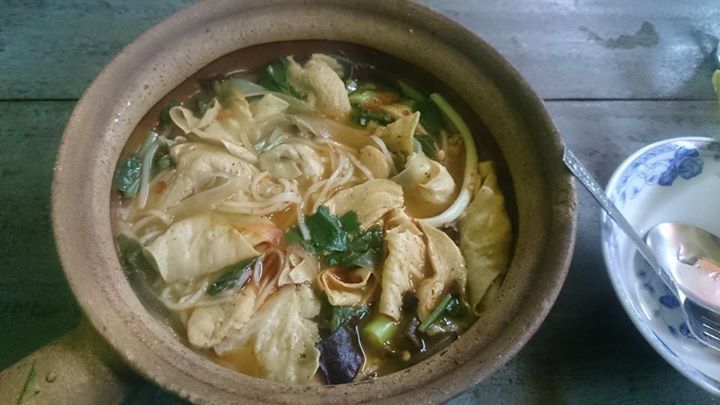 Kareen Tamang @ Pemarin Bites
Breakfast at Pemarin Bites: We placed our order at 9 am, our food came only around 10 something. And although we were verrry hungry by then, the saying "a hungry man is an angry man" didn't ring true for us just because the waitress was very sweet, pleasant to talk to, and very apologetic about the delay. The lassi came in a steel tumbler with oily finger stains, quite unimpressive in terms of presentation. The cheese dosa was very nice, the tomato chutney too was nice, the sambar, a bit sweeter than it was suppose to be on the sour side. The coconut chutney, a bit rancid but edible. The yummy dosa made up for anything that the sambar or chutney fell short of. Didn't like the idli and vada at all. Thank god, the tea was not some overly sweet machine tea.
Freda Kimi @ Pemarin Corner
WOW Burger @ PemarinCorner‬ , Millennium Centre - My crave for a juicy burger still going strong, ordered which sounds most tempting among their burger menu - wow burger filled with double cheese, beef patty, bacon, eggs etc. Taste good but i kind of missed the wow effect, may be because it was not juicy enough, and the beef patty was way too dry, the other fillings were nice though. And oh, the fries, sad, very sad.. they were soggy, could not eat more than two sticks.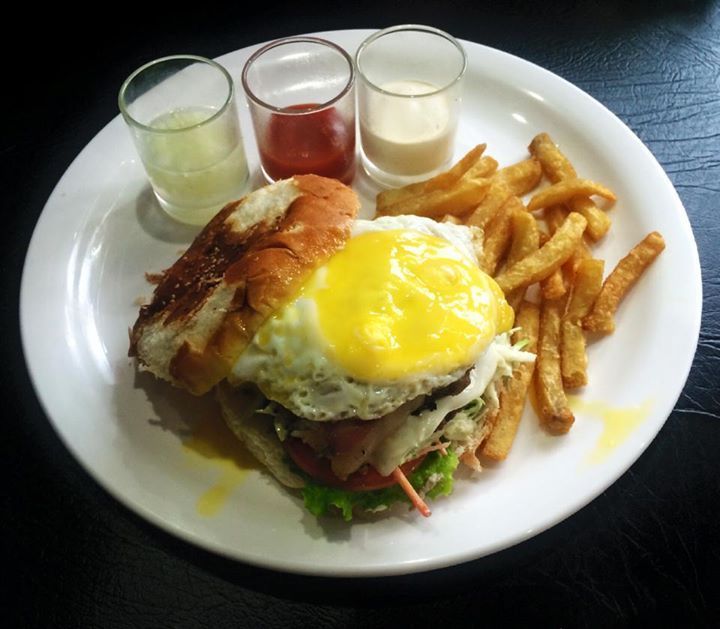 Michael Lalrinkima @ Zamzo Grill
ZAMZO Grill & Kitchen, Dawrpui - Beef steak with mashed potatoes and buttered vegetables (forgot the exact price, i think it was around Rs. 450). The steak was really good, well cooked and very filling. I also had a mocktail, the Strawberry Daiquiri (no pic, sorry) which was ok, but was very artificial in its taste. The order was served very late and we had to wait a long time though we did go at an odd time at around 11 30, but we still had to wait 40 minutes when we were the only ones in the whole restaurant.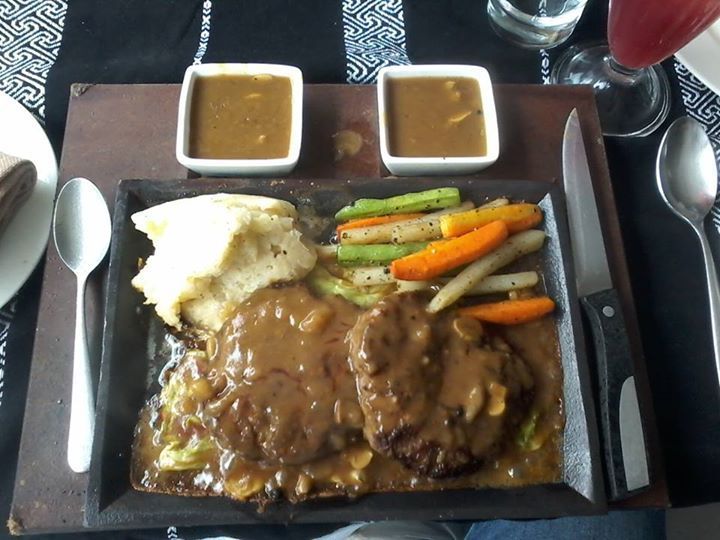 And there are times when reviews are not just about food, like for instance this review, where everybody agreed with the reviewer -
Kareen Tamang @ Zamzo Grill
The first thing I wanna say is, as we entered the place, I noticed they had new tablecloths made out of our treasured and beautiful "Puanchei" and it broke my heart. I cherish our "Puanchei" deeply, and it was off-putting to be eating upon it. It holds a place of respect and pride in my heart. Personally, I feel if anyone considers to incorporate this beautiful hnam puan in their decor, it can go on the wall as a prized tapestry that you hang with pride to showcase a bit of our culture. I have spoken about this thing that has bothered my head since, to almost all my family and friends to get their opinion on it, and they all think like I do. I don't know if the rest of my fellow Mizo feels the same way(?)
So those are just some of the reivews at "Where Aizawl Eats". Do join the group for more. Looking forward to more reviews and a better food destination in Aizawl! Cheers :)