Christmas and New Year time is always one of the most joyous moments for Mizos in Mizoram, as the entire community comes out to feast together on these two occasions. It is one of the few bastions that bind us all together as a community.
Christmas and New Year feasts usually take place the next day after 25th December and 31st December, though this depends from denomination to denomination (known as "Kohhran"). For example, my girlfriend's Kohhran, the 7th Day Adventists, had their Christmas feast on the 25th itself, whereas my Church which is Presbyterian, conducted our Christmas feast on the 26th of December.
And again, even within the same denomination, the dates can differ too. Mission Veng Presbyterian Kohhran conducted their New Year feast on the 1st of Jan this year, whereas my Church, the Chaltlang South Presbyterian Kohhran, conducted our New Year feast on the 2nd since it was a Saturday and many parishioners preferred that convenience. So yeah, dates and timings depend not just on the denomination but on the locality as well.
But whether it is on this date or that day, one thing that is common across all denominations and localities is that, everybody has a lot of fun.
Now when I say "feast", some of my non-Mizo visitors might be thinking the typical feast where you receive an invitation for a special event or function and so you dress up nicely and go to that event to enjoy a succulent display of delicious food and drinks, maybe socialize with a few friends and then go home.
Nah, our Mizo feasts aren't like that. In our Mizo feasts, or as we call it "ruaitheh", the entire community is of course invited to the event, but the entire community also prepares the food together. THAT is what makes the whole experience of "ruaitheh" so much fun and lively.
Before the ruaitheh starts, the community is divided into different volunteer groups, known as "fatu", usually based on age. Some groups are in charge of the plates and benches, usually assigned to teenagers, while the older and stronger youth are in charge of carrying the extremely heavy pigs and other meat to the venue for preparation. Grown-ups are in charge of the gas and cooking utensils. Older folks cut vegetables and prepare the salad. Womenfolk, apart from continuously making tea and serving it to the other volunteers, are extremely active in making the other dishes too. Some of the older men prepare the rice and meat as it requires a lot of heavy lifting and so on. Even during the actual feast, there are different groups who continuously refill the food counters, wash the dishes, clean the benches for the next batch etc., not to forget the unsung heroes like the group that has to clean up and clear the entire place again once the feast was over, or the "security" volunteers who roam the locality during the feast since most of the people are not at home. A feast would not be possible at all if even one group lags behind on their responsibility.
And that is what makes Christmas and New Year feasts so awesome - That complete bonhomie and closeness of coming together as one giant family.
I also believe this is one of those moments that show how our Mizo society is devoid of any class distinction or discrimination. As mentioned above, during the food preparation, you will actually find doctors, lawyers, business magnates, MPs and MLAs, drivers, electricians, postmen, garbage men, manual labourers, ALL sitting on the same table preparing the food together and cracking jokes and laughing. The same goes when you're queuing up for food or sitting down to eat. Everybody stands or sits together, no VIP treatment (except of course for the old and handicapped).
This Christmas and New Year, unfortunately, I didn't get to take any photos of the "Fatu", but if you want to see what fatu is like in our Chaltlang South Presbyterian Church feast, here is an old blog post of mine back in 2006. Can't believe it's been almost 10 years since I took those pics, and still things are pretty much the same. That's one of the things I love about our culture.
So here are some of the photos I took this time. Click on all pics to enlarge to a new tab.
This year, as always, I waited for my friends at Matea's house to go to the feast together with. Us bachelors would roam around in pack together.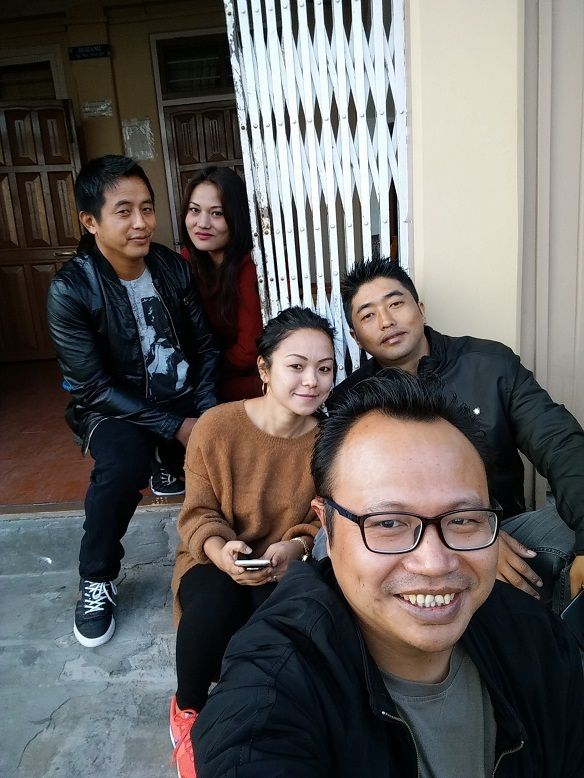 Of course the big difference this time was, both Tluanga and Matea are now married. Bloody traitors :P
We walked up to the Church compound around 3:30 PM. Naupang (children) had completed standing in line, so it was now time for the Puitling (adults) to stand in line.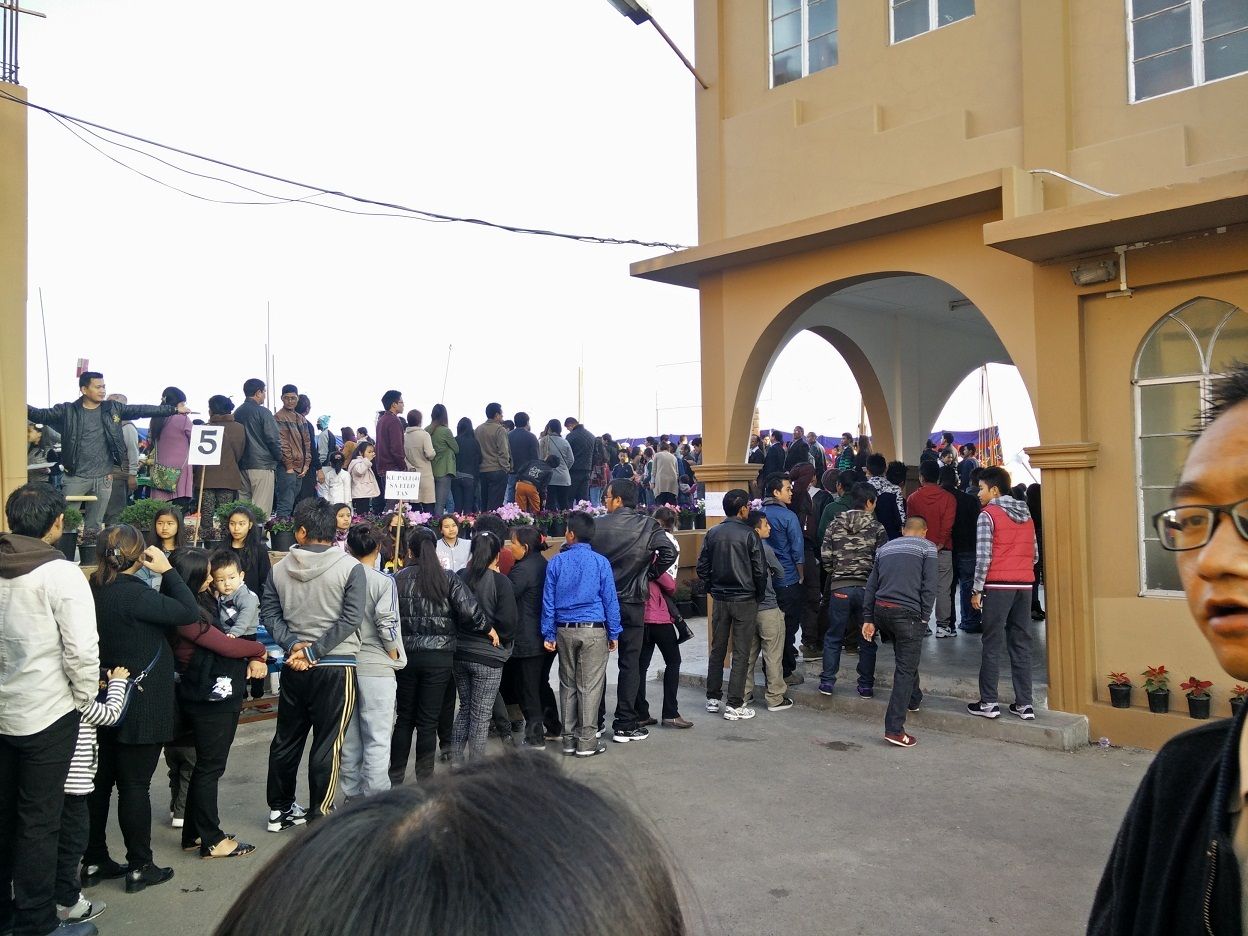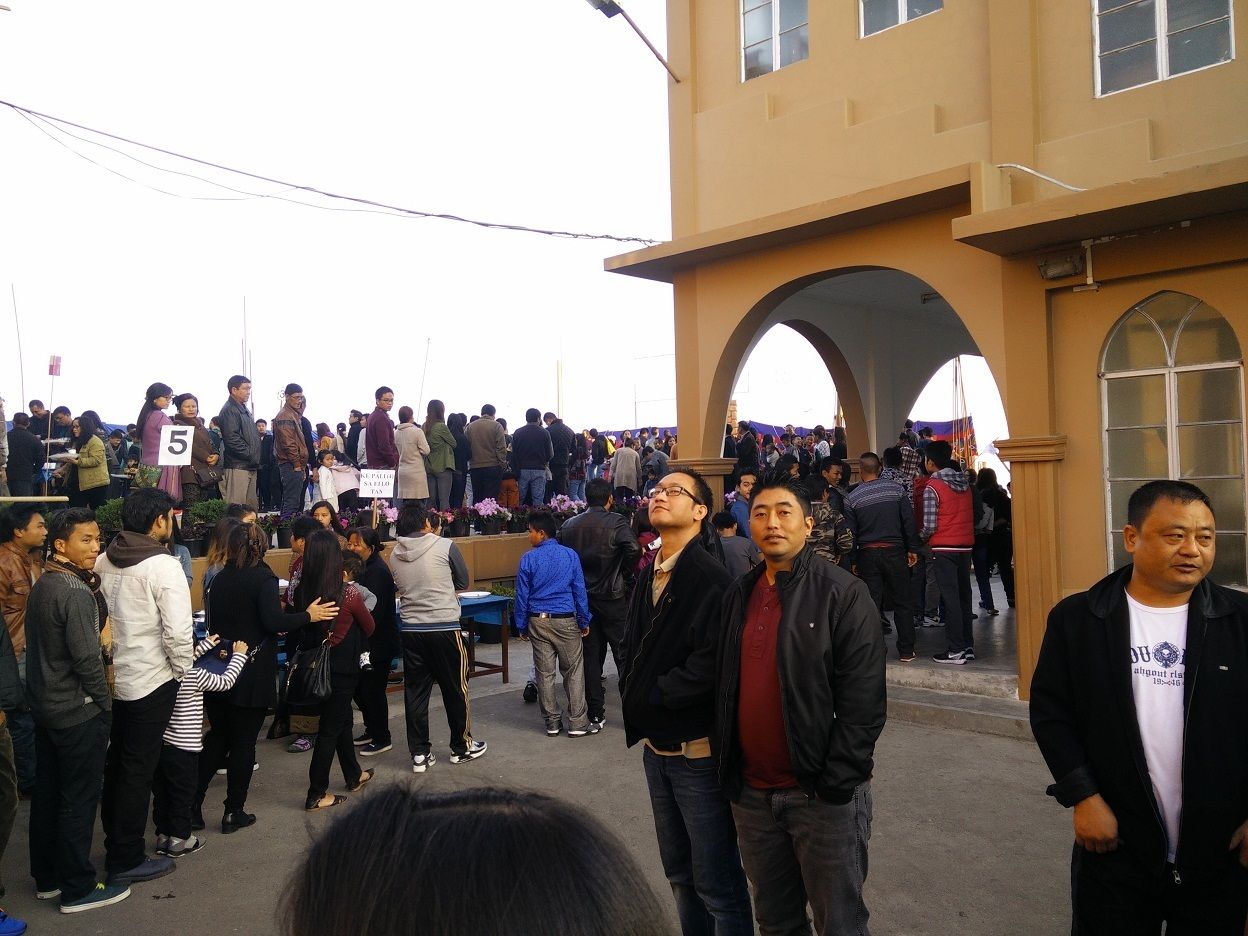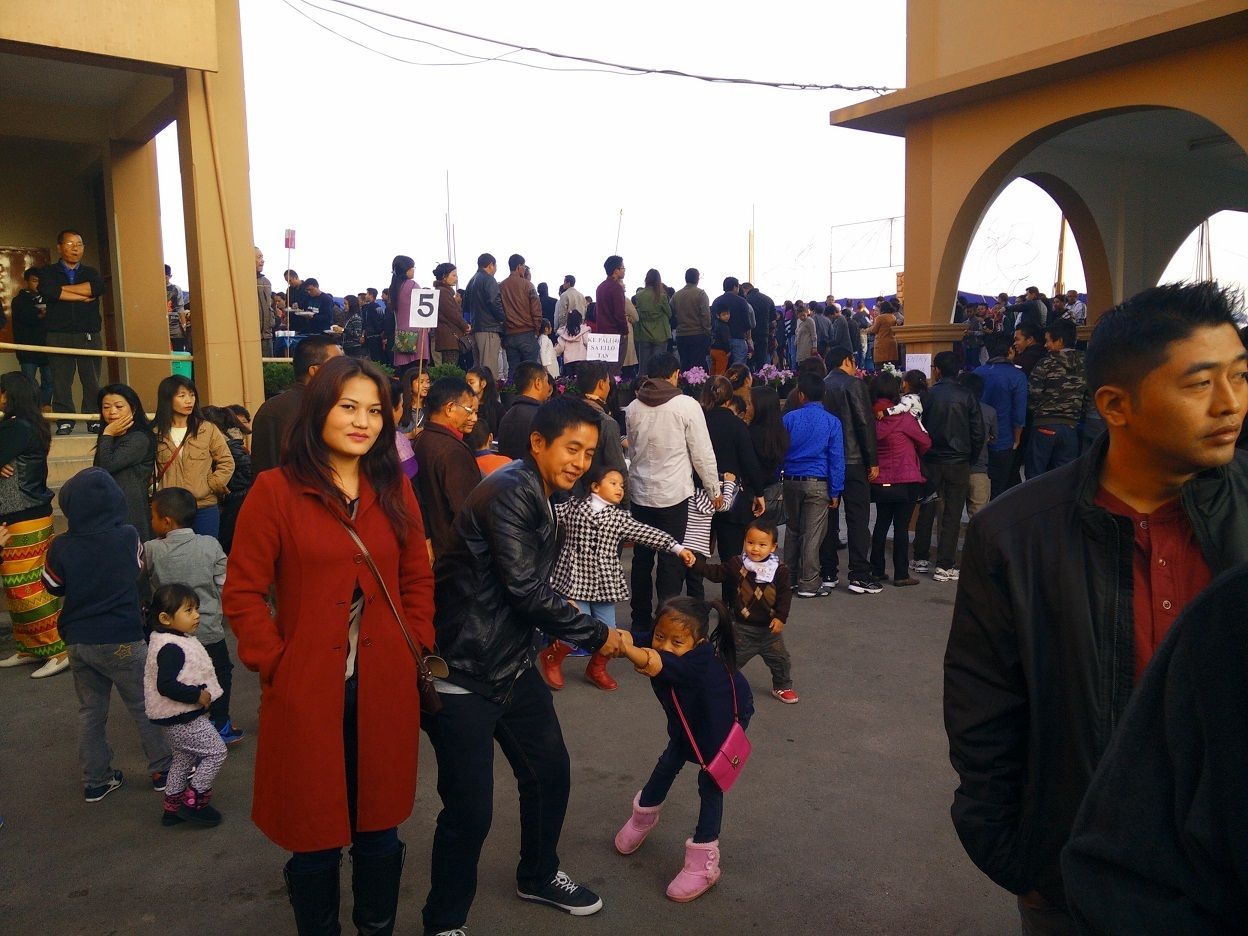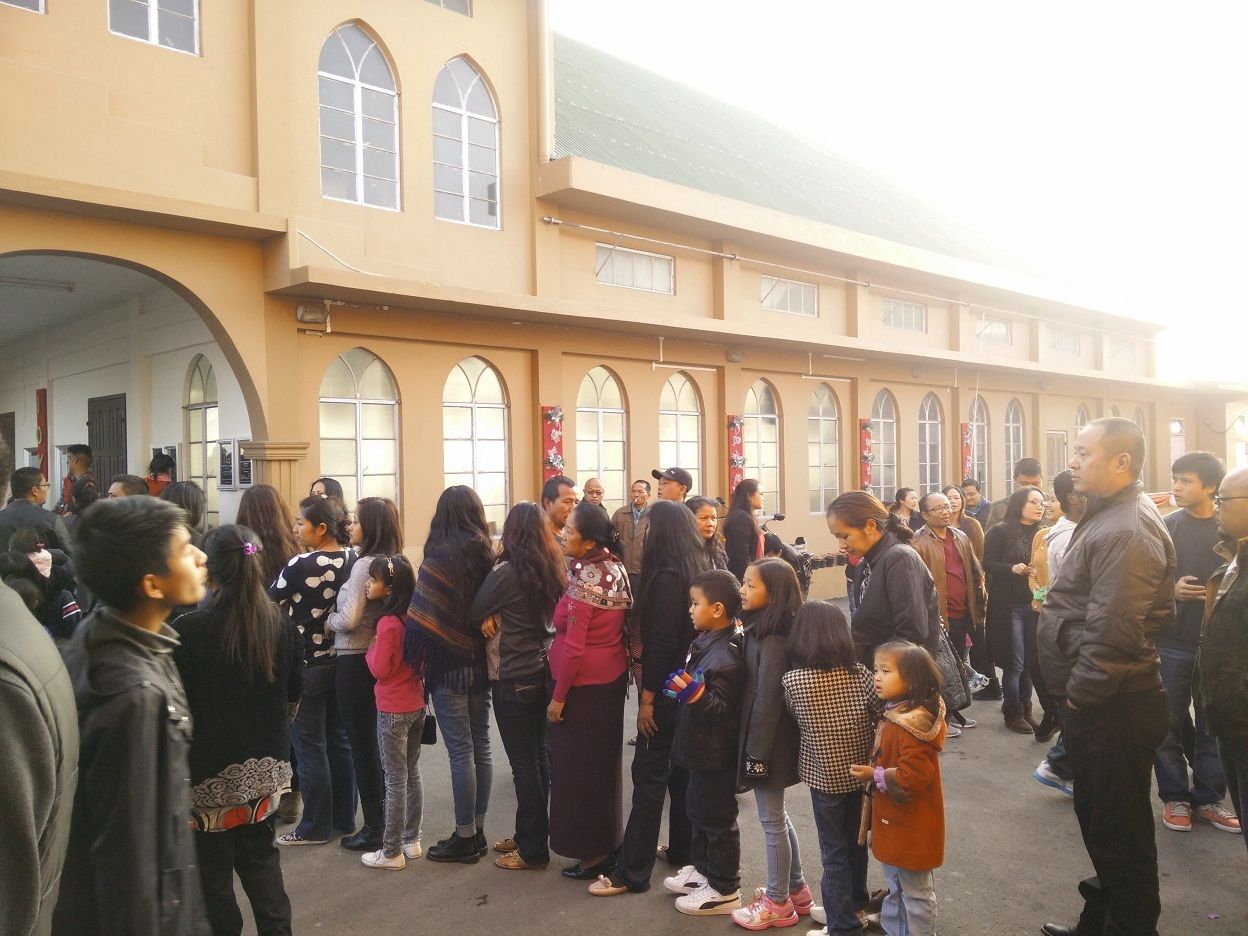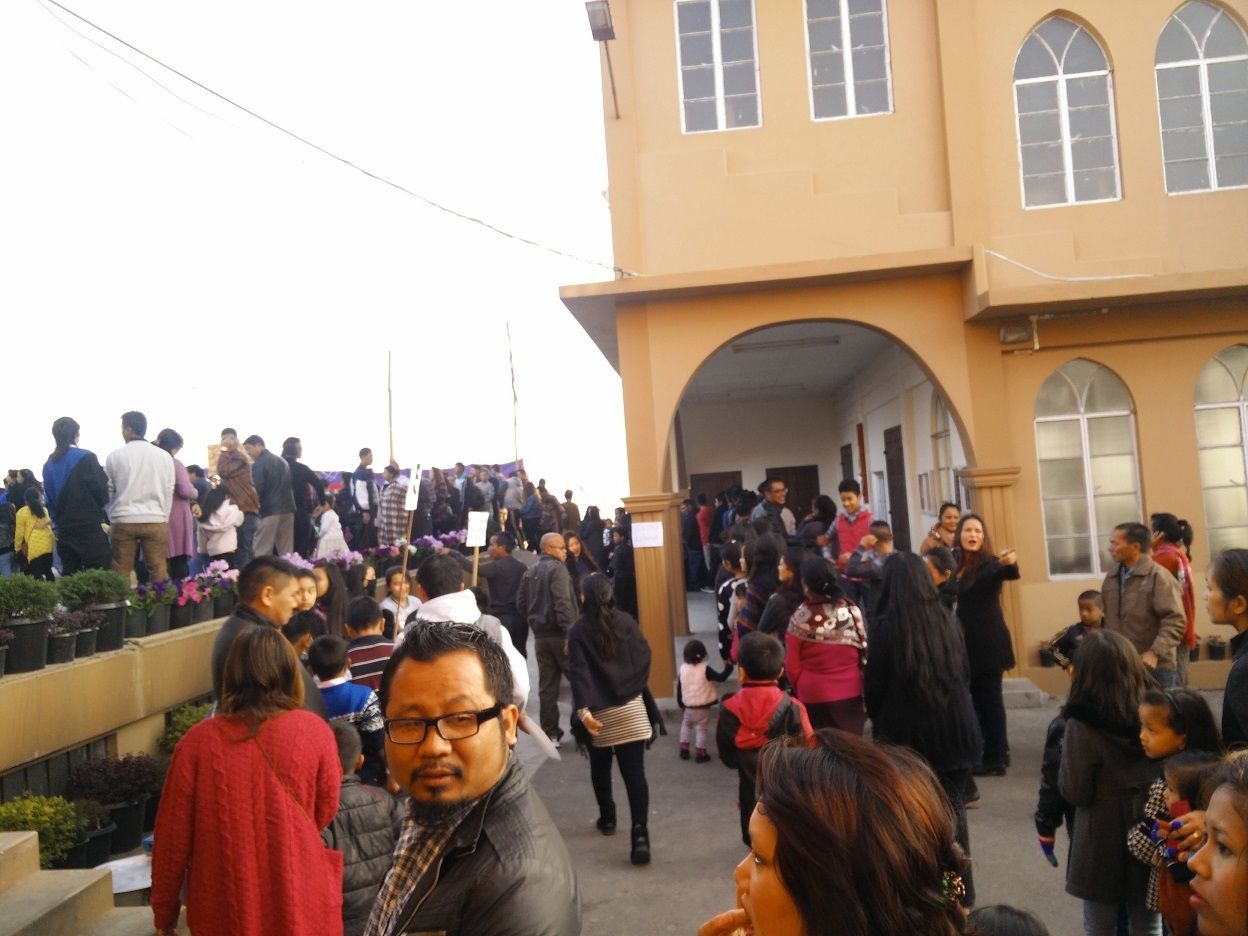 The food counter you see below is known as the "ke pali neilo sa ei tan" which means for those people who "don't eat the meat of animals with four legs". That means chicken and fish (it can also be duck, prawns etc depending on the organizers. In our case, it was chicken and fish). But as you can see from the number of people around, Mizos clearly prefer pork and beef :)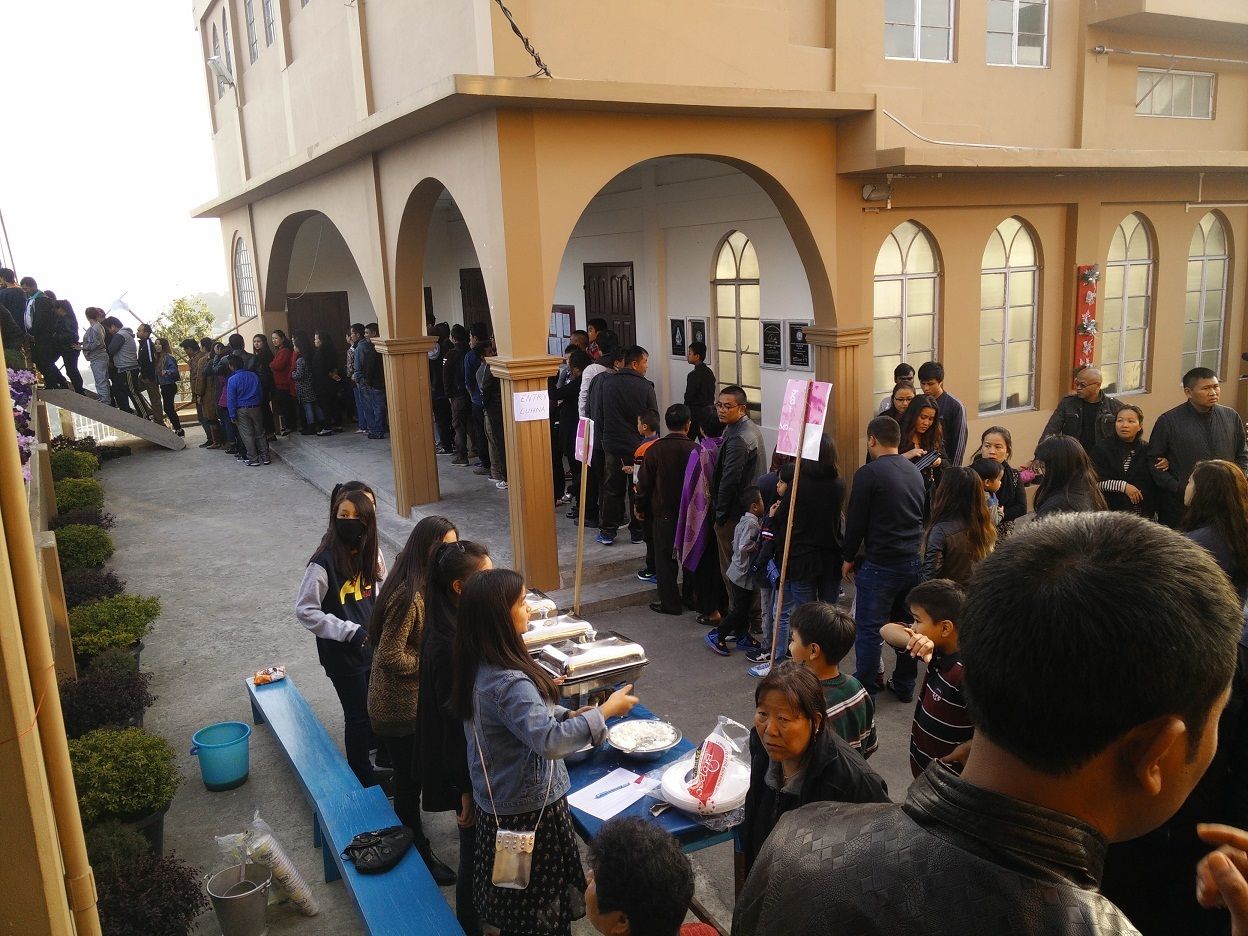 We stood in line as well…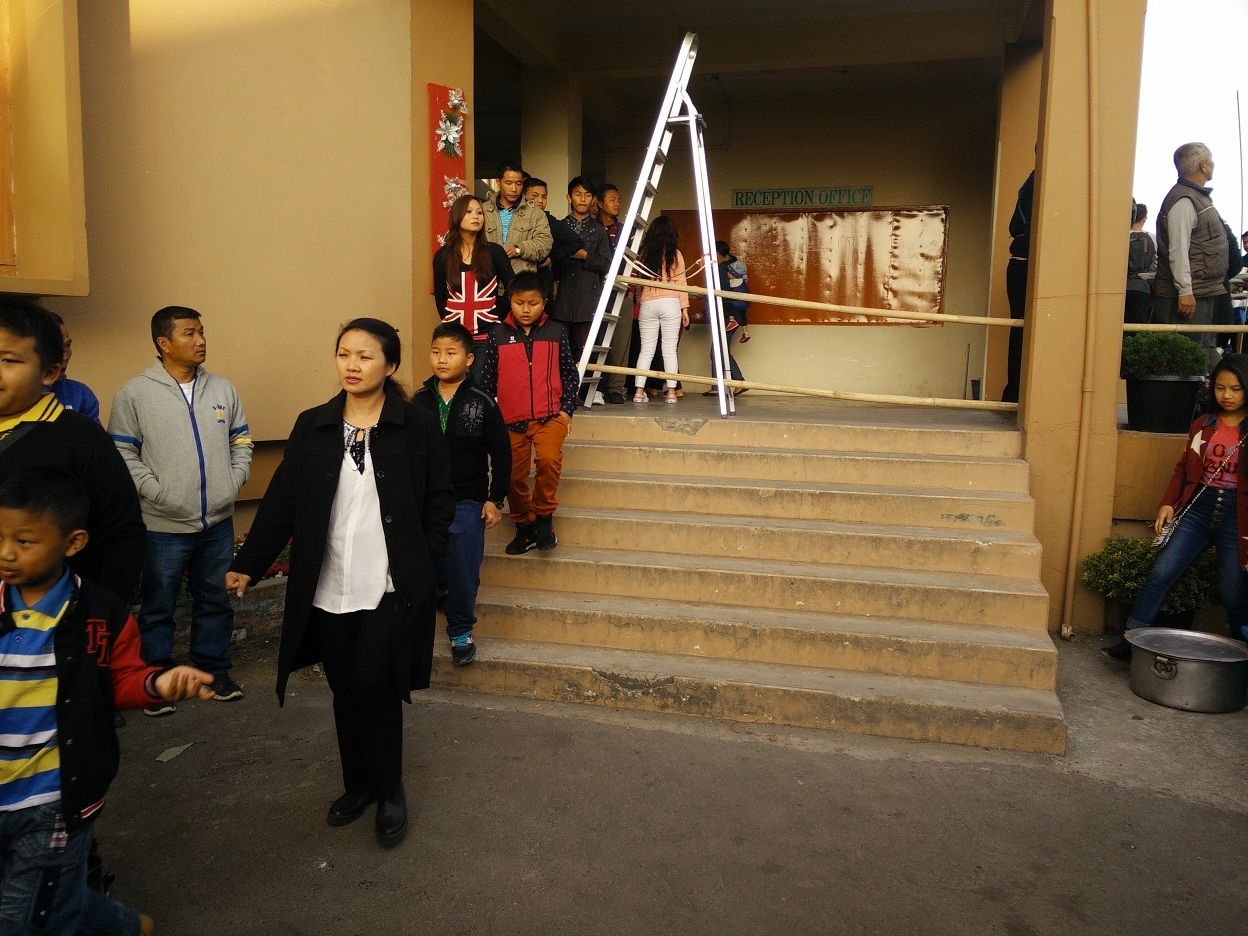 My friends, just like me, were busy taking pics and selfies…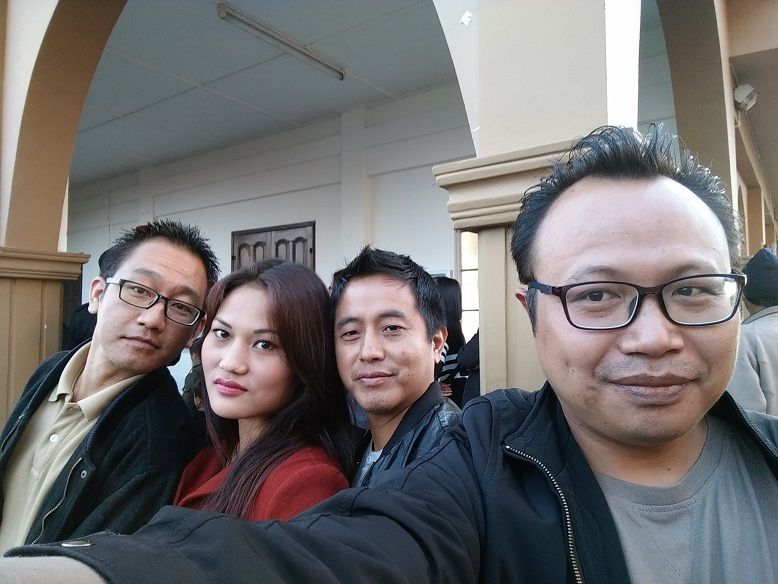 Taking more pics of the line in front and behind us…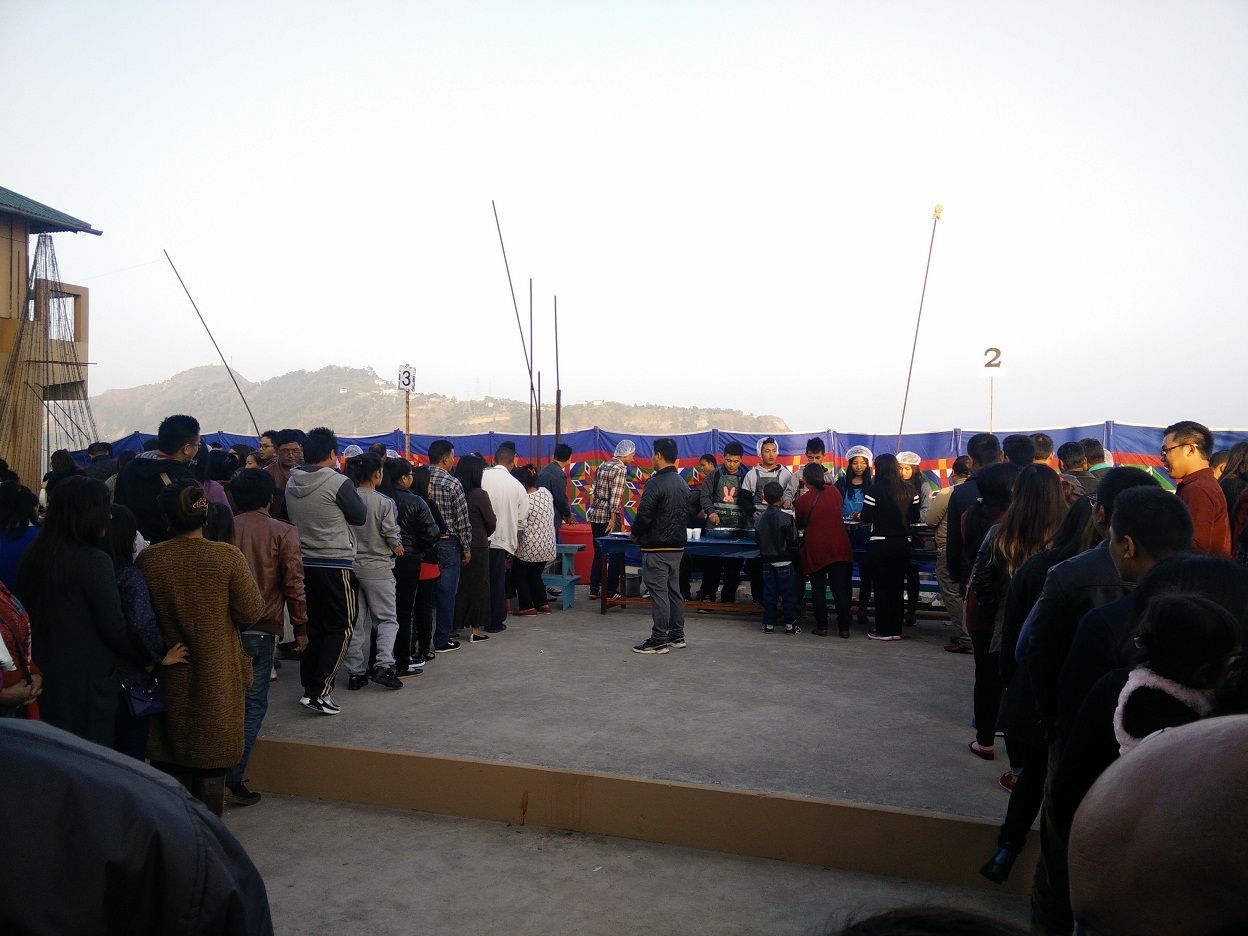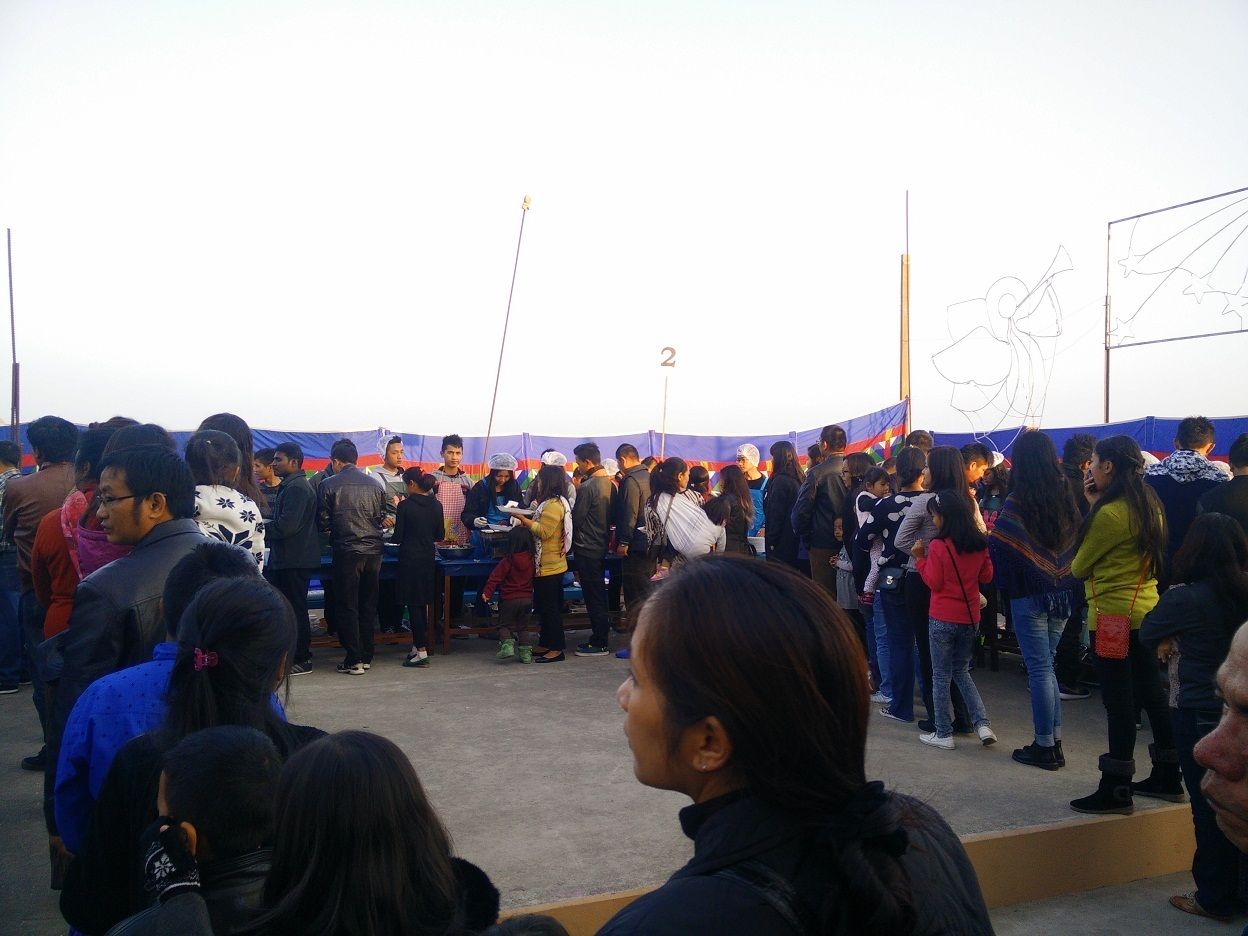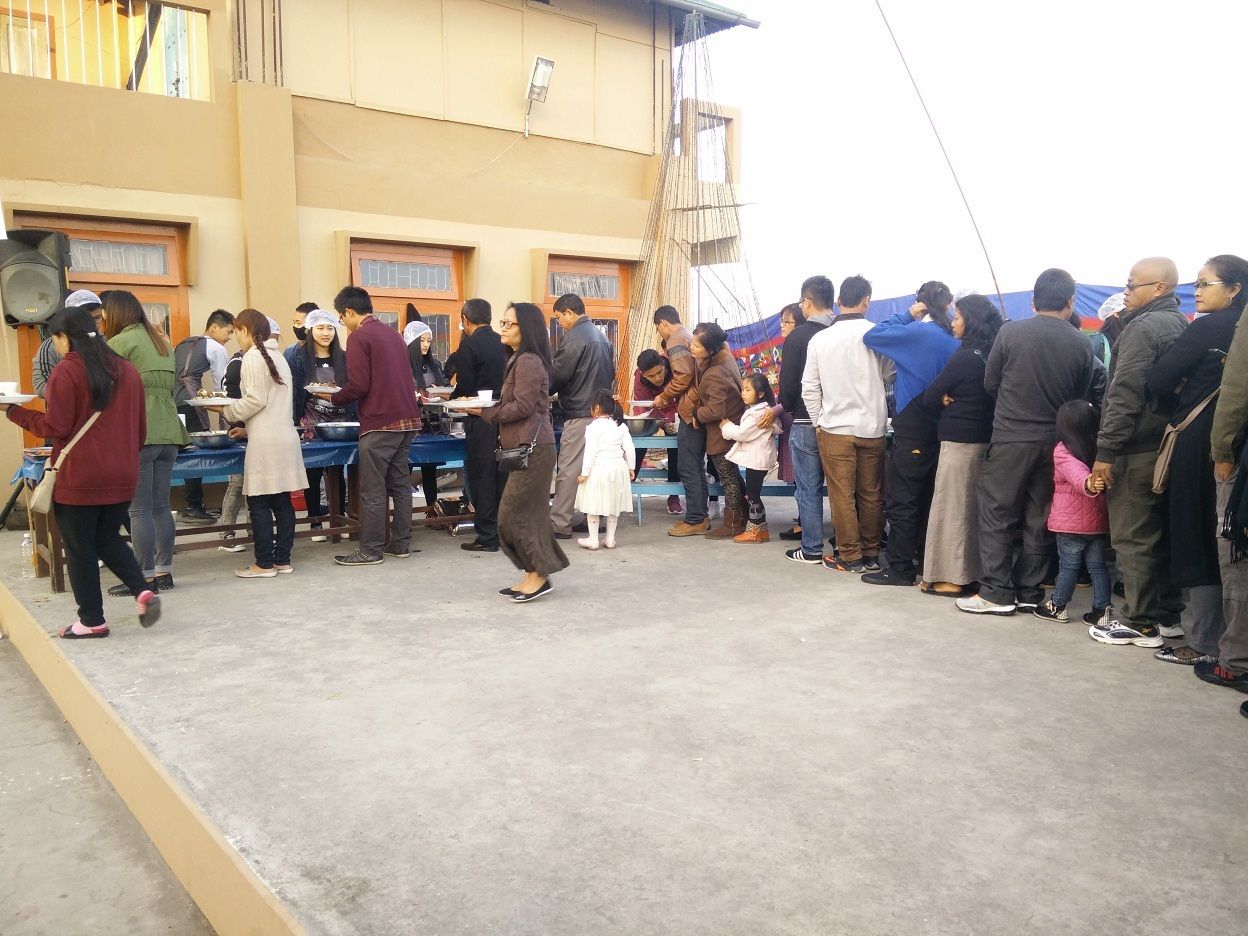 Some of the younger volunteers were busy resupplying plates and cups…
Hehehe, my sister and brother-in-law along with my cousins standing behind us in the same line… Nick surely is the odd man out at Mizo functions like this. :D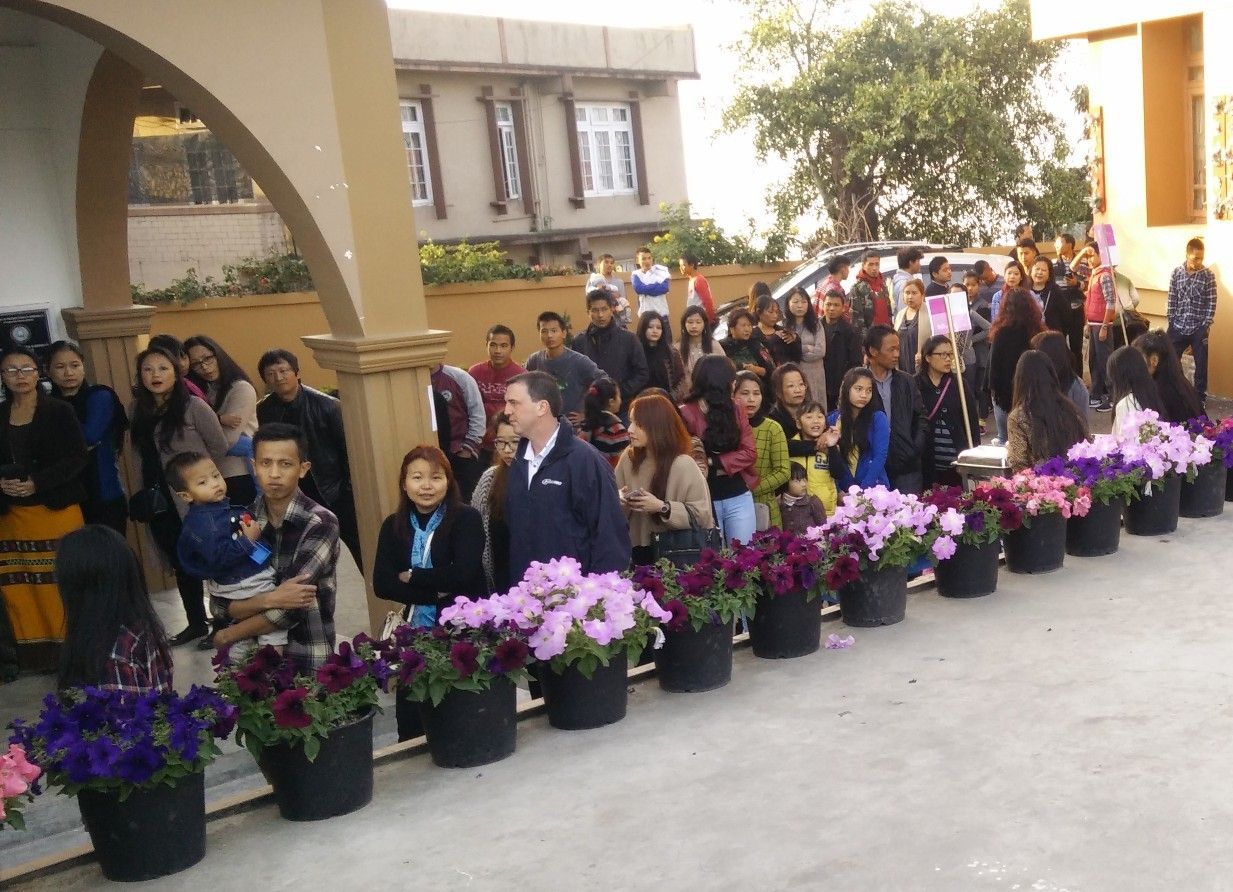 Got a moment to capture this nice selfie while standing in line with Tluanga, Aruati, Matea, and our Church bell-tower in the background.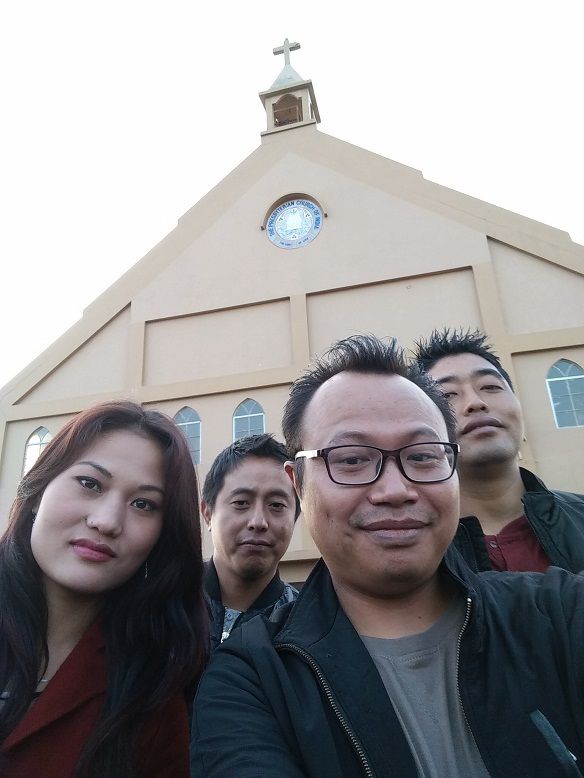 Almost there now…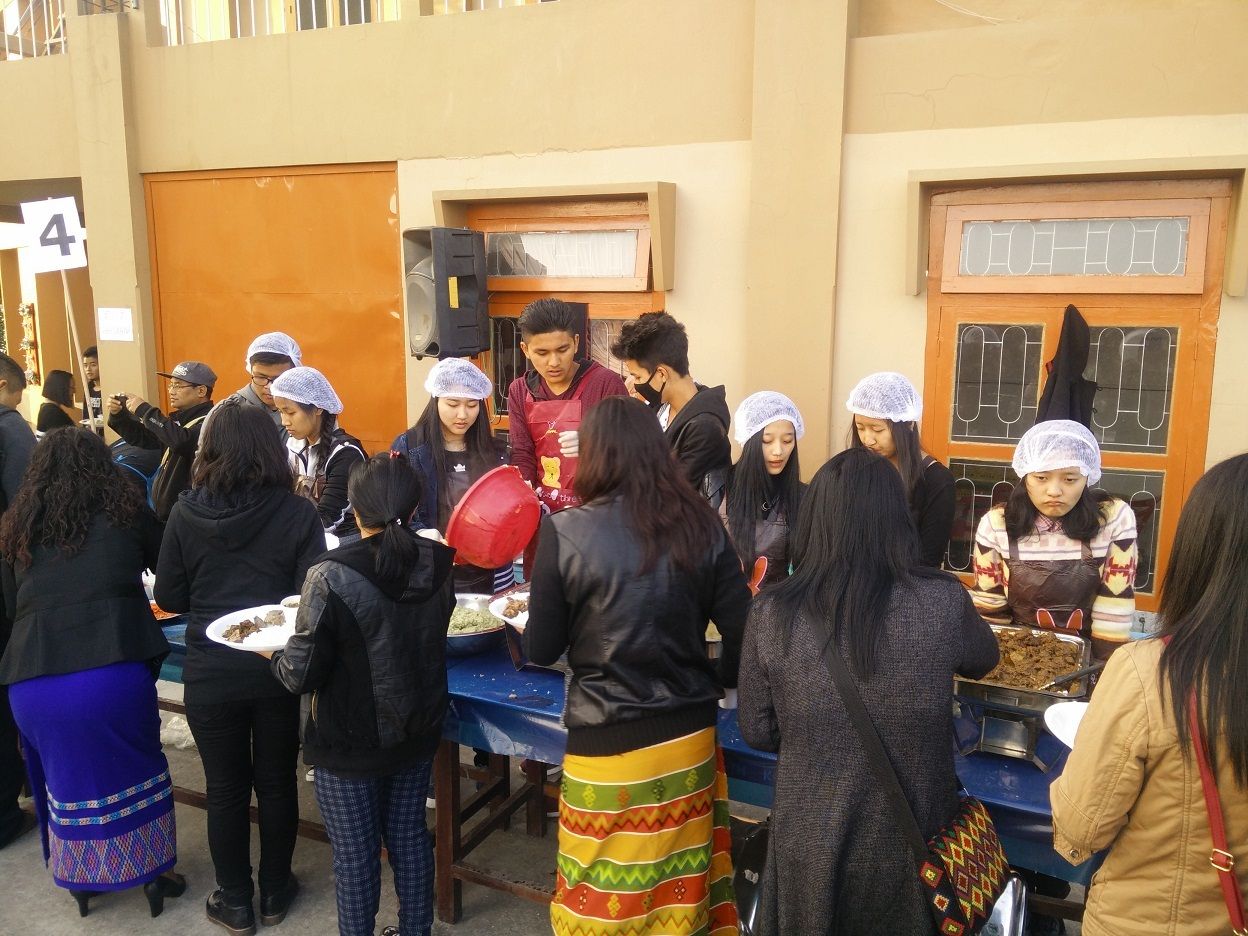 Our dear friend Robert who was one of the fatu-leaders, kept a stern lookout everywhere for food counters that might be running low or people not standing in line properly…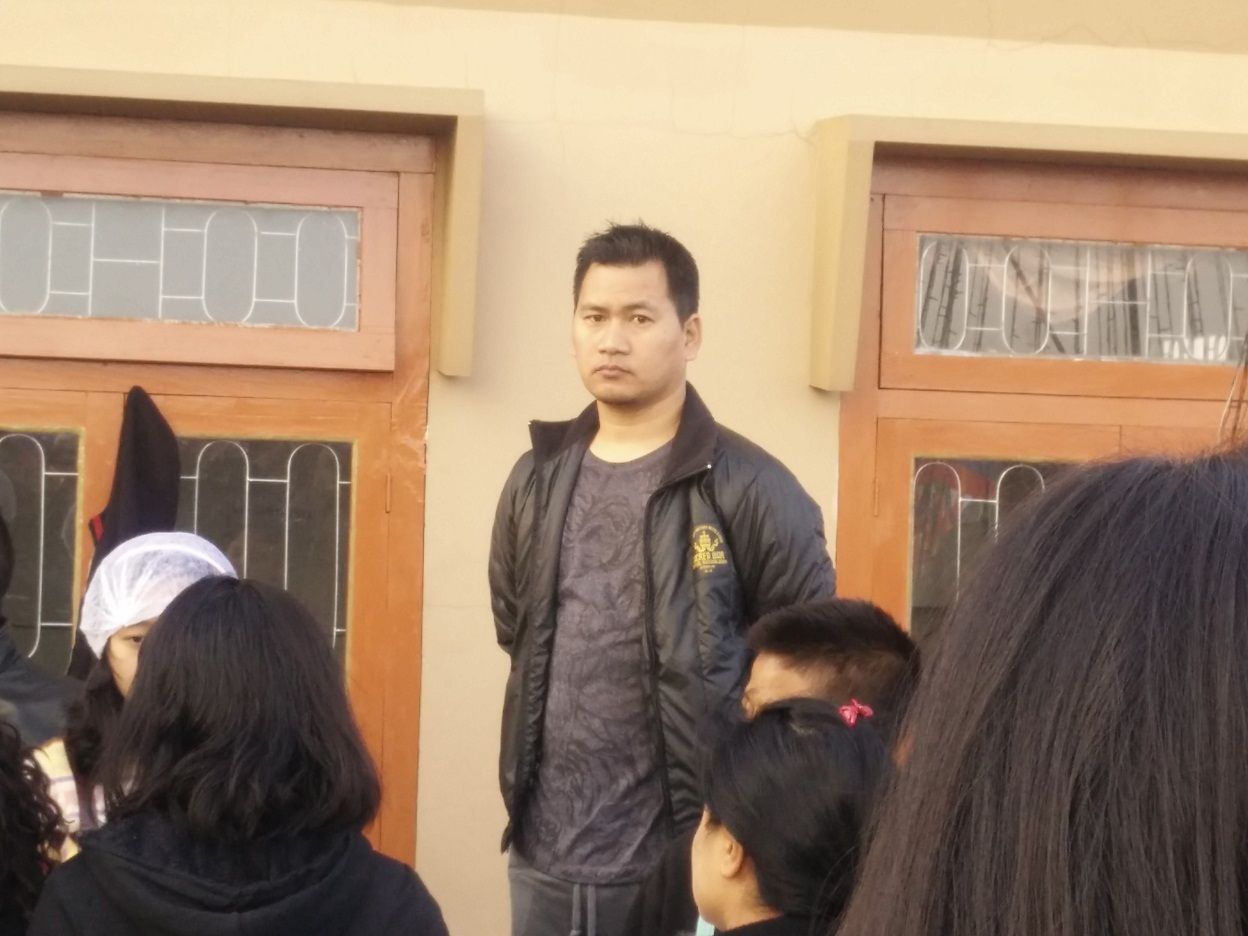 Matea and I took one last idiotic selfie together before reaching our food counter.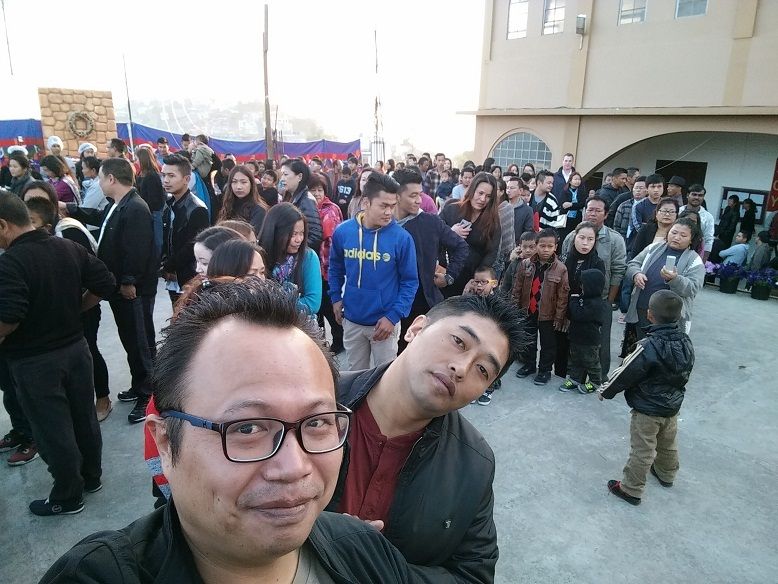 Volunteers serving us food. Yummm yummm. I really like they way they treat hygiene of utmost importance.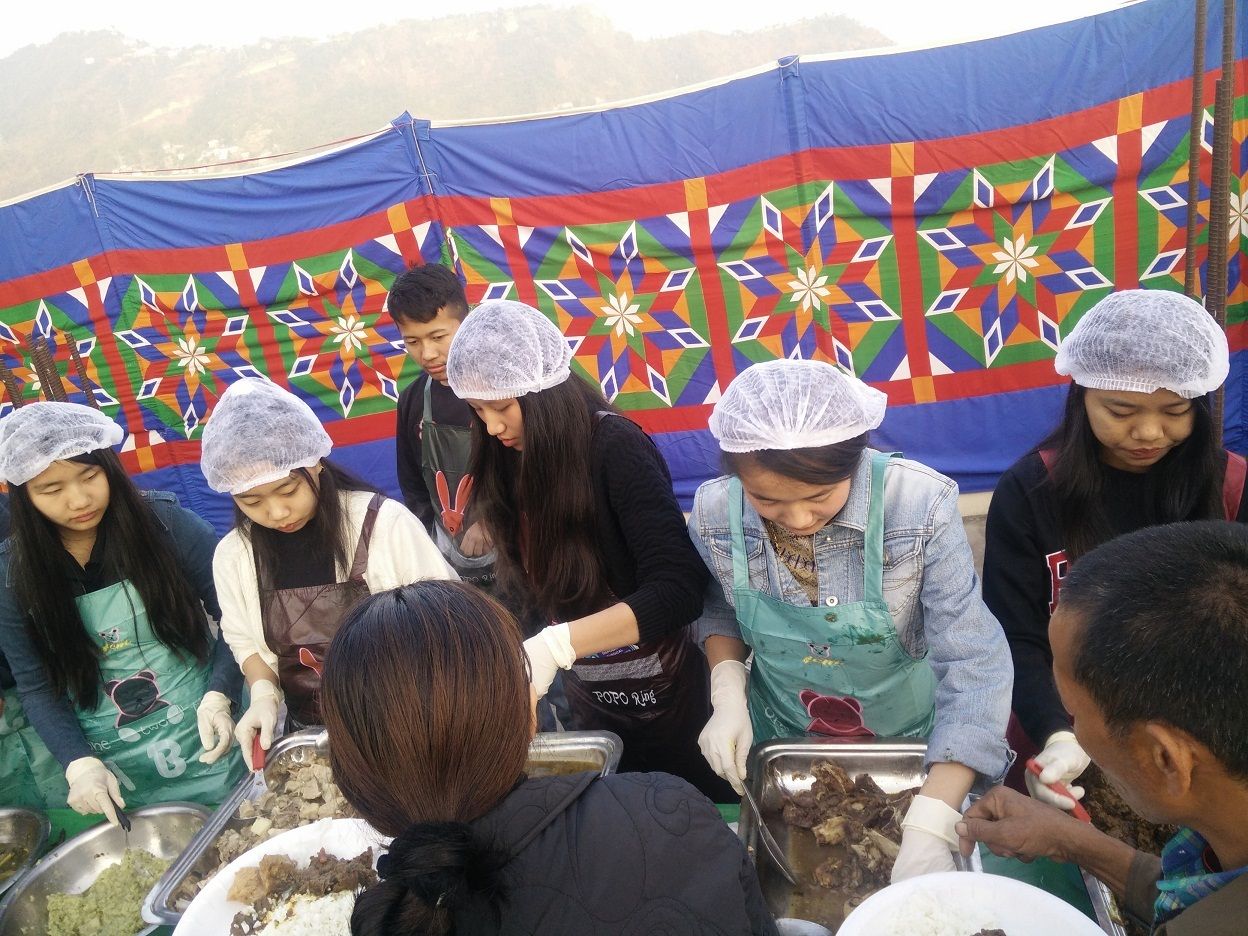 The volunteers also kept a count of how many people were eating at each counter. While our parish, the Chaltlang South Presbyterian Church managed to reach around 1300 to 1700 people, our neighbor the Chaltlang Presbyterian Church had around 2500 - 3000 participants!
And once we were marked, we started digging in on the awesome array of Mizo cuisine lying in front of us.
After this, I didn't take any more pic of the queue since my hands were full with my plate. We went downstairs where I managed to find a seat with my cousin Hriatpuia and his new wife Fakteii.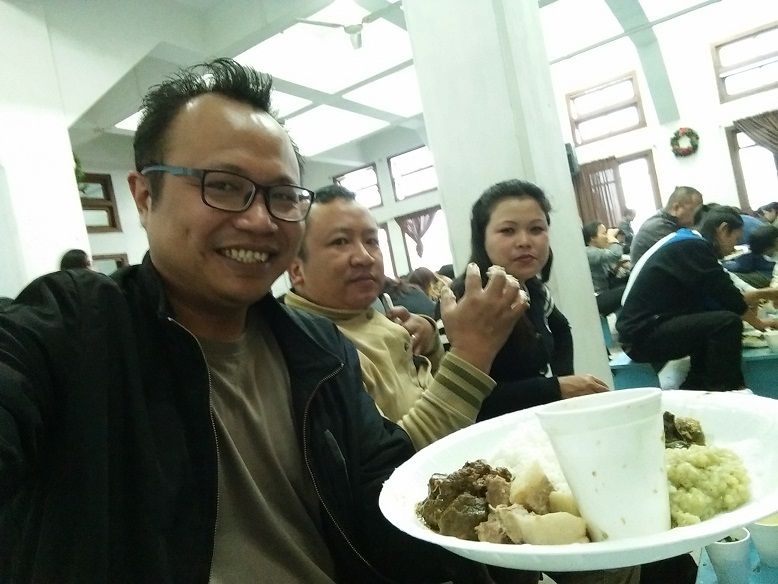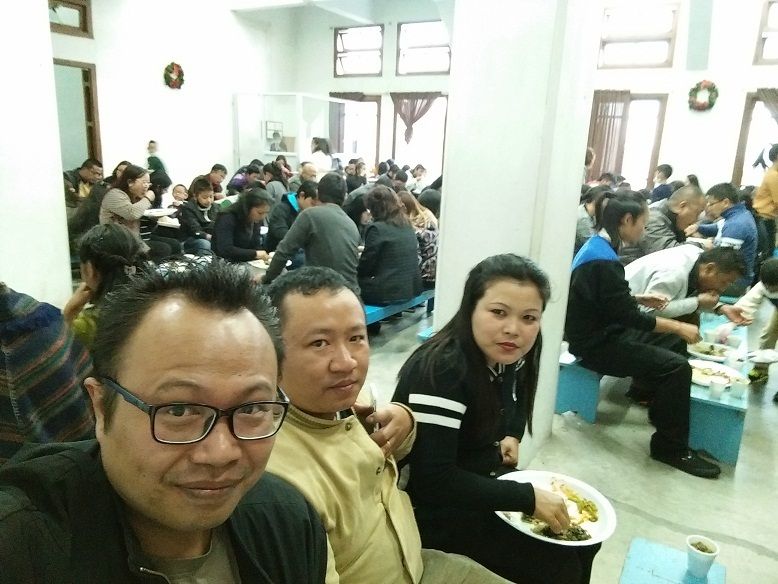 So yeah, as you can guess, all my friends and cousins made fun of me because while standing in line, I was standing with Matea and his new wife in front of me, and Tluanga and his new wife behind me, and while eating I was sitting with Hriatpuia and his new wife, hence putting more pressure on me to get married soon too.
After enjoying the ravishing pork and beef dishes, we washed our hands. The "sanitation" disposed our plates and made sure there was always enough water and soap for those feasting.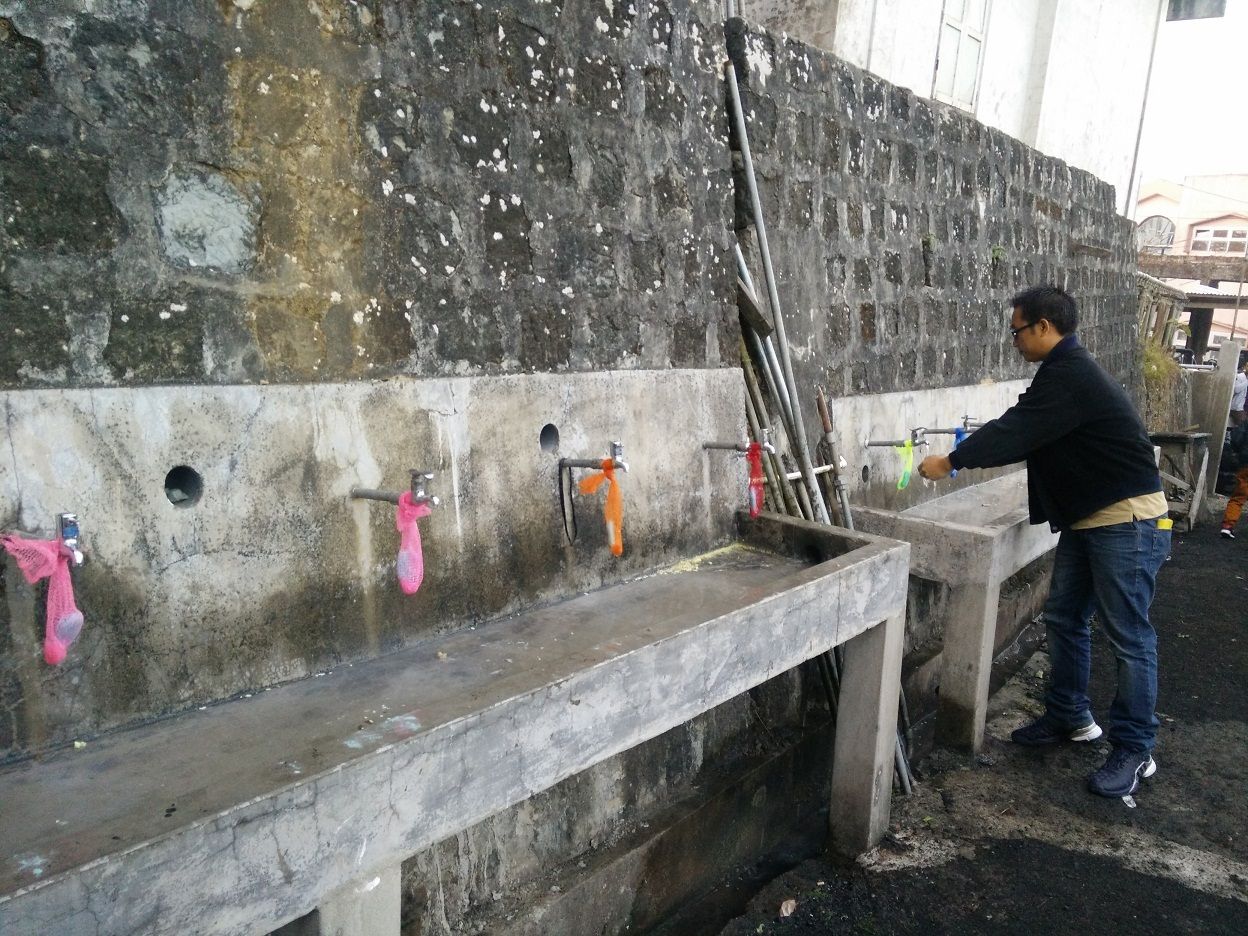 And then we relaxed as we caught up with old friends and neighbors.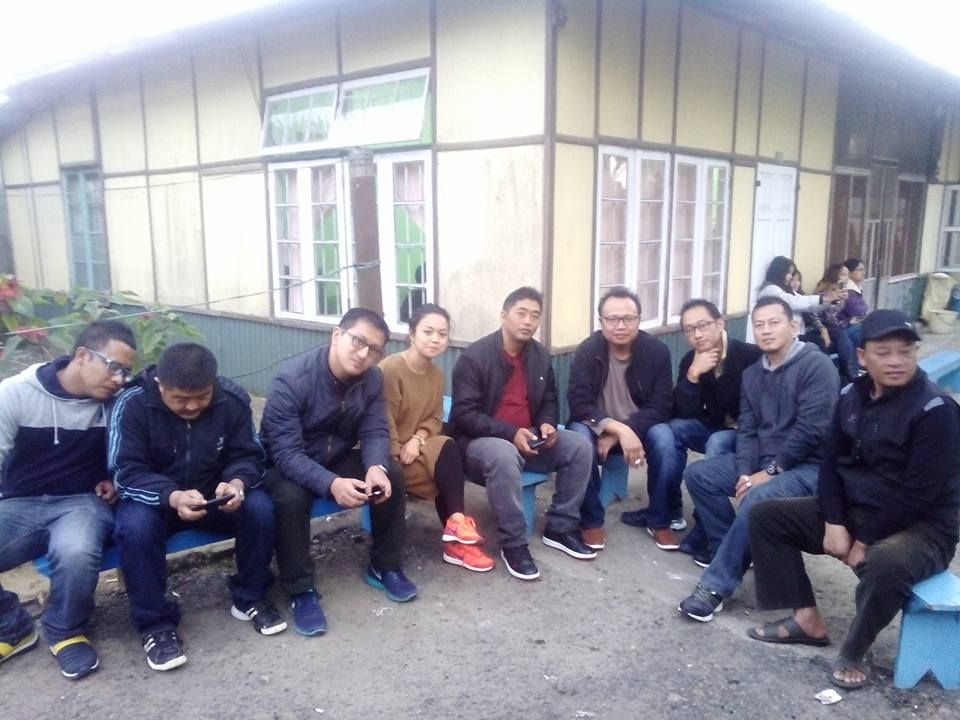 [Pic courtesy: Mazualtea]
New Year too was pretty much the same again… The usual fatu, the usual food preparation, the usual awesome food, the usual fun and gaiety!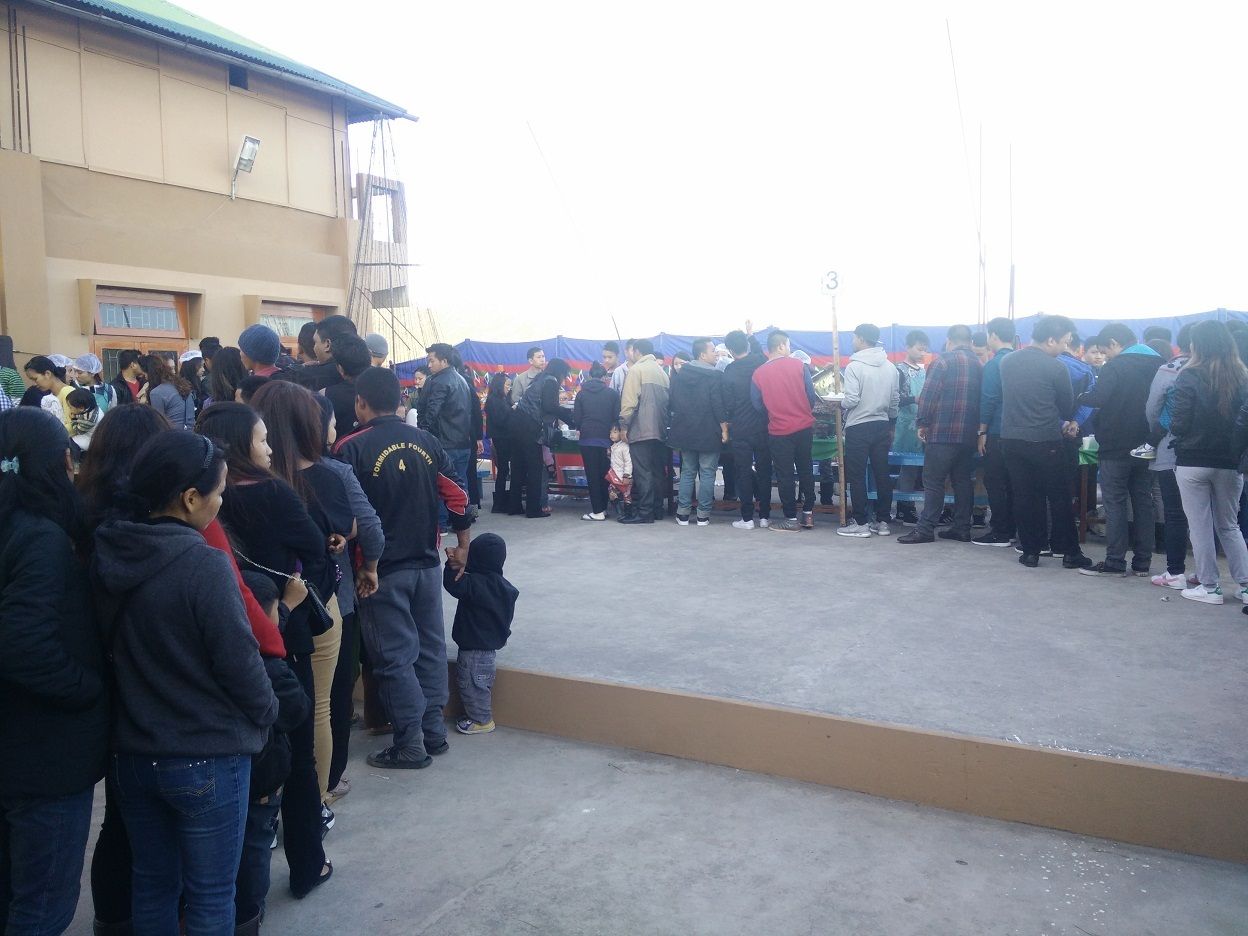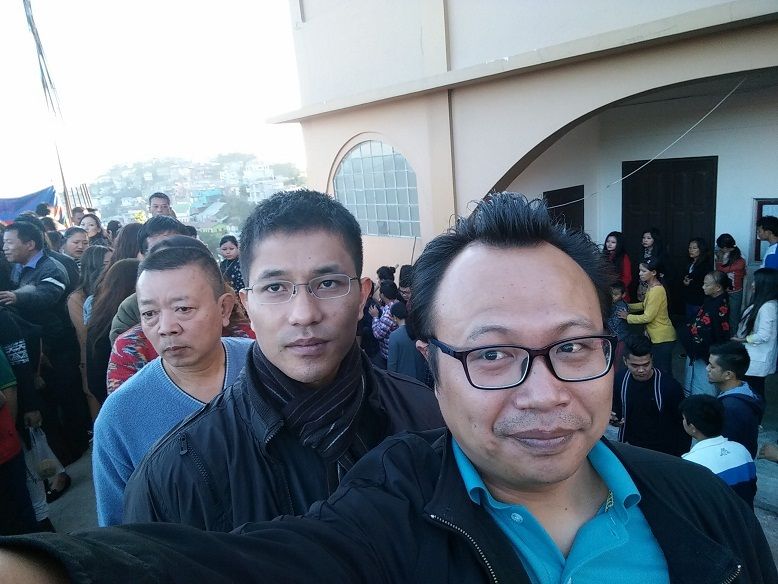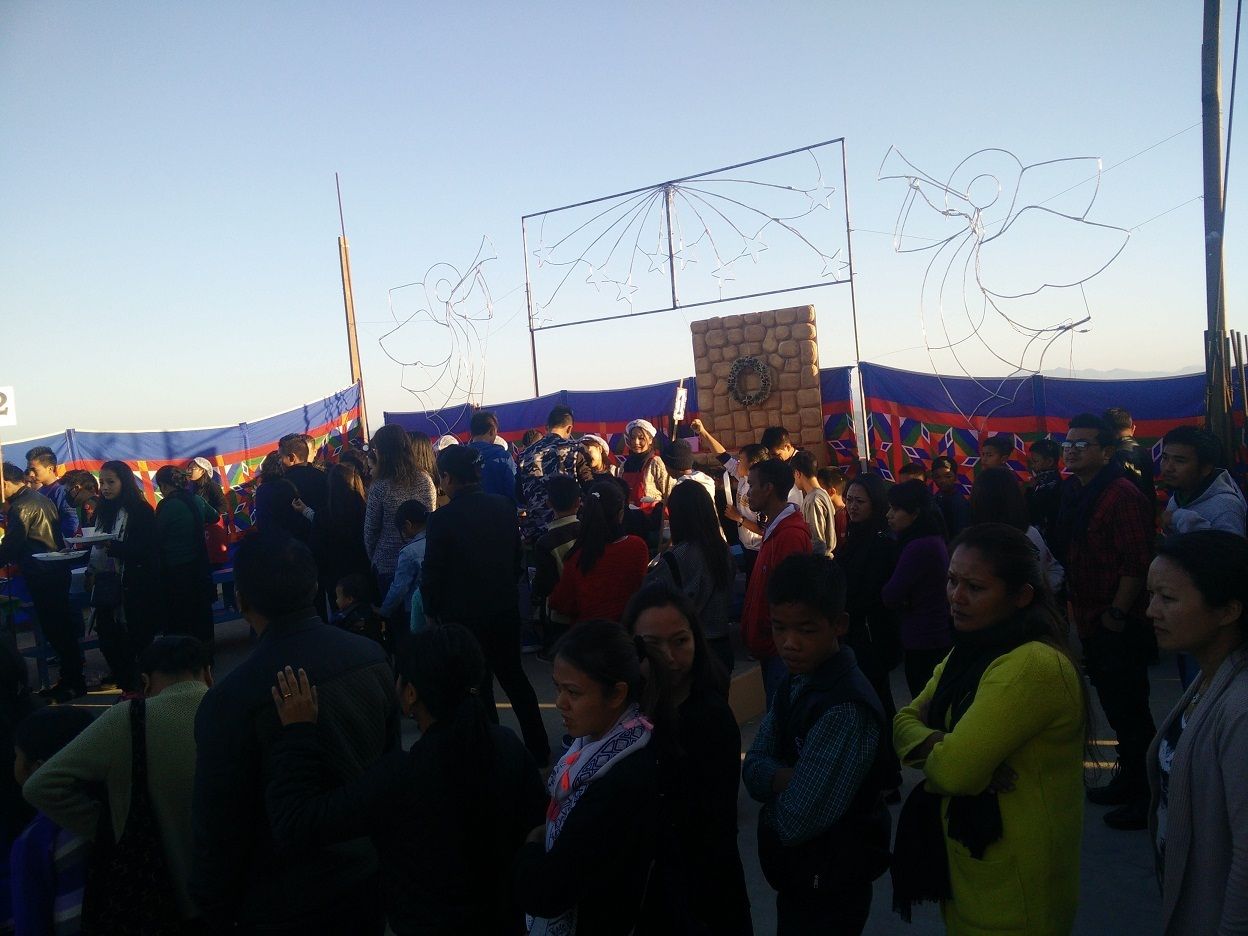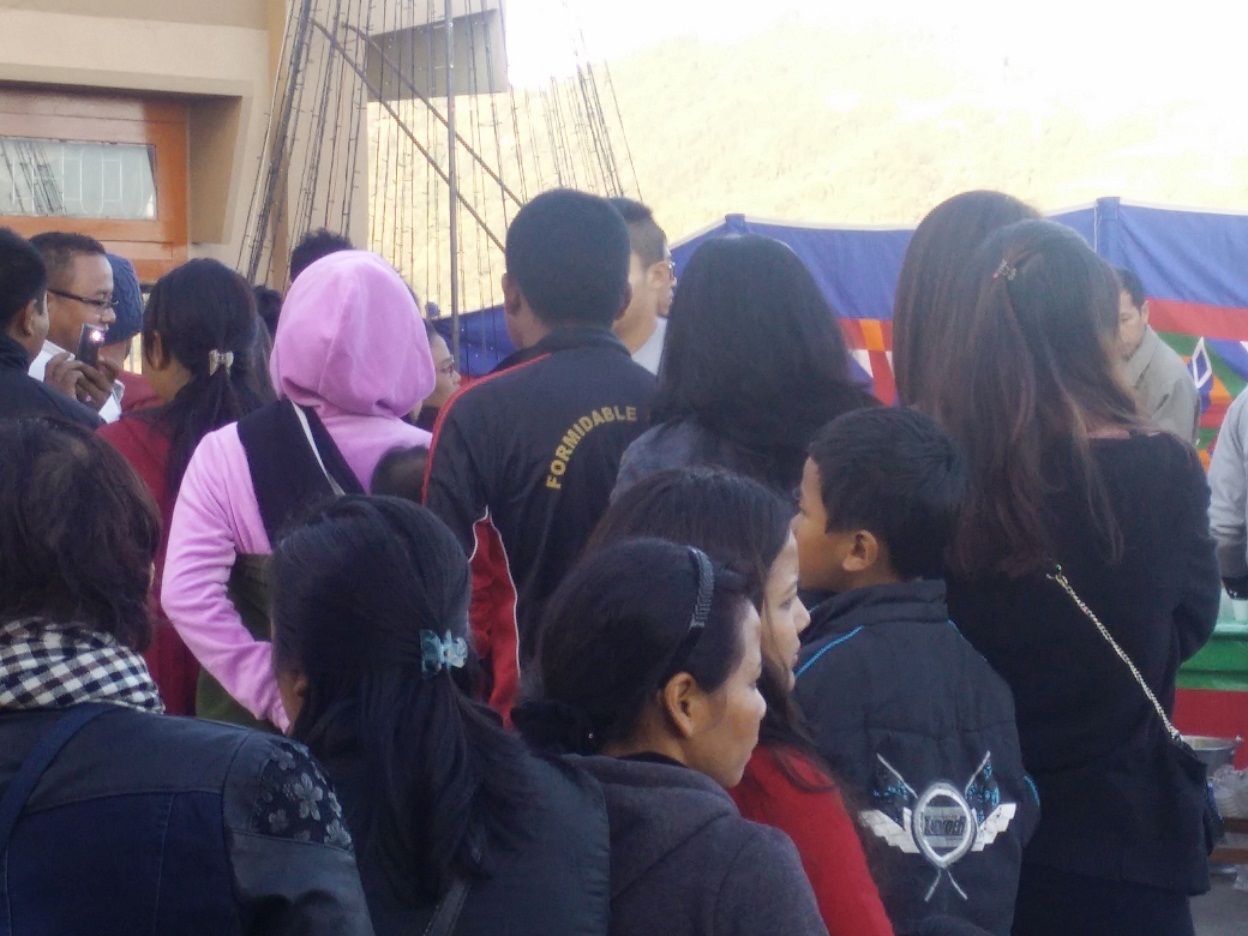 Robert still moving around and calling the shots :)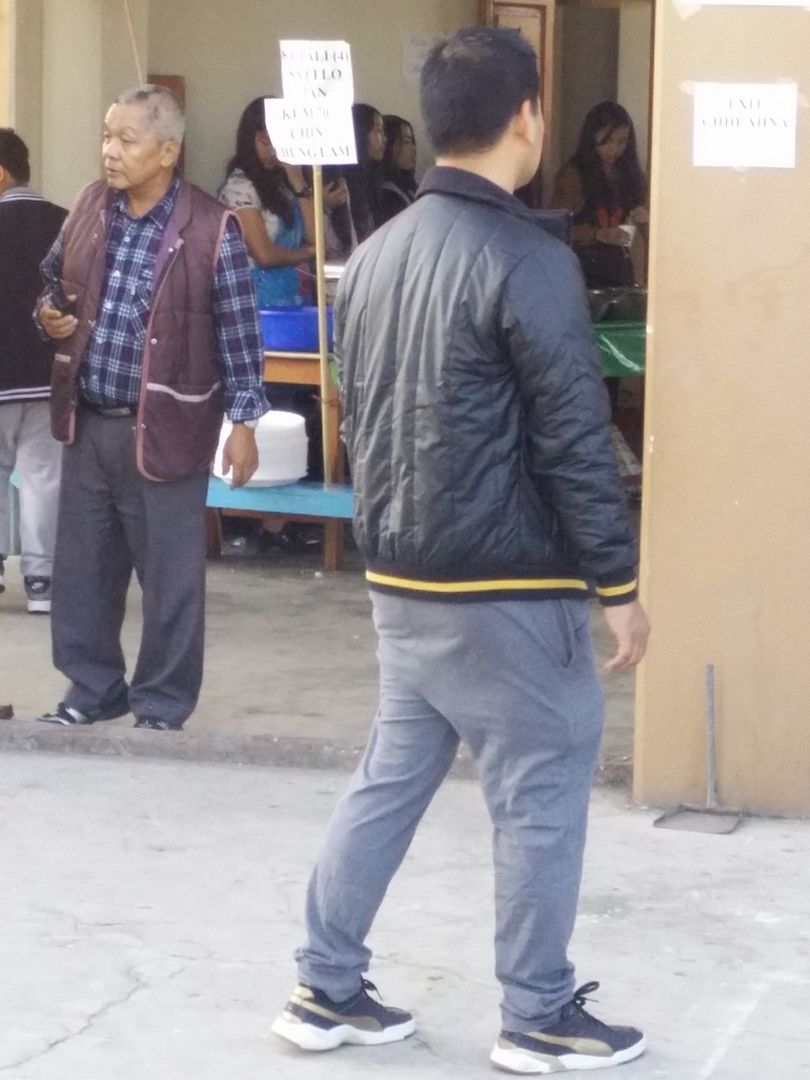 And here is what I had for New Year. Beef fried curry, Smoked pork boiled with veggies, vawk lu bawl which I don't know how to translate in English without making it sound gross, spicy chilly chutneys, and of course mouth watering bai.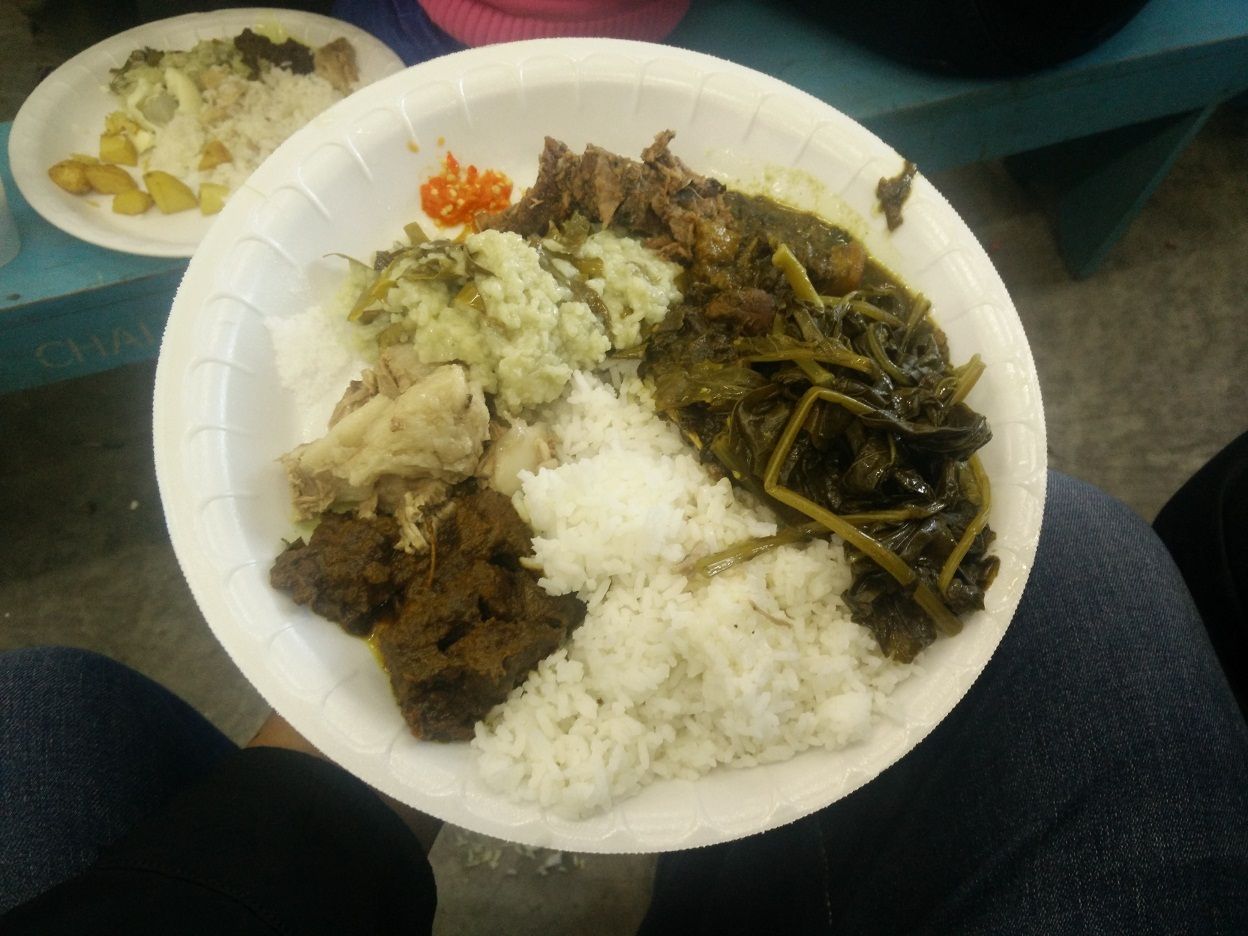 Here's hoping everybody else had a grand Christmas and New Year feast as well.
Cheers!