Tell me to write about video games, or cultural traditions, or food, or music, or sports, and I shall whip out a 1000-words blog post in a jiffy, all proof-read with unnecessary words disemvoweled. But tell me to write about fashion, and my expertise stops at the bell-bottom jeans of the 90's.
I got no fashion sense, I can't tell my Adidas from my fake adibas, and I always thought Zara and Zovi were two Mizo clothing labels.
And that is why I am in love with a fashion designer.
Opposites attract. I like it that the first thing she tells me whenever we meet is, "What the hell are you wearing?" And I'll be like, "Wait, don't tell me, florescent pants aren't considered cool anymore?"
She is a wonderful person with awesome talent, and in this blog update, I want to cover her latest collection. She has recently launched her new catalogue entitled "Summer Breeze" and though my expertise on fashion is vastly limited, it is something I really want to write about on my blog, so here goes… (please do excuse my plain and simple non-fashionista vocabulary in this post, after all, my only source of inspiration when it comes to fashion are the two Zoolander movies)
Ok so, first up, this is the cover of her catalogue -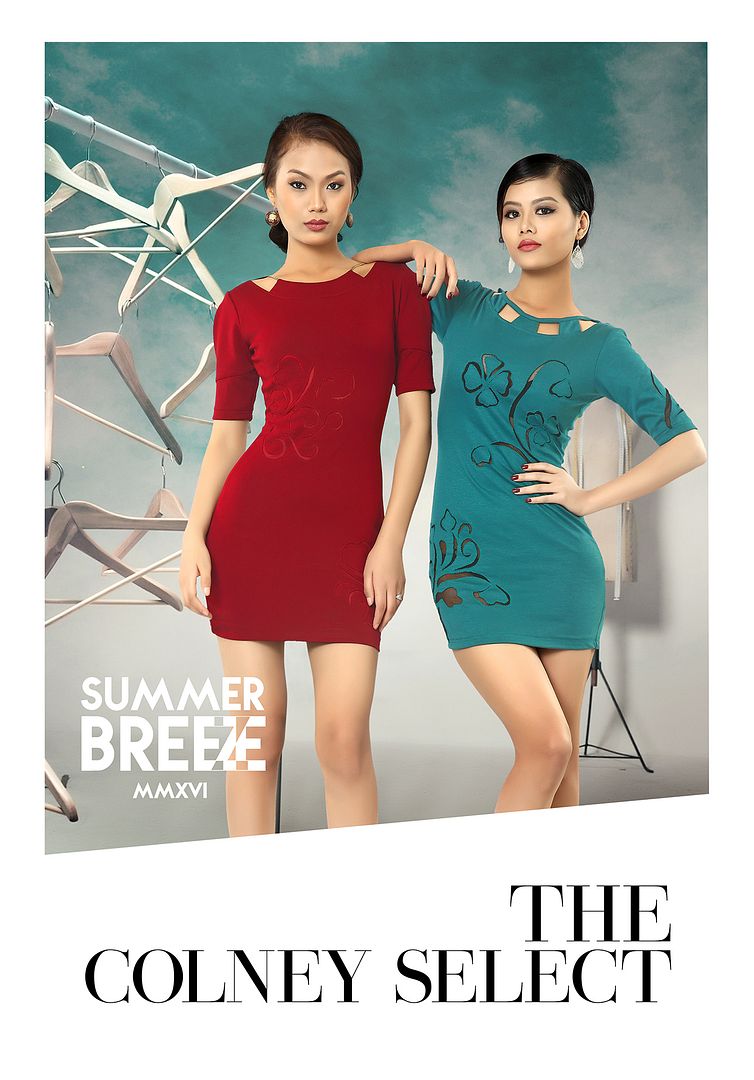 I really like the name "Summer Breeze". It has a very pleasant and comfy ring to it, something that is very feminine and tender, and not ostentatious or bawdy. Something casual and yet smart, something smart and yet sexy, something sexy and yet not vulgar.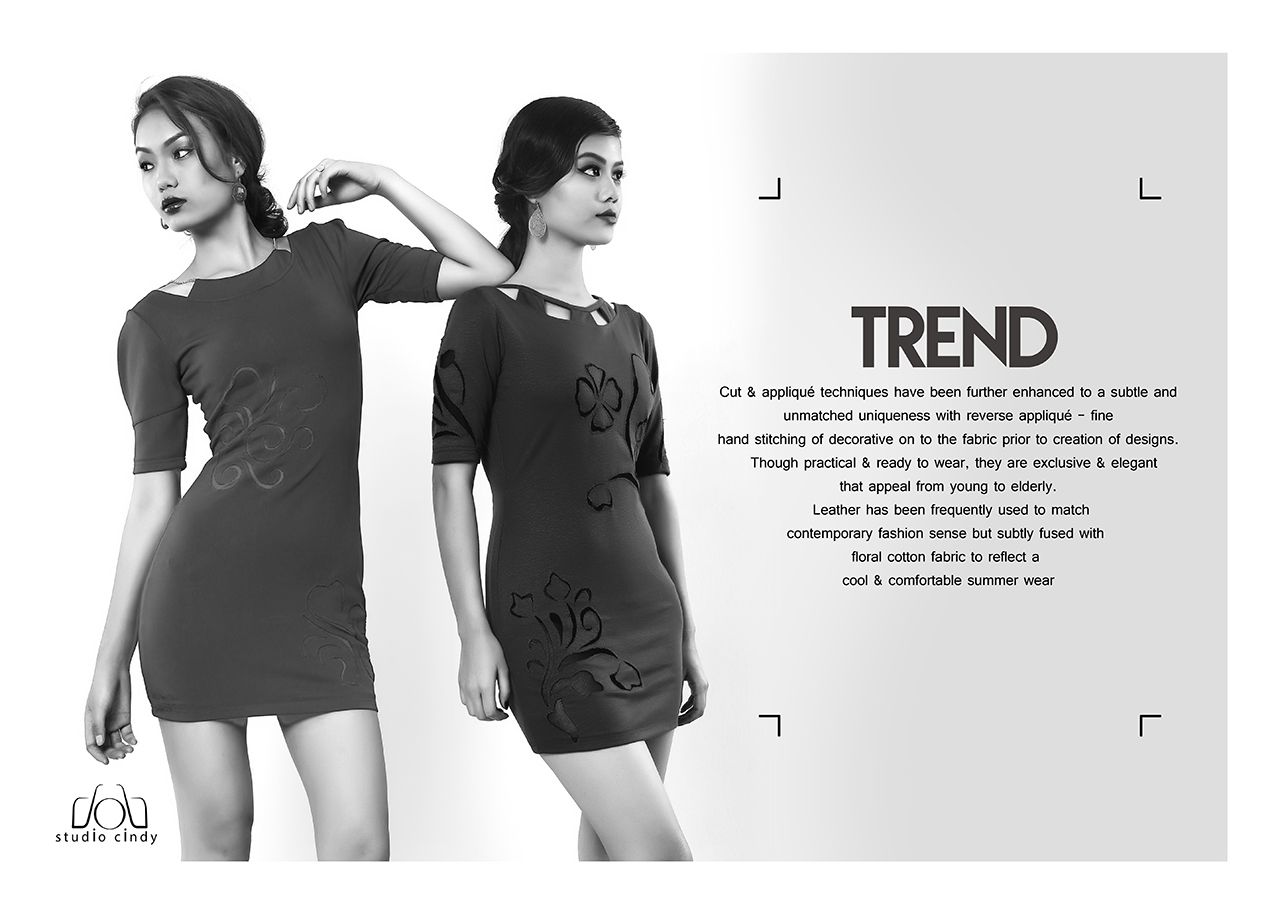 The photographs are courtesy Studio Cindy, another common friend of ours. The catalogue that she has made for DP is probably Mizoram's first fashion catalogue, and it has been printed in Mumbai. I definitely want to cover some of her other work on my blog in the coming days. I really like Cindy's professionalism, and how much she has sacrificed to get to where she is today. Life is no bed of roses, and these are the people who can give testimonies to that.
For the models, she used Boihboihi and Mary, who are also currently college students. In Mizoram, modelling is quite a lucrative side-income, especially if you are still a student. Back when I was a college student, posing as a model for extra pocket-money was the last thing on my mind, I was only interested in playing as many PC games as possible (the good ol' AOE and Diablo days) during my college free time. But then again, I'm not a woman :P and even if I was, I definitely wouldn't have the body for it.
Click on all photos to enlarge to a new tab.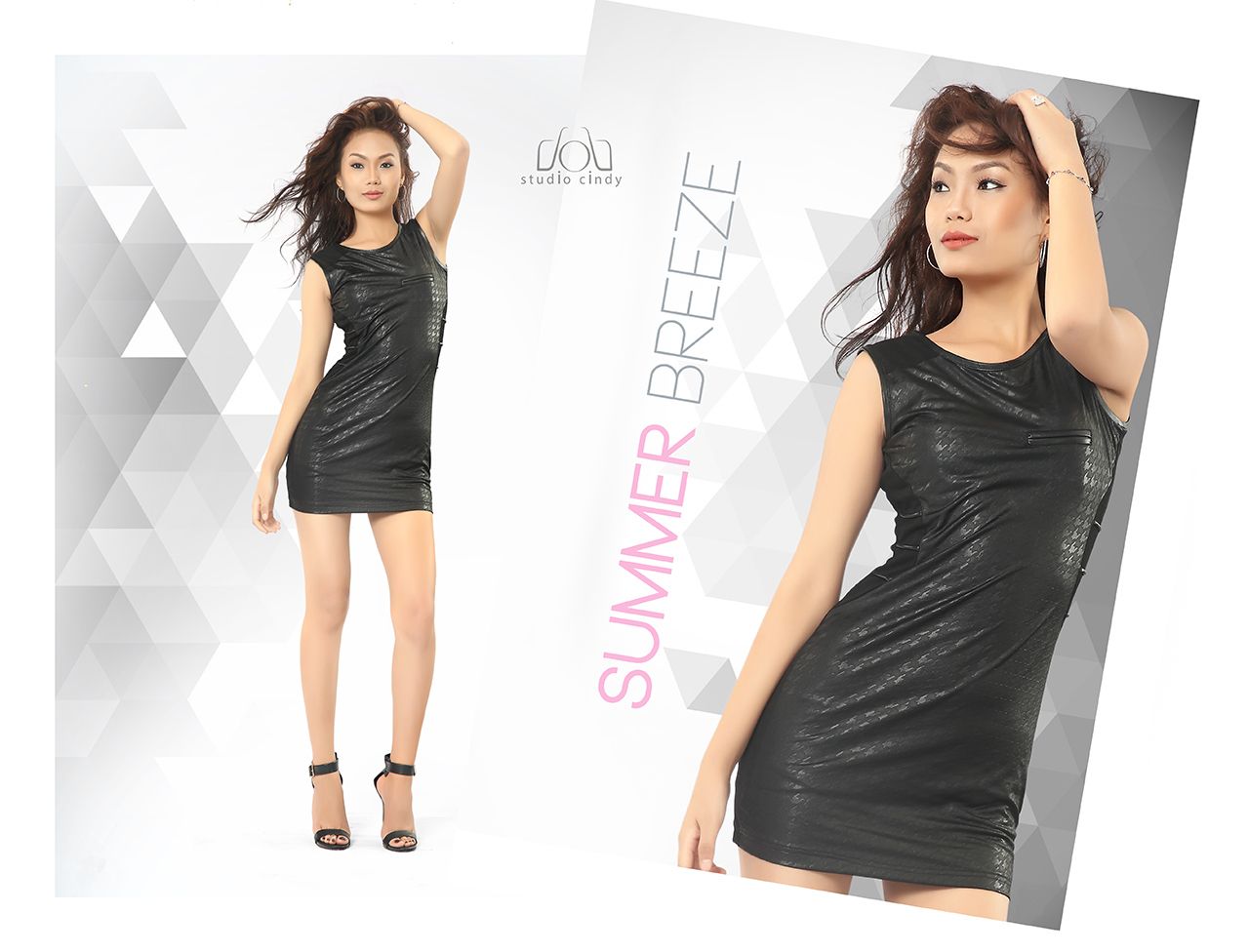 Above, we have Boihboihi sporting a little black leather dress. The leather is not plain as you can see from the pattern, and all the fabric used in her collection are imported from China and Thailand, most of them personally handpicked by "The Colney Select" team. The above dress also has pieces of cotton fabric lining down the side, with a plain leather strap as pocket and small lines of leather couture embroidered down the sides.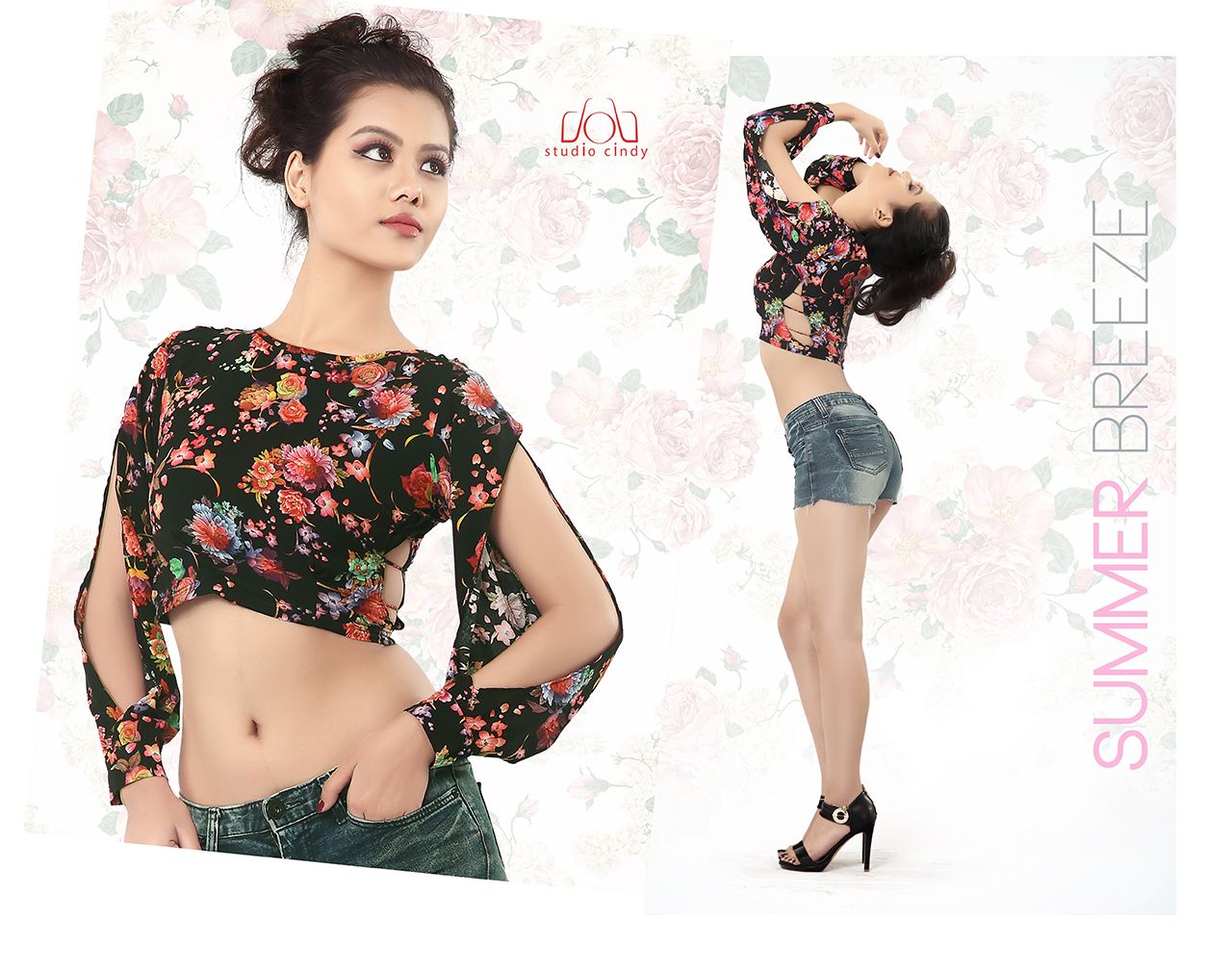 In this cute ensemble, Mary is wearing a cropped top made from cotton and rayon. The top is full sleeves, with a long cut across the arms, and you can also observe other cuts and strong joints along the sides as well. Needless to say, this outfit goes best with a blue denim shorts and black heels.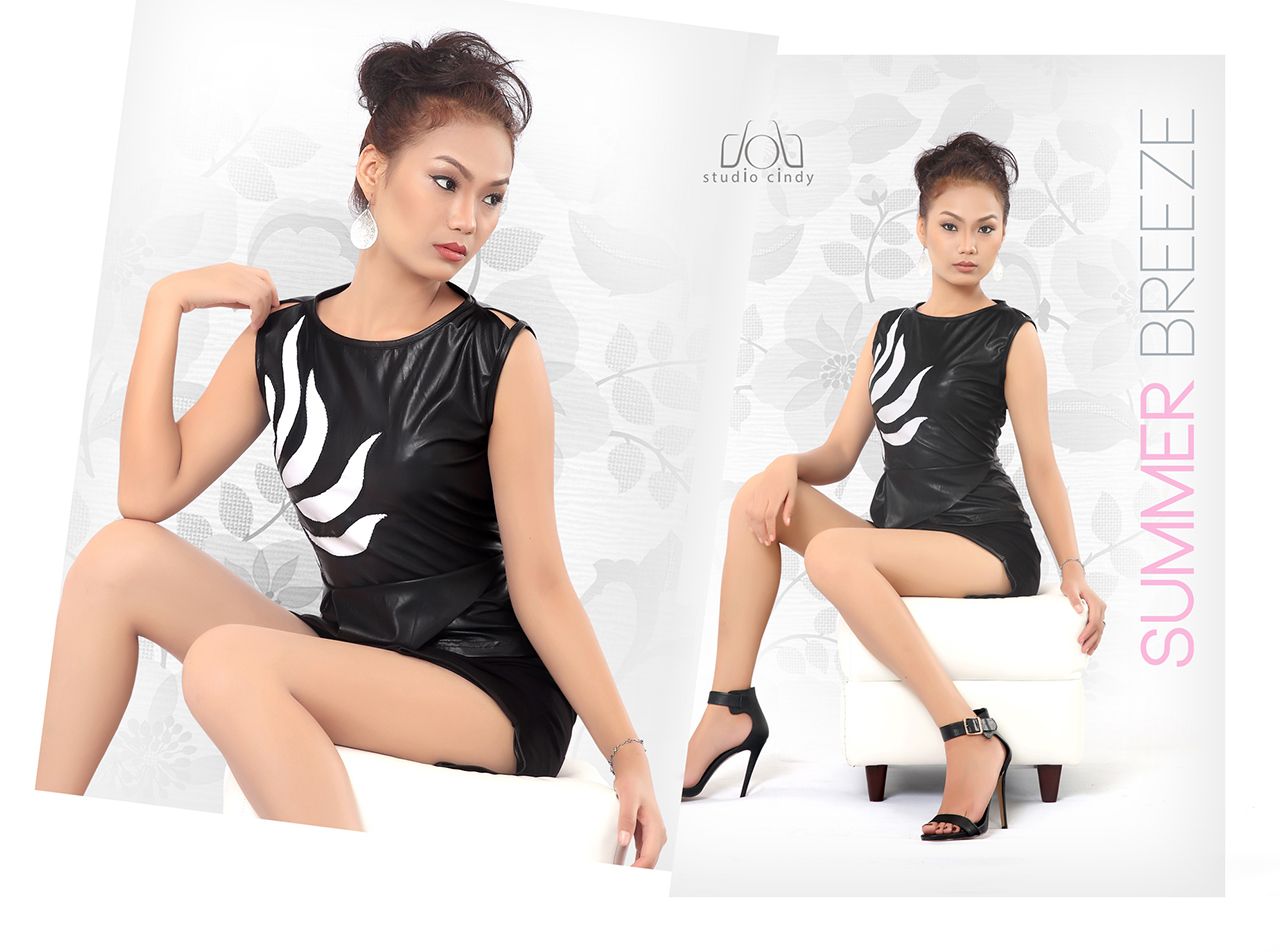 Next we have Boihboihi again wearing a sleeveless top and the cut work here is reverse applique made from white fabric. The contrast in color brings out the life and essence of the dress. The sleeveless top is worn with a mini skirt below.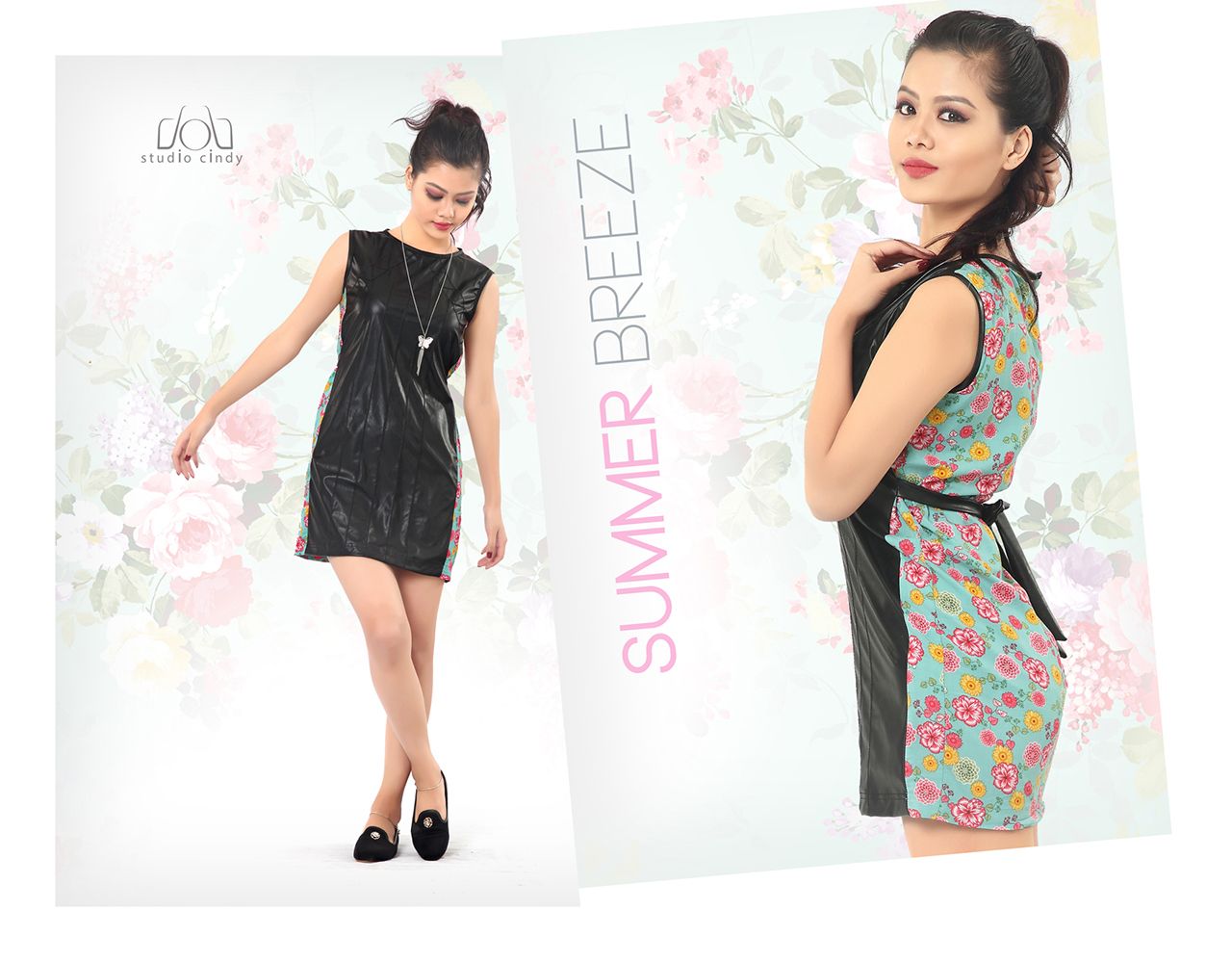 Here, Mary is wearing a lovely mash-up of black leather fabric with cotton floral fabric imported from China. If you observe the leather carefully, you can see carefully hand-worked design on it as well, something which takes a lot of time and dedication to make.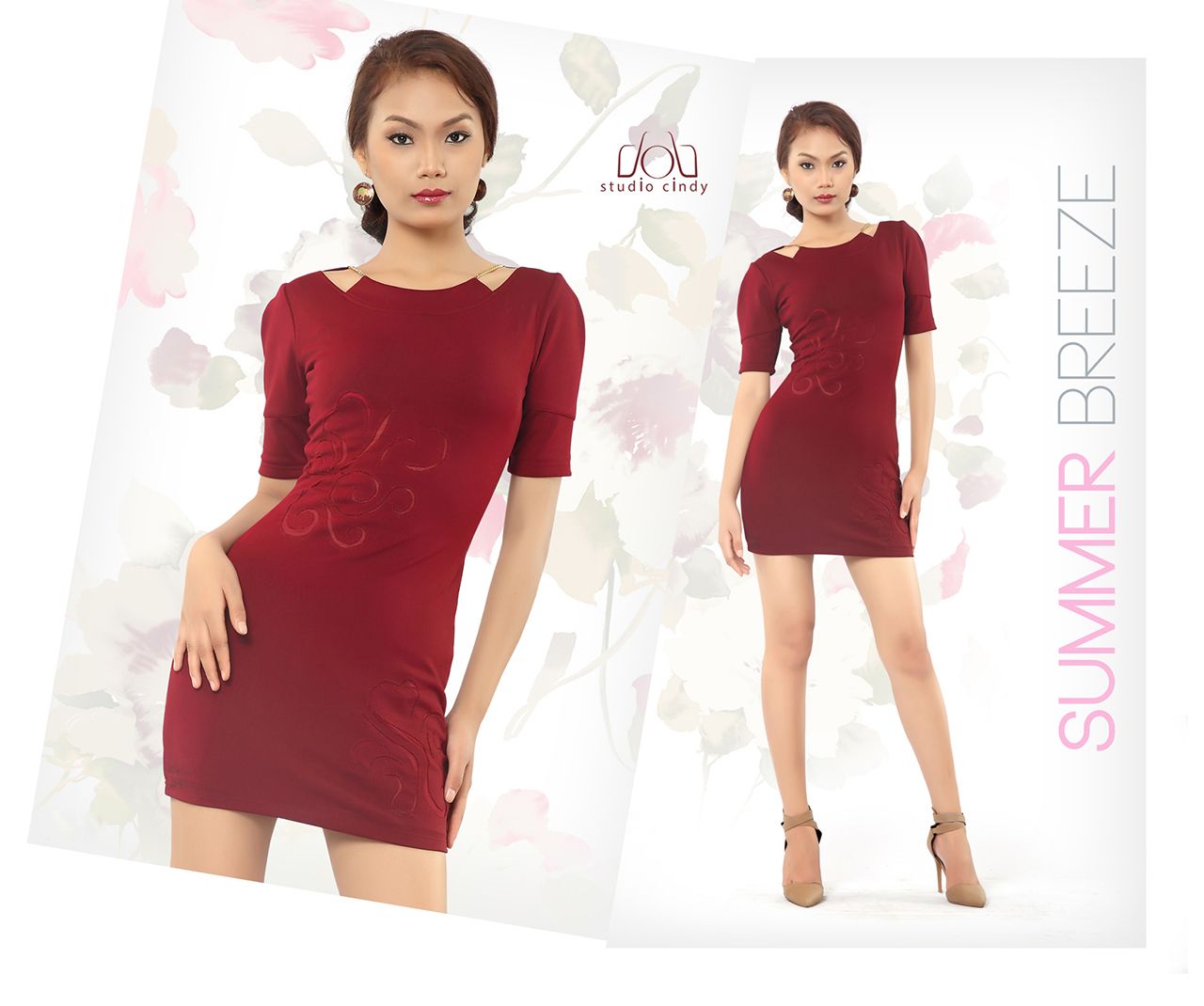 Lady in Red. Here we have Boihboihi wearing a maroon dress with reverse cut work. The fabric is a stretchable cotton twill for that extra comfort, and the flower design on it was first hand-drawn and then cut separately using a net fabric and then embroidered into the dress from the inside. The neck too follows a complicated cut pattern and a golden chain was attached to it to give it that hint of elegance.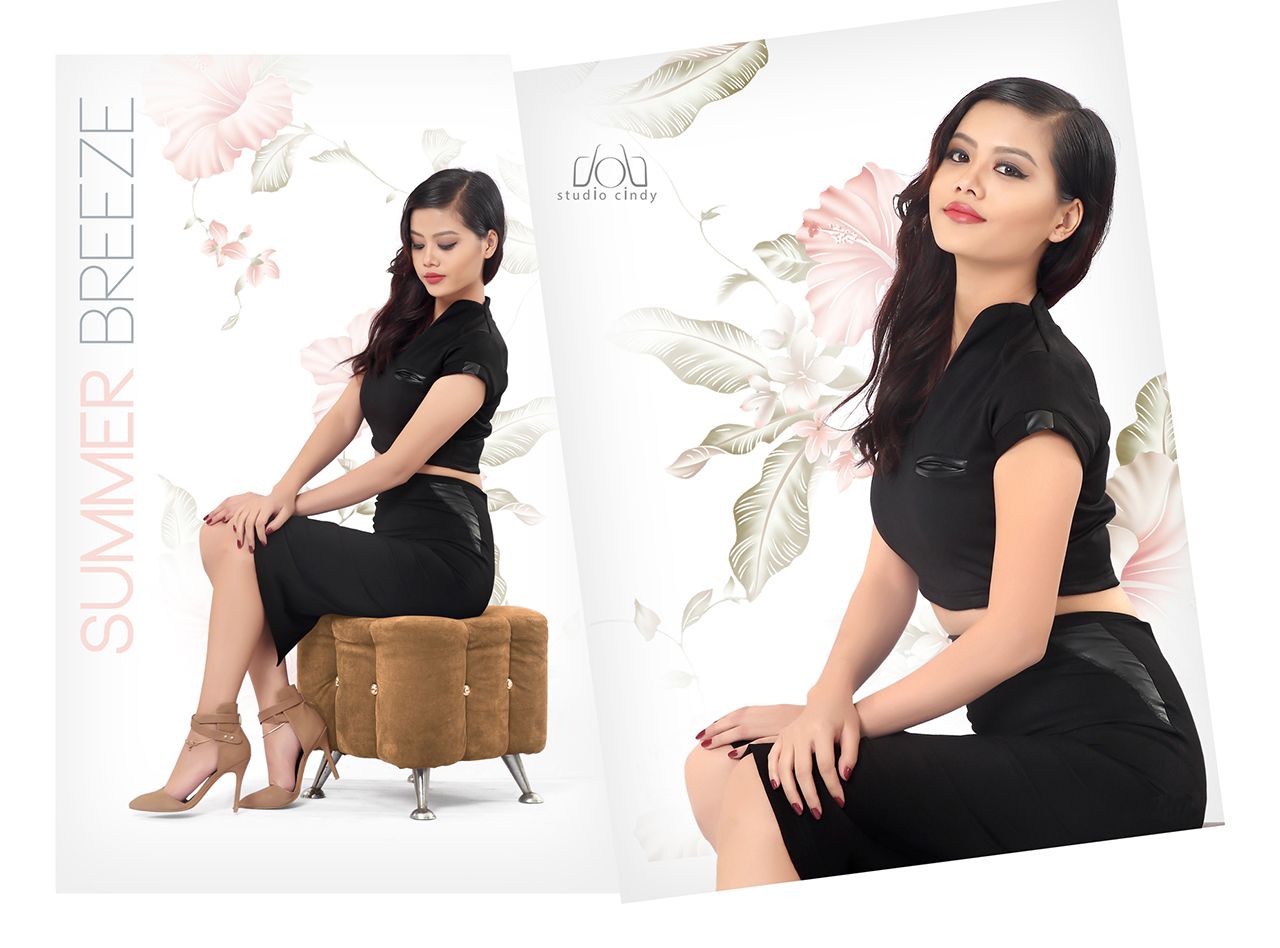 Above, Mary is wearing a cropped top with black leather details along with a pencil skirt leather mix. Though they may seem all leather to the untrained eye (like mine), if you observe carefully, the top consists of different leather material and pattern at the arms and neck, along with a different leather pocket. The skirt also has a different leather pattern circling down both sides.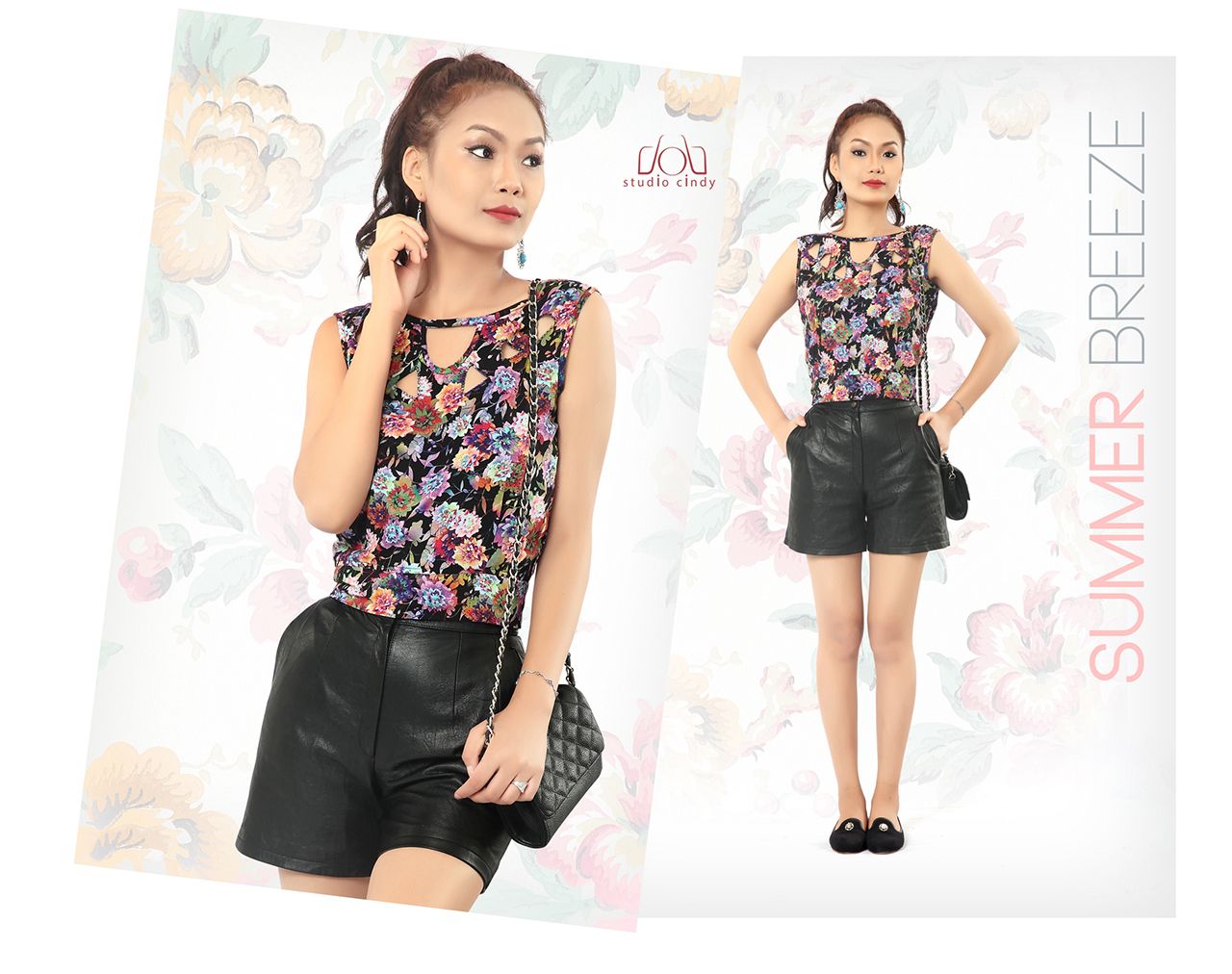 Here, Boihboihi is wearing a cotton and rayon mix top with a triangle cut design in front. The back has a button fabric design, with buttons attached from top to bottom. The waist has been ribbed using the same fabric and cropped at the sides, and this sleeveless top goes best with a leather short.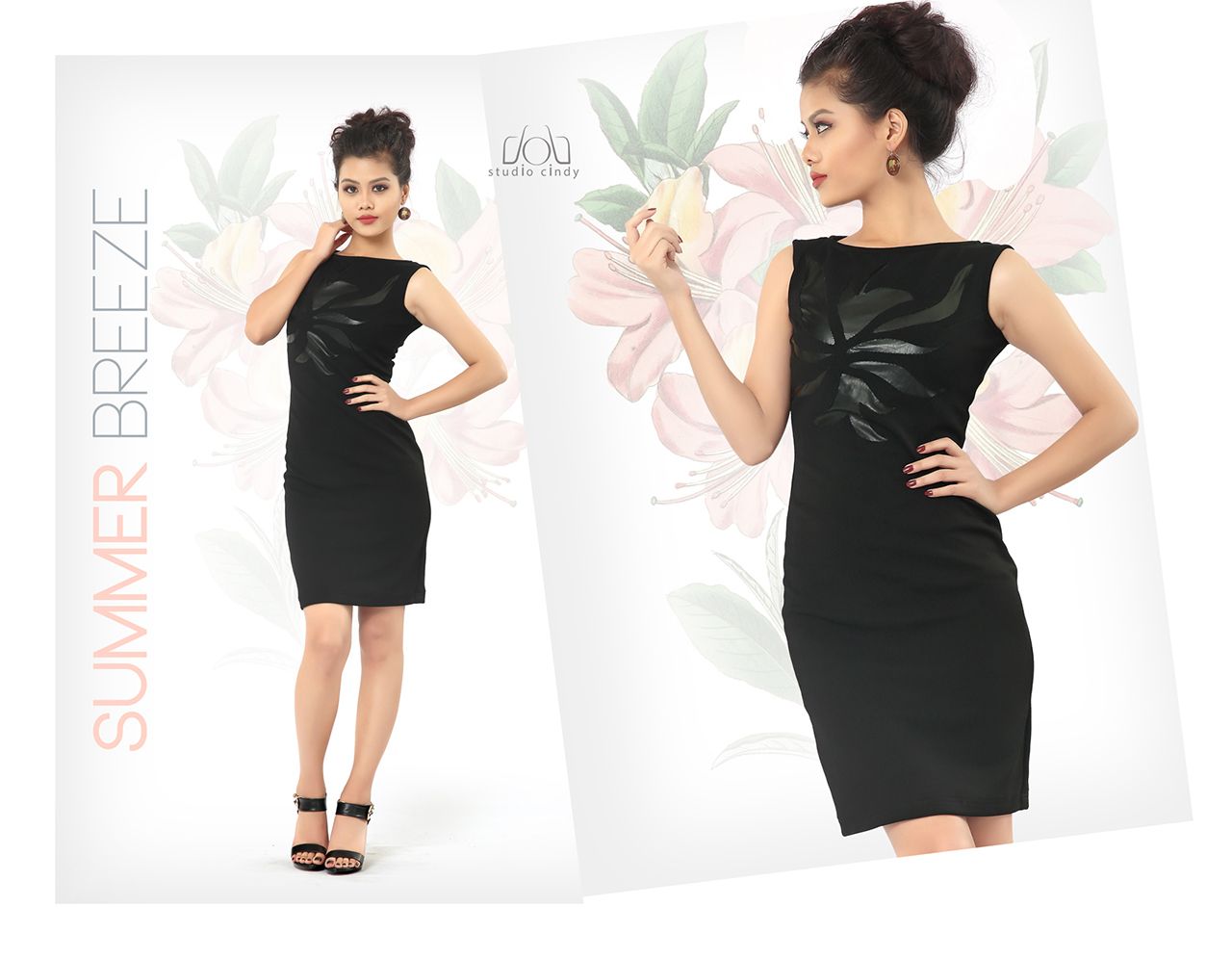 This black one-piece dress adorned by Mary is a sleeveless reverse applique leather design, where another leather material is used for the centerpiece reverse applique design. Simple and yet classy. I'm imagining maybe this is what high profile corporate lawyers wear on their way to a slumber party with their sorority sisters. See, I do have something to talk about regarding fashion! :P
The next one is this floral pink top worn by Boihboihi and it comes in full sleeve with DP's signature long arm cut. Made from China crepe fabric, the front side displays a key hole design which is significantly visible at the back side as well. At the bottom is a mermaid skirt with floral reverse applique design again to match the top. Since the top reverse applique design is made with a netted fabric, it shows the color of the inner garment subtly enough to give its own charm of sexiness.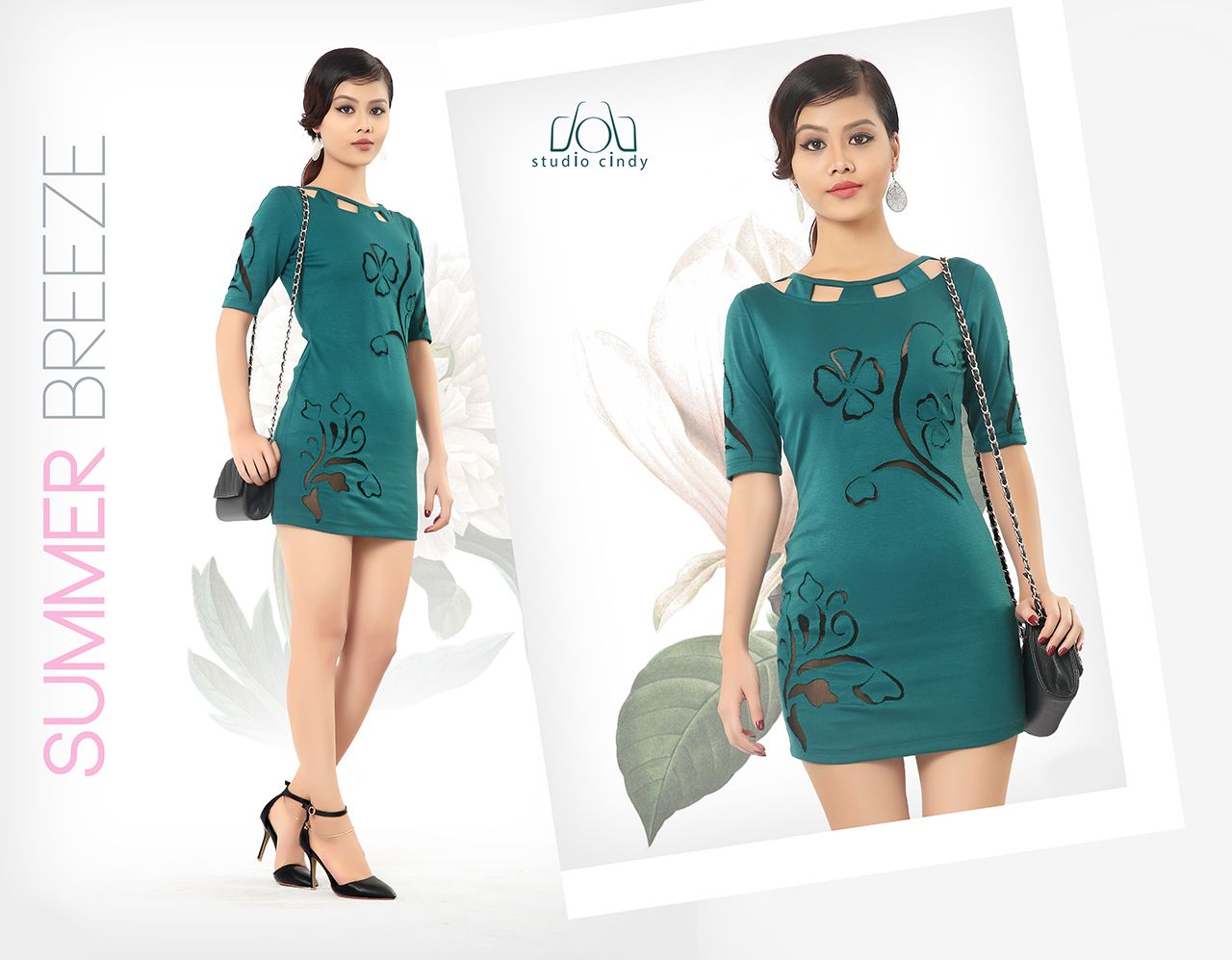 Last but not the least, here is a turquoise green piece displayed in all its splendor by Mary. The reverse applique work on this is outstanding, with a floral ensemble being designed in a reverse applique technique using net fabric. The neck also has a complicated cut design, and further along the arms and bottom half, we see a fine display of reverse applique work once again.
Of course, to be honest, while such unique handiwork and complicated design technique may impress a lot of women, for somebody like me who is a lost cause to fashion, the only thing that flashed across my male brain when I saw the above photo was, "Heyyy! I can see something!" :D
So I guess this is it. My attempt at writing a fashion related blog post. Yeah, I know I suck, I don't have the words or vocabulary deep enough to do justice to her designs, but at least my intention of showcasing DP's collection launch is not lost here.
Below is her new logo -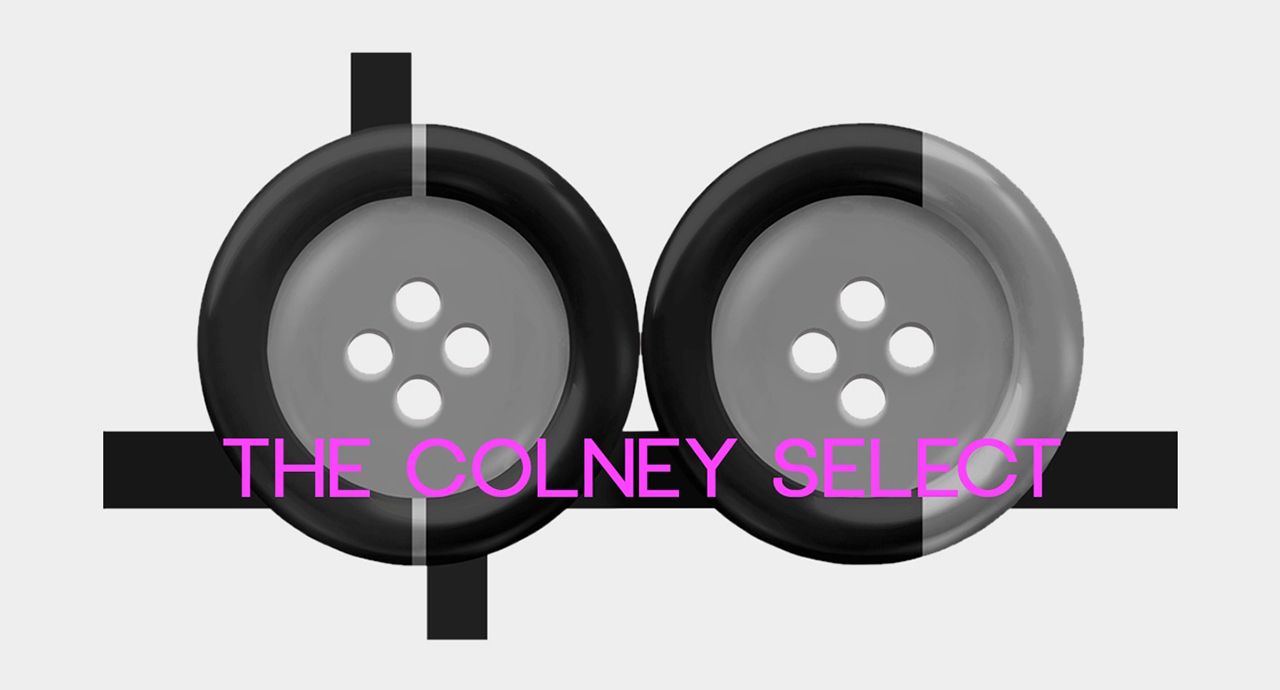 So in case you ever want to place an order or check out her collection, please do call her up at +918731001838. She'll be super busy, but hey, business is business :)