A bumpy ride back to Mumbai only to be welcomed by the sweltering heat wave, and I immediately felt guilty complaining about the heat back in Goa. At least there was the clean pristine blue ocean right in front of our shack ready to replenish our body, soul and spirit any time. Here in congested polluted hectic Mumbai… Juhu beach? Lolz.
Goa stretched out her hands for
webchutney
again this time, at the same location as last year - Big Fish @ Palolem beach. But this time, I got the best shack in town overlooking the entire beach. You open the door, and voila - you have the entire beach right below you with sunbathing foreigners and beach beauties of various nationalities greeting you with a warm smile. A voyeur heaven.

Last year, the buzz around our Goa trip was

fenny

. This year, there's a new high. Yup, I'm talking about
Foursquare
. Rather than enjoying the idyllic surroundings or music around us, we were more concerned about "checking in" on Foursquare at various locations on the beach. I eventually became the Mayors of Café del Mar, Chattai Beach Huts (where some of our colleagues were staying), Honeymoon Island, Big Fish, Cavelossim beach, AdVillage and Big Bamboo. Our AVP of Technology Saket (aka Vulturo) and our ACD Meghana too checked in and
Mayored
a couple of places. Even our CEO Sidharth (Hon' Jury chairperson at Goafest) managed to become the Mayor of Café del Sol!

Yeah, I know. Not only were we technogeeks, we almost bored our colleagues to death.
Anyhoo, at Goafest 2010, WE WON THREE BRONZE!
Although you may think winning bronze is not a big deal, let me tell you that this year there were no silver and gold in the three categories where we won bronze. So technically, we came first in these three categories (except 17G that had one silver).
It was not just the digital advertising category but others like print, film, outdoor, radio etc that didn't have any gold or silver. This year, we saw just a handful of metals won by a few agencies because the grand jury decided that the quality of work and creativity were not up to the mark. After all, due to recession, clients didn't spend that much on advertising; hence Ad Agencies could not execute many of the grand ideas conceptualized.
I saw at least ten extremely creative "concepts" by webchutney being shot down this year – the clients loved our ideas and approved everything, but sadly we couldn't come to an agreement regarding the cost.
The three bronze we won were for –
Download the entire list from afaqs
HERE
Only three other digital agencies won the same amount of metal as us – Tribal DDB, Hungama and OgilvyOne. No gold across the entire category of digital marketing and advertising. In fact, there were a lot of categories in the entire Award ceremony where there were simply no awards – no gold, silver or bronze.
But with clients more likely to splurge on digital campaigns this year now that the recession is finally over, expect to see amazing work from us and sweep the awards next year.

The after-party was AMAZING too, and there are so many things I'd love to talk about regarding GoaFest 2010, but I want to keep this post as short as possible. So I'll just leave you with a couple of pics.
Some pics taken from my mobile phone (click for higher resolution) –
Palolem beach and shacks, view from Chascha bar.
And that's where I was staying – right on the beach baby!
Breakfast at Café Joy, watching tourists getting new tats.
Lunch with the big bosses @ Papillon. Serves the best food on this beach.
Shack party at Café del Mar. Good crowd. Food & service? Not so great.
Liar, liar, pants on fire…
Broke? Don't worry. You can always trade your eyebrow for some cash here.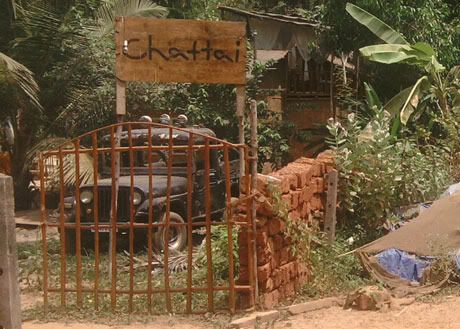 Chattai Beach Huts. 4 in the morning. Sometimes… fairy tales do come true.
Just before entering AdVillage – Goafest 2010 venue.
And that's all I captured with my mobile phone. I'll update this page later with the photographs some of my friends have taken. Some of those pics came out really well, as our guys are really into photography. Till then, cheers.