So whenever my friends or colleagues come over to my place for the first time here in Pune, the first thing they always exclaim is, "Wowww, that is an awesome table runner and placemat set!"
They're talking about my dining table set.
Really nice huh? Something unique and different, designed using our Mizo traditional cloth.
And then there is this super cute thing as well…
Yeah, many of my friends begged me to sell it to them, even at double the cost. But uh uh, this throw pillow stays right on my bed where it belongs.
So where can one get the above stuff?
Here's where -
iCandy.
iCandy is a store started by my friend's sister Stephanie Halliday, an MA History of Fine Arts with a specialization in Textiles design. The last I remember, she was this small white brat scramming around with a runny nose and dirty feet, and suddenly, she is now an entrepreneur with her own shop! They grow up so fast!
I decided to pay her a visit because my sisters bought a couple of really cute Christmas decors from her store recently (unfortunately I didn't take any pics of those).
Her shop is at Dawrkawn, a very prime commercial area at my locality Chaltlang. There is a taxi stand and bus stop right in front of her shop too.
I browsed around for a long time…
The table runner sets below range from ₹500 to ₹1000. I bought mine for ₹800. The price varies depending on the quality and cloth you require. She can even make a puan ropui table runner for you if you want, but she doesn't recommend it because not only is the material expensive but she feels using a puan ropui as a table cloth is an insult to our cultural heritage.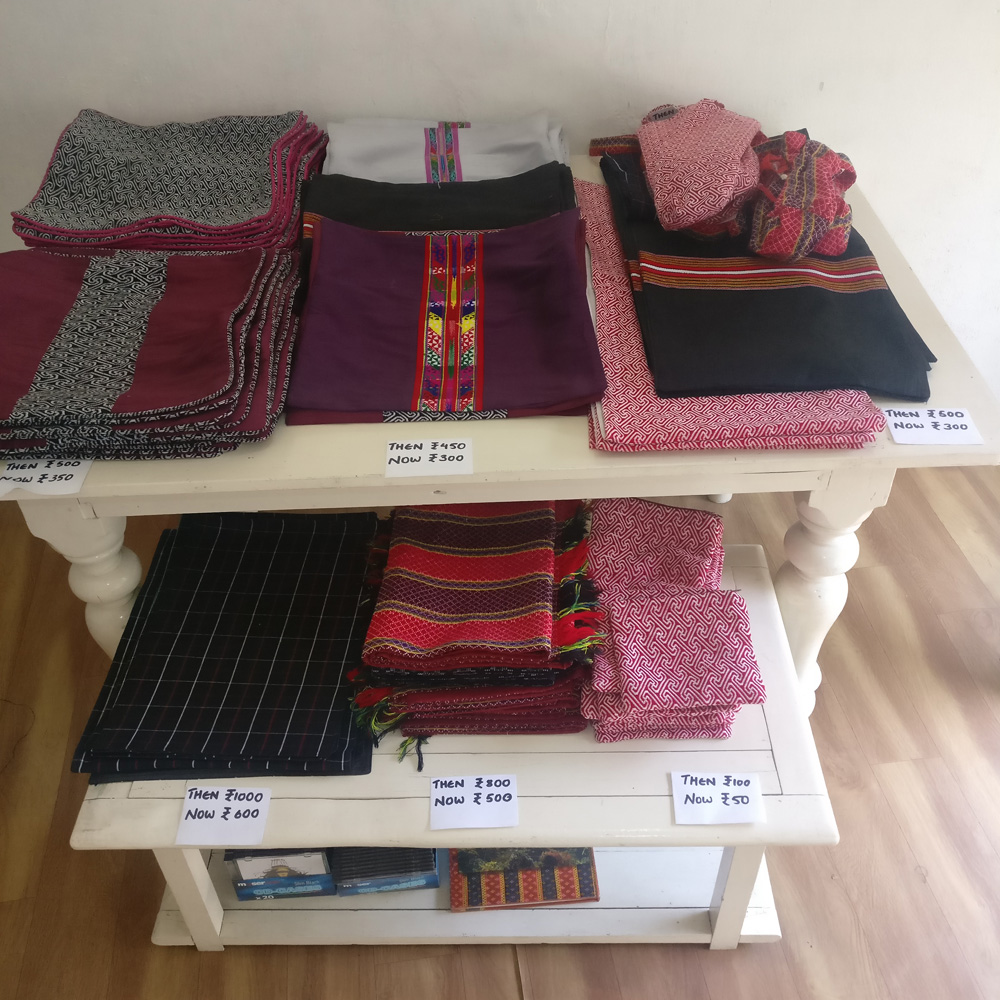 All the things she sells are personally designed by her and hand-made. And since she also customizes them, there is a backroom where the tailors she employs sit and do their work.
Because of this, depending on the simplicity of work required, sometimes you can get your order in just an hour or two. That's how efficient her employees are.
And what makes it even more convenient is that, there are two popular tea stalls right next to her shop where you can sit and wait while having delicious alu chop or momos. But a more complex order usually takes around 1-2 days.
Here is the madam herself, queen of her own castle.
And so, that was when I bought the table runner set and throw pillow…
Here are a few more of her latest collection. They all seem pretty girly to me, but then again I'm the guy who wouldn't let go of my throw pillow, so I got nothing to complain about :P
The embroidered wall frames below start from ₹250.
Like I said, she can customize anything for you, put your name on a pillow etc. But orders like that will take a few days. Personalized design such as the ones below start from a minimum cost of ₹600 and increase depending on the size and object.
And of course we have her signature "smiley face" design like the pillow sets below. The set below costs ₹1500 each (comprising of Moon, Cloud and Star)
Remember when Khal Drogo said "Moon of my life" and Daenerys Targaryen replied "My Sun and Stars"? Well I'm sure those are not the same stars and moon we had in mind, but they come pretty close :P
Now the reason why I have mentioned some of the price is not just to make you aware of how much you'll have to spend at her shop, but if you mention that you came to her shop after reading about it on my blog, she will give you a 10% discount on all available display items! Yeah that's right, you get a whopping 10% off if you tell her you read about her shop on my blog.
And she does shipping too!
You don't have to be in Aizawl to buy her creations, all you have to do is contact her at +918974052599 or email her at stefhally@gmail.com. She also has a very inactive facebook page but I recommend you reach her on her number through WhatsApp instead. For outstation deliveries, she charges around ₹100 for speed post, but international orders will have different costs depending on the destination.
So give iCandy a try, you will not regret it.
And do hurry because she's expecting her first child around August, so she's gonna get pretty cranky soon! iCandy could soon become dieCandy around her third trimester, so order right now if you want all the cute and mushy stuff! :)
Cheers.