So recently, thanx to my friend Becky, I discovered this new ecom site that sells Northeastern stuff online - giskaa.com. They deliver not just across India but even outside India. They also sell not just ethnic food but a lot of other items like home decors, office accessories, fashion products etc that are all centric to the North Eastern culture.
The website sources products from different manufacturers across the Northeastern states, and they handle the logistics - that is, even if you place your order from different manufacturers/sellers, giskaa.com will pack them all together from their warehouse in Guwahati and send it all together in one package.
As for me, my joy knew no bounds the day my package from Giskaa arrived :) By the way, it took only three days for my parcel to reach Pune.
And here it is, thadaaaa, my order -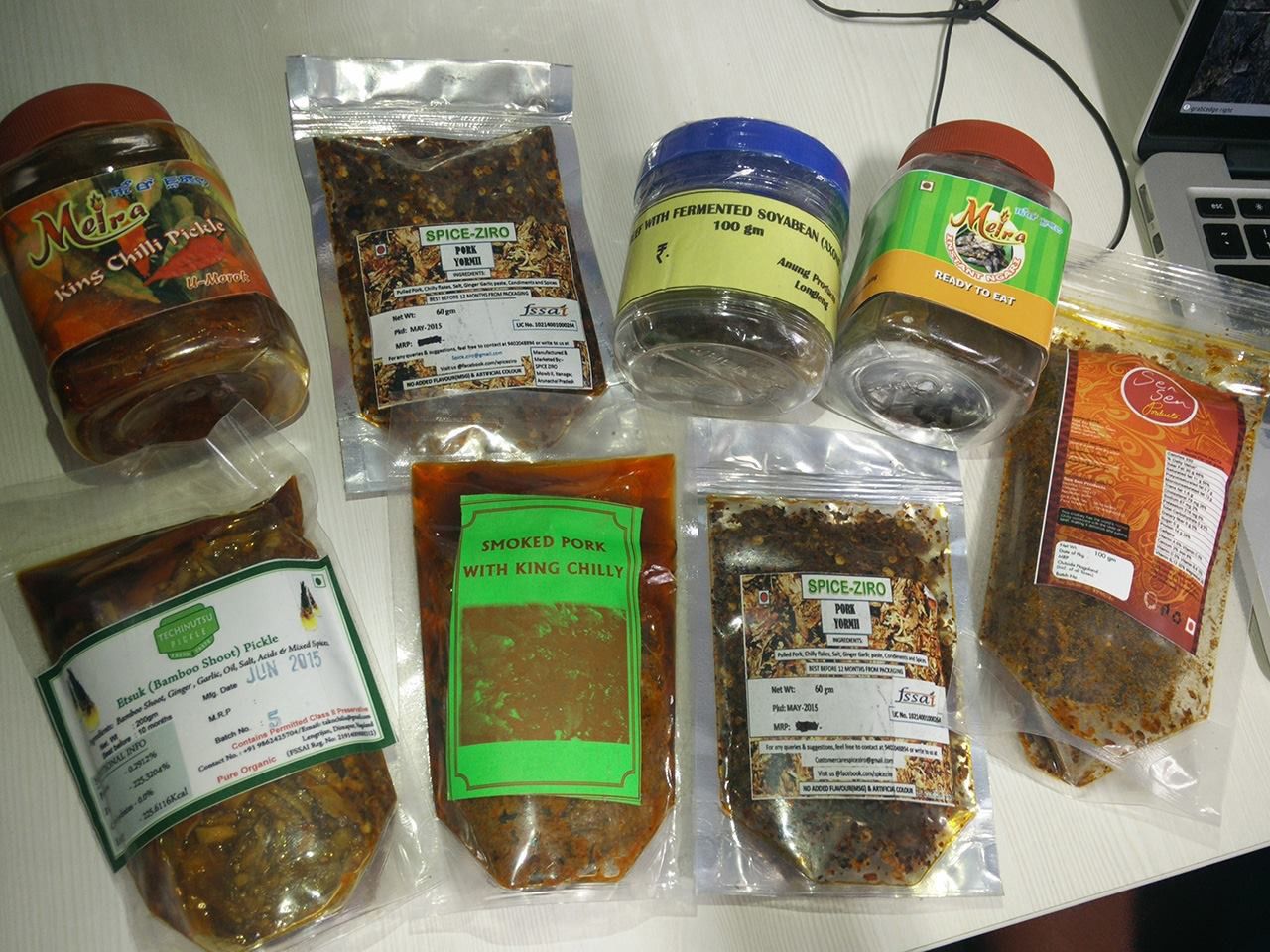 I wrote about this on Facebook, and immediately a lot of my friends too decided to order. I really think giskaa.com should give me a discount next time for referring so many new customers to them! :D
So here is my feedback on the things I ordered, in case you want to order too.
[all pics of food item below are from giskaa.com]
Ngari by Meira Foods, Manipur (200g / Rs.183). This is a popular chutney paste in Manipur prepared from fermented fish, and is added in Meitei dishes like eromba and singju. In Mizoram, this is more or less what we call as nghapih. Personally, I find the taste to be a bit too pungent and strong. If you are from Manipur or Nagaland, I'm sure you'll love it, but for us Mizos whom I think are more accustomed to a toned down version of fermented fish (nghapih, ngha-um etc), it may not exactly be your cup of tea.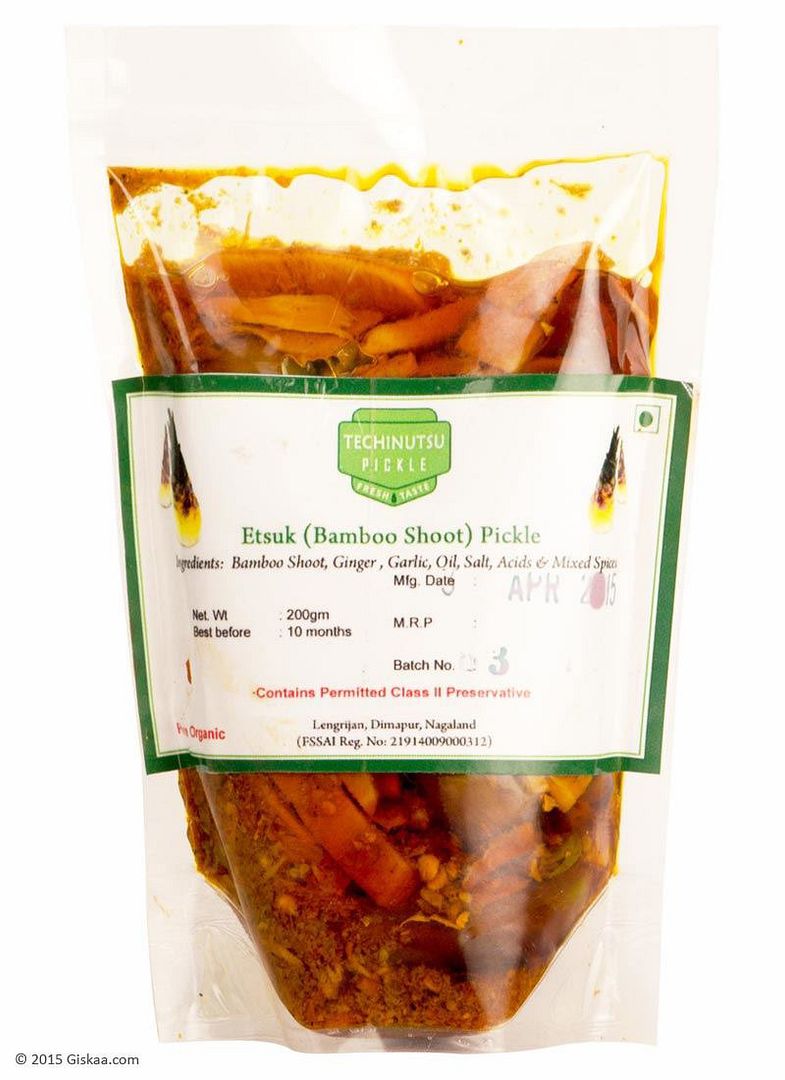 Etsuk - Bamboo shoot pickle by Techinutsu, Nagaland (200g / Rs.143) - Again, here it is a matter of taste buds. I find this bamboo shoot pickle, compared to the ones we get in Mizoram, to be quite bland. That full essence and aromatic flavor of a bamboo shoot pickle is just not there in this. As I said before, this can be because of regionalism because in Mizoram, bamboo shoot is a very popular delicacy and this is not up to the mark according to our standard, but others may like it. I won't be ordering this again though.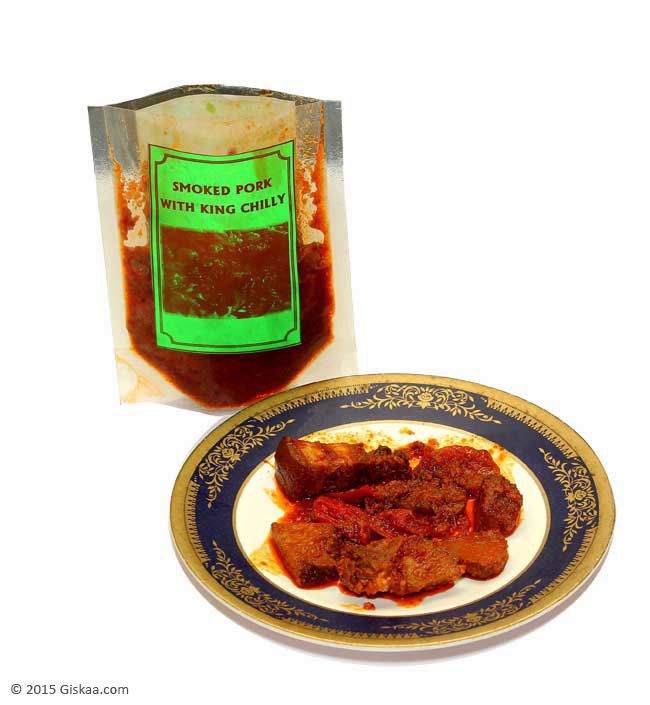 Smoked pork with King Chilli by Kohima Foods, Nagaland (150g / Rs.187) - This is utterly awesome. The Bhut Jolokia perfectly blends across the smoked pork. I just wish there was more fat (as I prefer fat over meat when it comes to pork) but I'm also alright by this. Definitely something I won't mind ordering again. Now the cost is a different factor. Just 150 gm for 187 bucks? The whole thing got over in a matter of minutes when I shared this with my non-Northeastern friends yesterday (we had it with appam and coconut chutney, it was soooooo good!). Yeah my friends love pork and all things spicy, imagine had I shared this with my NE friends!!!?? A second is all it would take to disappear. I recommend this for the taste, but I'm not so sure for the VFM part. I wish it had more quantity for that price.
Pork Yormi by Spice Ziro, Arunachal Pradesh (240g / Rs.223) - Love this, except for one small thingie… small pieces of the pig's hide are present here and there, which are really hard to chew, and leaves behind a painful feeling on your dentals if you happen to chew on it at full force, so you must be really careful while eating it… Other than that, the yormi (spicy chilli flakes) is spicy but not too spicy so you can have it as "seh-hmeh" (side snacks) with your drinks if you want :D The best part is when you happen to chew on a piece of fat and oh yummm that feeling that runs through your mouth across your soul... Sheer Heavenly :)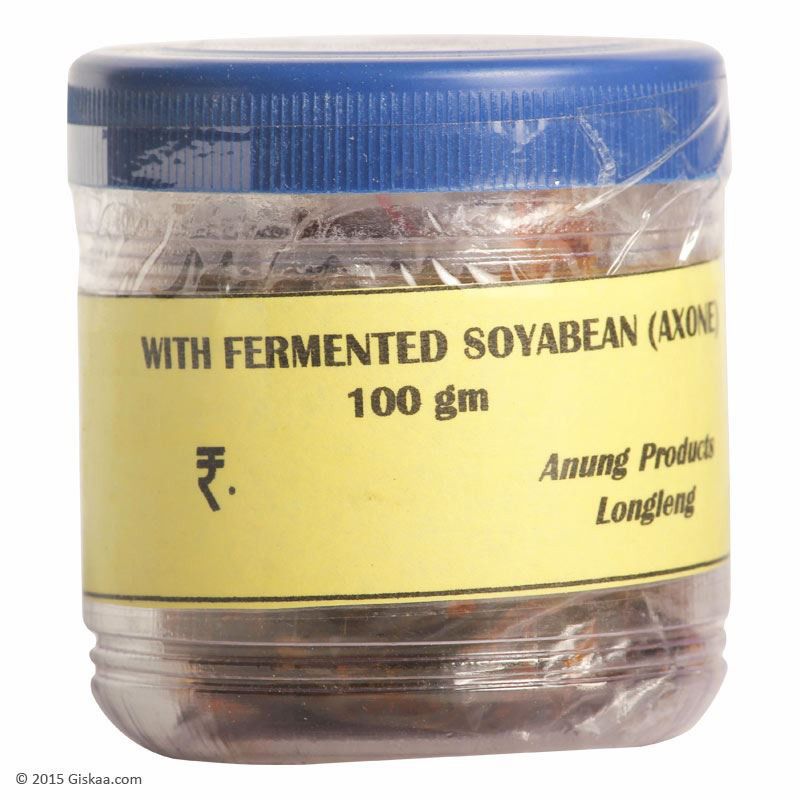 Dry Meat with Axone (fermented soya bean) by Anung Phom Products, Nagaland (100g / Rs.157) - Mizos love Naga akhuni/axone, because we have a similar dish called bekang. And yes, pairing up this with bawngsa meat is perfect. Now you know why I'm calling it bawngsa. So let's keep it that way shall we? :)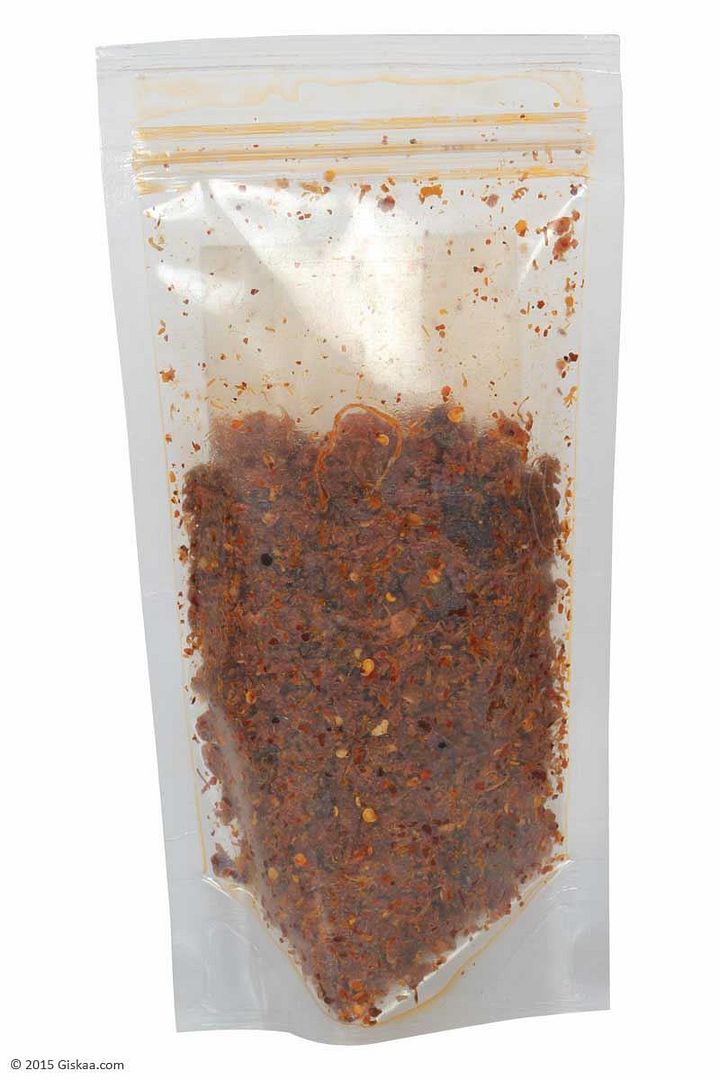 Sen Sen Dry Meat with King Chilli by Sen Sen Products, Nagaland (100g / Rs. 182) - A bit too expensive, shelling out 182 bucks for just 100g, but this dried bawgsa meat is AWESOME! In fact this is my favorite from my entire order. If you love bawngsa, you have to try this out. And the King Chilli blend is not too hot, probably because it is dried as well. I had this with poha, masala dosa, vada pav, upma etc and trust me, it goes well with all these. Yup, I'm definitely going to order more of this.
King Chilli pickle by Meira Foods, Manipur (250g / Rs.135) - Last but not the least, the King Chilli, aka Raja Mirchi aka Bhut Jolokia aka Naga Chilli aka U-morok aka Ghost Pepper aka many other names. Now this is the only one I haven't opened and tasted yet, but I'm sure it will be good. If you visit the website, you will find many other King Chilli pickles out there. The only reason why I selected this one was because of the cost. It was cheaper compared to others like Sen Sen King Chilli pickle by Sen Sen Products, Nagaland (150g / Rs. 161), Red Chilli pickle by SN Products, Meghalaya (200g / Rs.155), Fresh King Chilli pickle by Kohima Foods, Nagaland (150g / Rs.257), Naga King Chilli pickle by The Green Caravan, Nagaland (200g / Rs. 228) and King Chilli Pickle by Abenla Homemade Products, Nagaland (500g / Rs.366).
As you can see, the one by Meira Foods is the most economical, and my decision to buy this is purely because of VFM rather than taste. (also, yeah you can thank me for making a price comparison manually because the ecom website is not very user-friendly).
So that's it. My feedback on some of the food items at giskaa.com. I really hope some of our Mizo manufacturers like "Tui bon tops" start selling at giskaa.com too. Next time I'm gonna order new stuff (along with some of the old ones I mentioned above that I'm gonna order again). So cheers, and enjoyyyyy :)