So last Sunday, I took part in a home chef pop-up event organized by "The Secret Chulha Pop-Ups" at Prem's, Koregaon Park.
These "home chef" pop-ups are extremely unique and infrequent events where a particular cuisine belonging to a particular community are prepared and served to invited guests. Limited seating of course, so one must book in advance. This is the kind of food you'll normally not find at any restaurant.
The first pop-up I attended here in Pune was of course my friend and renowned Assamese chef Gitika Saikia's event (which I blogged about here: Assamese food in Pune). It was there that I was introduced to the good people of "The Secret Chulha Pop-Ups", Richa and Sandy Singh.
Back then one of the things we discussed about was that, as somebody from the North East, it didn't make much sense for us to attend a North East food fest because (a) it was not a new experience for us, and (b) the cost at such events was usually high, considering we could make similar dishes at home anyway. But for somebody not from the North East, it was definitely worth attending such events.
As for me, frankly speaking, I was more interested in non North East related cuisines.
And so on December 20th last year, I was invited by Richa, founder and owner of "The Secret Chulha Pop-Ups" to attend the next pop-up. That pop-up was based on Parsi food by Villoo Anklesaria, and it was held at Euriska, just 10 minutes walking distance from my apartment. Unfortunately, I was already in Mizoram then, for my vacation.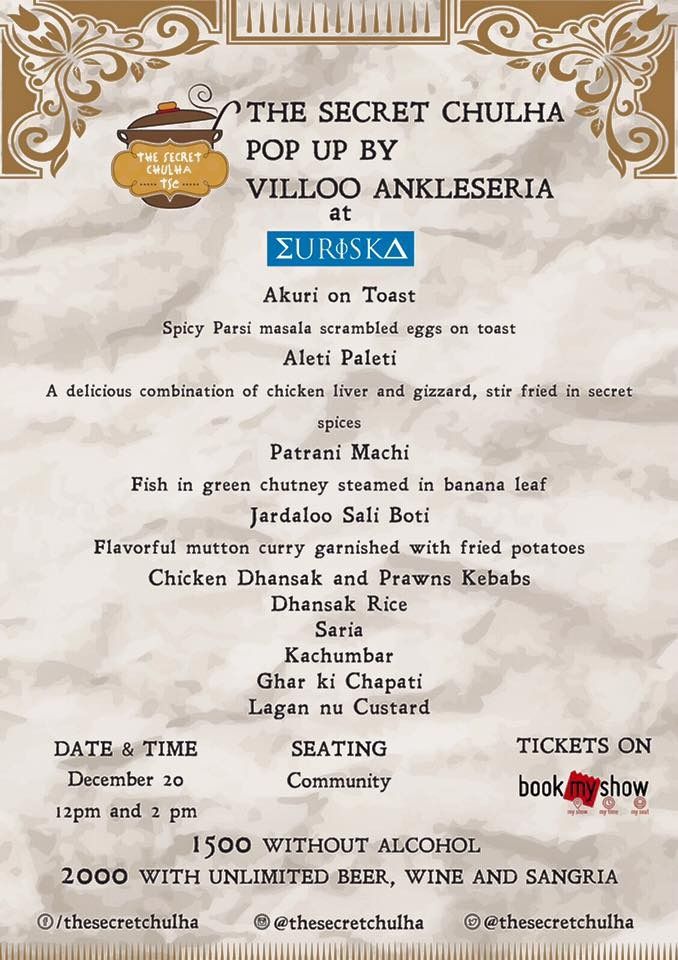 I was really looking forward to such a Parsi cuisine, but there was nothing I could do about it.
The next pop-up after that was a Sri Lankan cuisine held on March 3rd this year. I was back in Pune by then, and I really wanted to go for that event too. Except, one very big impeding factor - I couldn't get any of my friends to go with me. Being an introvert, it's really difficult for me to go to such events alone.
Sigh, such a mouth-watering menu above…
And so, with a heavy heart, I had to decline.
Last week, when Richa sent me an invitation for the next pop-up, I was adamant on going. But again, my friends weren't interested. And so I told myself, "You can do it Kima. You can do it alone. Just go in there, stand next to a group of strangers you've never met before, and just laugh whenever they're laughing and you'll slowly blend in".
Richa also assured me that she would make me sit next to her friends.
The seating arrangement, unlike the earlier pop-up I had attended, was "community seating", meaning, people weren't going to be segregated into different tables and groups. Instead, it was going to be one large continuous table with everybody seated together. That made it even more terrifying for me.
But the menu looked awesome, and thus began a war between my stomach and my head. In the end, my stomach won.
This time, it was a Chandraseniya Kayastha Prabhu cuisine, also known as CKP cuisine, prepared by Anuja & Parikshit Vivekar. According to their description -
"CKP is a sub-caste in Maharashtra and the origin of the CKP community lies in the Indus Valley from Kashmir to Sindh. It is believed that in the 12th century the families migrated and settled mostly along the Konkan Coast. CKP food habits have an influence of Kashmiri cuisine which can be seen from the use of poppy seeds (khus-khus) in the traditional cooking. Having settled along the Konkan coast, fish, coconut, kokum, tamarind are an integral part of the CKP cuisine. CKP cuisine is known for its flavorful food and a very distinct taste and aroma."
Yummm, it was too good not to miss.
And so I arrived at Prem's around 9 PM. Unfortunately, Richa's friends weren't there. Fortunately, she introduced me to Dean Lobo, who also came alone. Dean was a journalist at Times of India, and we immediately hit off well. We sat together in the large community dining table and got ready to feast.
As we sat down, we all got our personalized invitation kit, which included a detailed description of every food that was about to be served…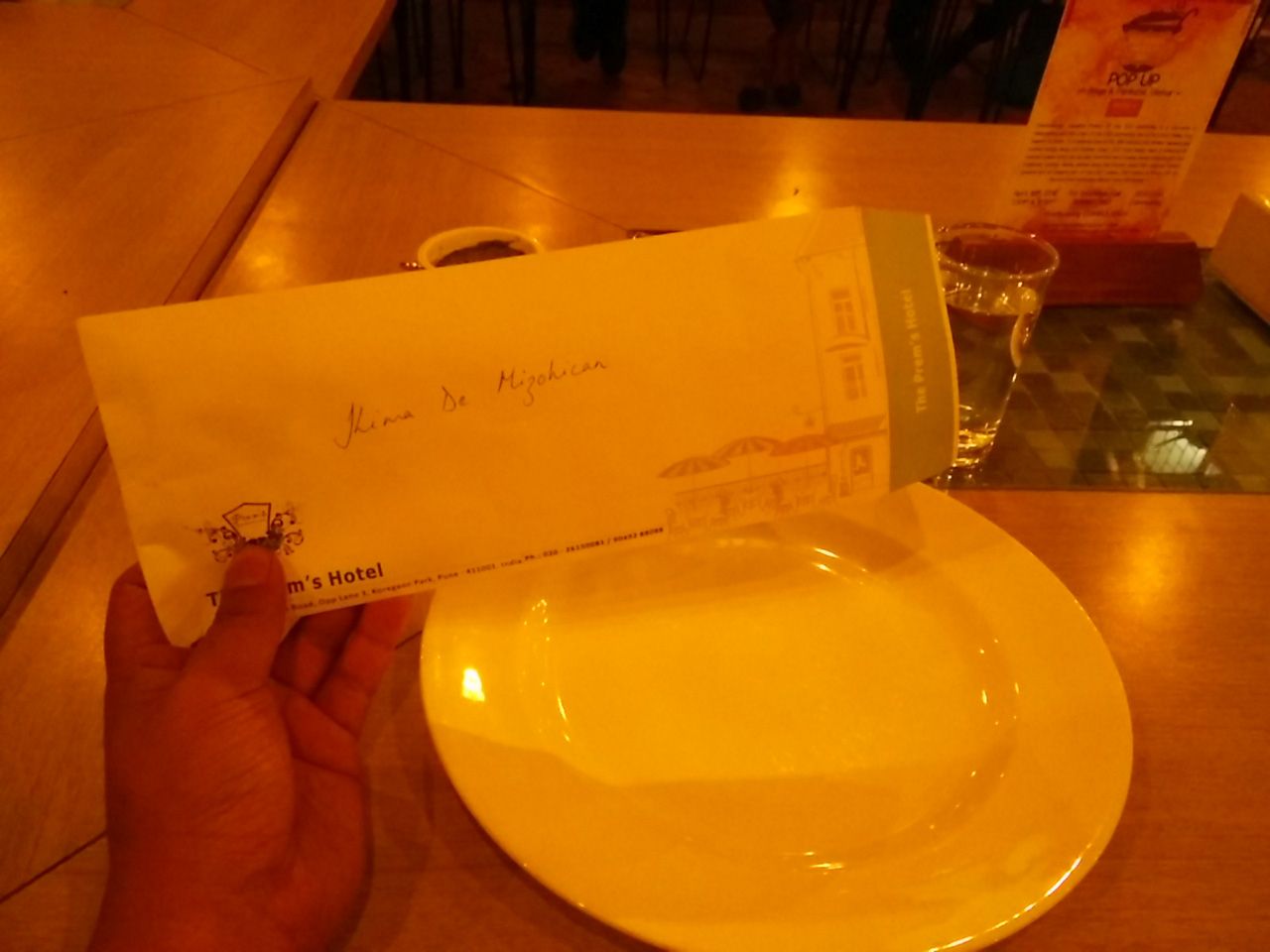 See, that's what I love about going to such events outside my "comfort zone" - I get to learn so many new things. As I read the origin and history of the CKP community provided in the envelope above, I learnt that they were Brahmins. And yet, the CKP menu was rich in non-veg. Dean explained to me that since the community settled in the coastal region, sea food became one of their main staple diet, along with meat, poultry and eggs.
I was like, "wow". I mean I'm sure we all had our fair share of Brahmin or Tam-Bram friend who was brought up in a strict vegetarian environment but secretly liked to eat chicken with you when their folks weren't around :) But I came to learn that night that there was an entire Brahmin community that prepared awesome non-veg dishes!
Just as the food was about to be served, Richa's friend Susan joined us. She was late and her husband couldn't make it, but she entertained us well with her deep knowledge about food and different cuisines. She had organized Parsi food events as well, and was really interested in Northeastern delicacies. I told both Dean and Susan about giskaa.com where I used to order NE pickles and meat from.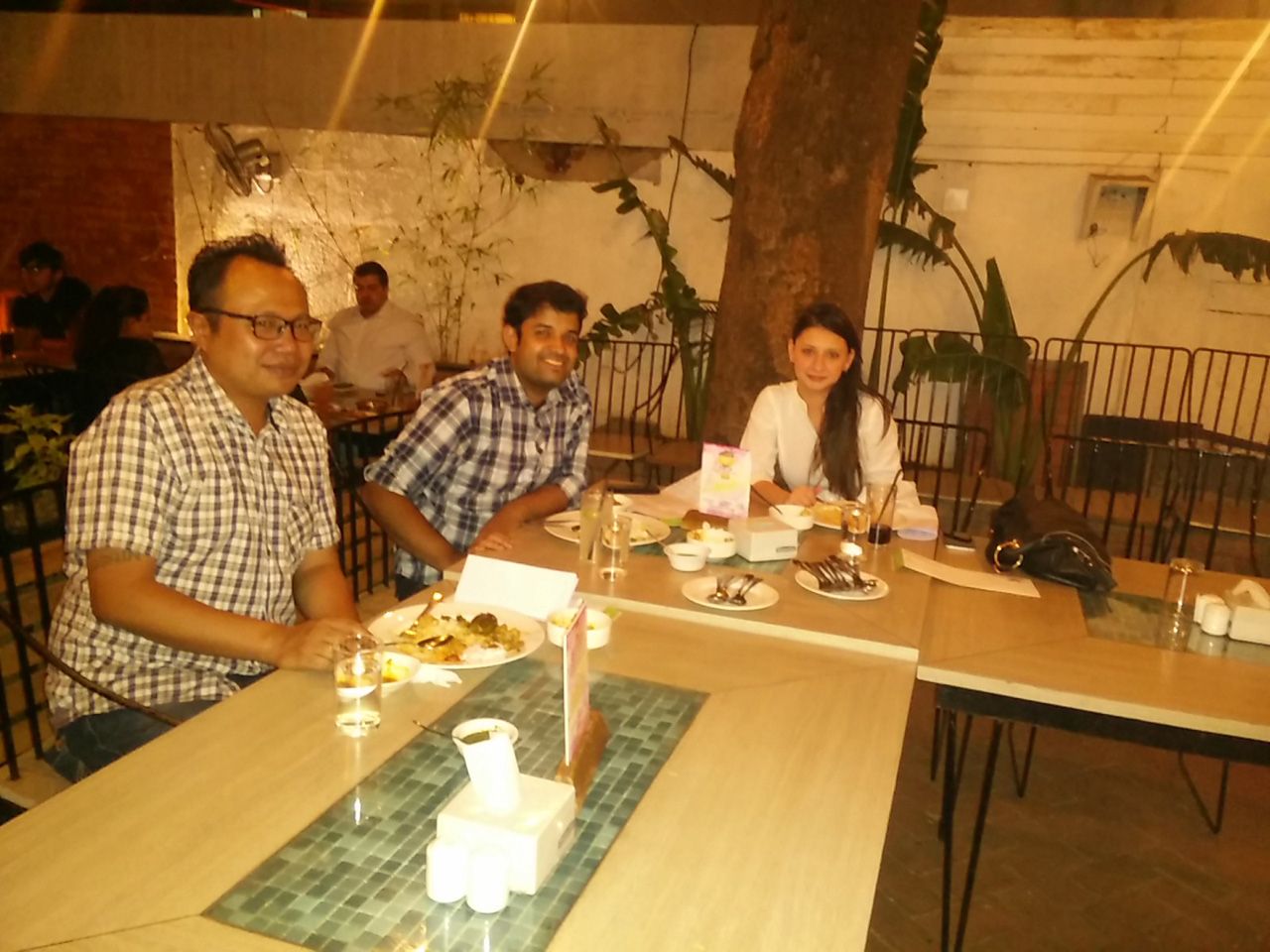 The course started.
First up was the "Kheemyache Pattice" for starters.
It's basically a mutton kheema cutlet, and it was deee-li-cious. It tasted like no other kheema cutlet I had before. This one was special and very different, and believe me, I had eaten a lot of kheema, not just because my name is kheema Kima.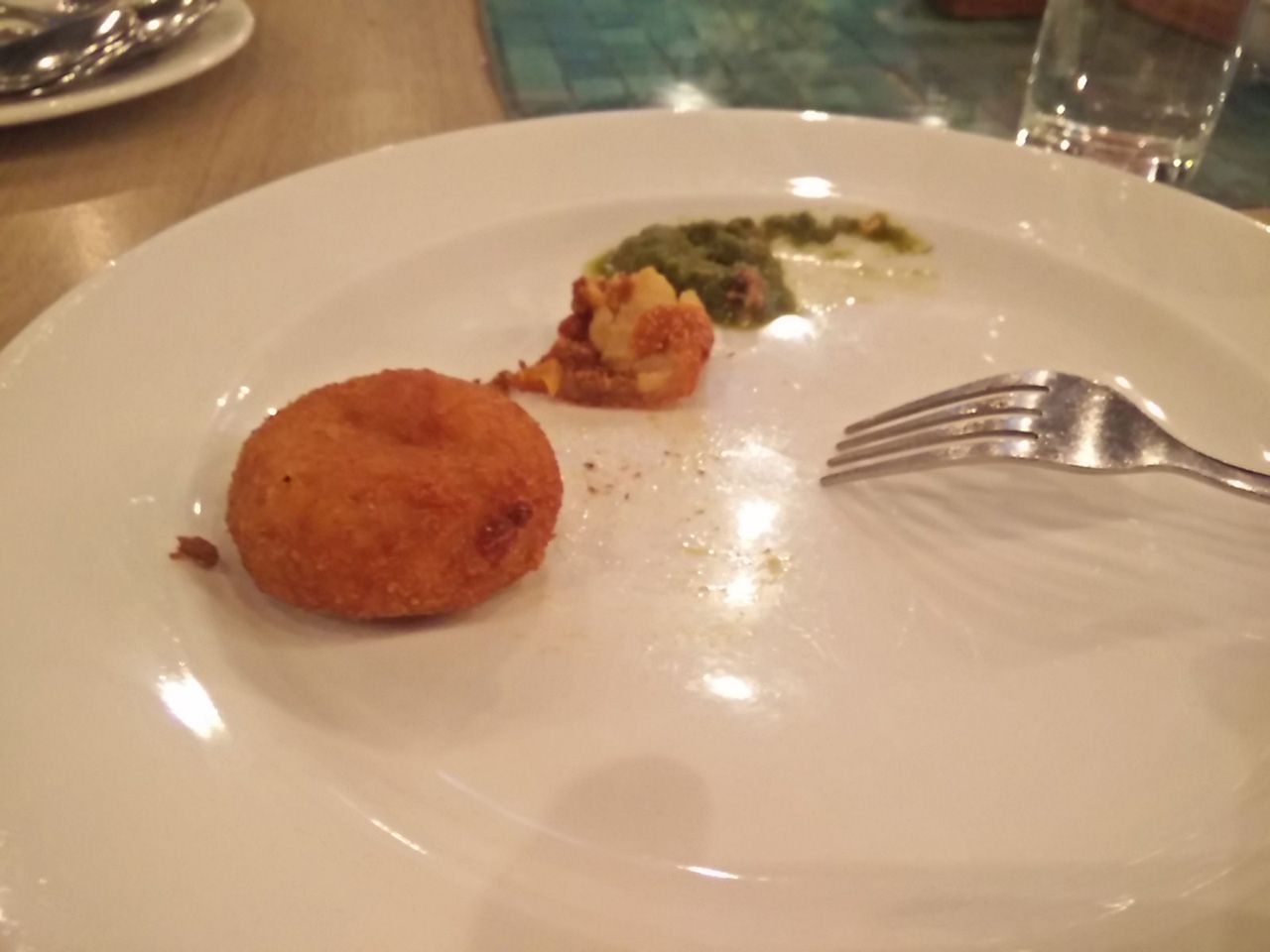 After that came the first main course - the "Sodey Bharli Vaangi". As a layman, I would describe it as "brinjal stuffed prawns". However, it's not as simple as that, and such simplistic description would do no justice to the complicated and tremendous care taken to prepare the dish.
There was a warning disclaimer given for this dish -
"A word of caution - Sodey like all other varieties of dried fish have a punch or a sharp smell/taste which is not necessarily suitable for all palates, so give it a shot but don't be disappointed if you don't like it this time, eventually you might come to like it."
Hah, you're telling me, a Northeasterner to tread with caution? Me, who had braved Nghathu, Nghapih, Ngari, Akhuni, Bekang? I was definitely not afraid to try it out :D
I gobbled up an entire stuffed brinjal in one shot, and it was PERFECT!
Below is a photo of the same dish we had that night [source: Cloves Catering]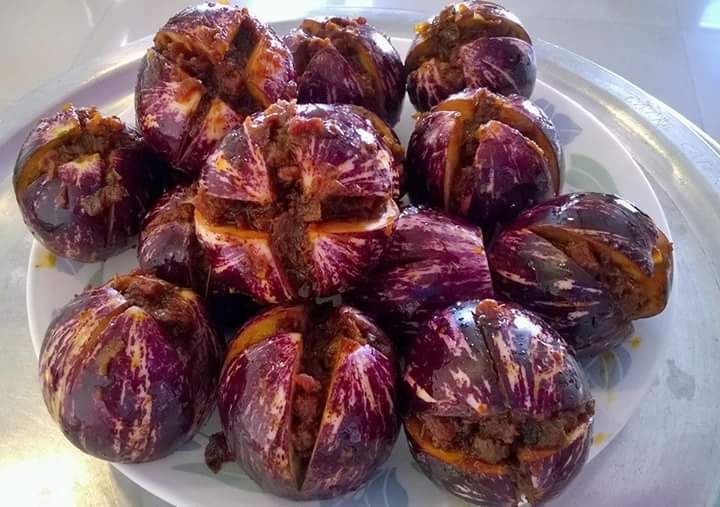 Next came the "Kaalya Masalyacha Kombdicha Rassa". The chicken dish. The description said, "This chicken dish is a CKP specialty, and it is made using a plethora of whole spices which are roasted at low flame with a tiny drop of oil, cooled and grounded. Tell us if you can identify the whole list of spices inside".
I, the amateur foodie, took a bite from the scrumptious chicken dish, ran my tongue around the meat inside my mouth, looked up thoughtfully with eyebrows raised and confidently said, "Coconut. I can recognize the subtle hint of coconut in this dish". The chef came up to us and smiled, "Sorry, there was no coconut used in this dish" :D ouch! :)
But coconut or no coconut, it was awesome.
After this came my favorite dish of the night - the "Maasyacha Kaalvan". It was the fish curry made from red chilly powder and tamarind. Very spicy for most, just spicy enough for me. And as suggested, it was best eaten with rice.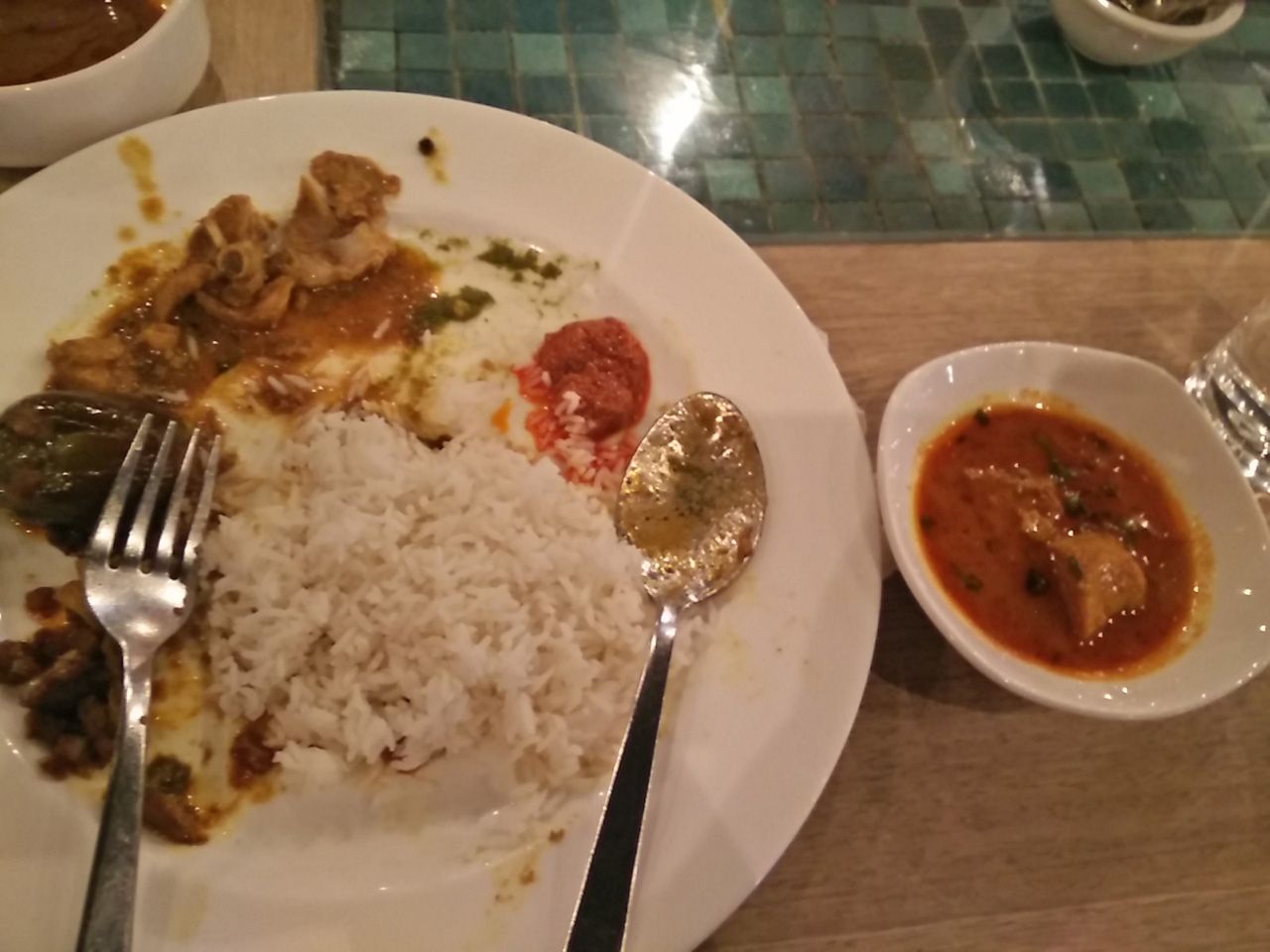 The fourth main course was the "Kolambichi Khichadi". It was a masoor dal khichdi cooked with prawns, ghee and coconut milk! Yummmm.
I love dal khichdi, especially non-veg ones. For a Mizo, "chicken dal khichdi" is the closest to our Mizo traditional dish called "arsa buhchiar". Back in Mumbai, I used to order chicken dal khichdi from Sheetal Restaurant regularly, but here in Pune, I haven't come across a single restaurant that serves non-veg dal khichdi. So imagine my joy when prawns dal khichdi was served that night! And of course the unique CKP ingredient added in it made it even tastier.
Sadly, my stomach was already stuffed from all the chicken and fish served earlier, so I could only eat one serving. Soon, it was time to end the feast and we were served "Ninaav", which was a sweet made from chana dal, whole wheat and condiments.
I found the sweet to be a little too rich in jaggery, hence it was difficult to swallow, especially after having eaten so much. I would probably rate it below average. However, I'm not much of a sweets guy, so the host shouldn't feel bad that I wasn't impressed by the sweet. That's just me. Overall, it was a fantastic dinner! I would give 5/5 ratings to all the other dishes.
Now looking at all the photos I took with my phone above, you must be wondering, geez, you're one of those people who always take a photo of the food they're going to eat? You're absolutely right! :D …and it felt good being in the company of others like me that night :)
:D
Also, while I interacted with Dean and Susan on my left, the group that was sitting on my right, a couple of really sweet old people, probably in their 70's, politely asked me if I was a chef! Maybe they assumed I was a chef because I was busy taking photos of all the food I was eating, or they overheard me talking about Northeastern food, or maybe it was because I was fat. Nonetheless, it was flattering to be mistaken as a chef. I smiled back politely and said I was actually a mobile games developer. I guess there was nothing much we had in common to talk about from there :D
As we left, it was time for Richa and the organizers to have their fill. Here is a photo I took of them just before leaving. A standing applause to Richa and the awesome CKP team of Anuja & Parikshit Vivekar for preparing such a wonderful and terrific cuisine. Salut!
I'll end this post with a few other photos from the "The Secret Chulha Pop-Ups" Facebook page. We were the 9:30 PM batch, but the ones below were from an earlier batch before us at 7:30 PM. Just look at them enjoying the food with so much satisfaction.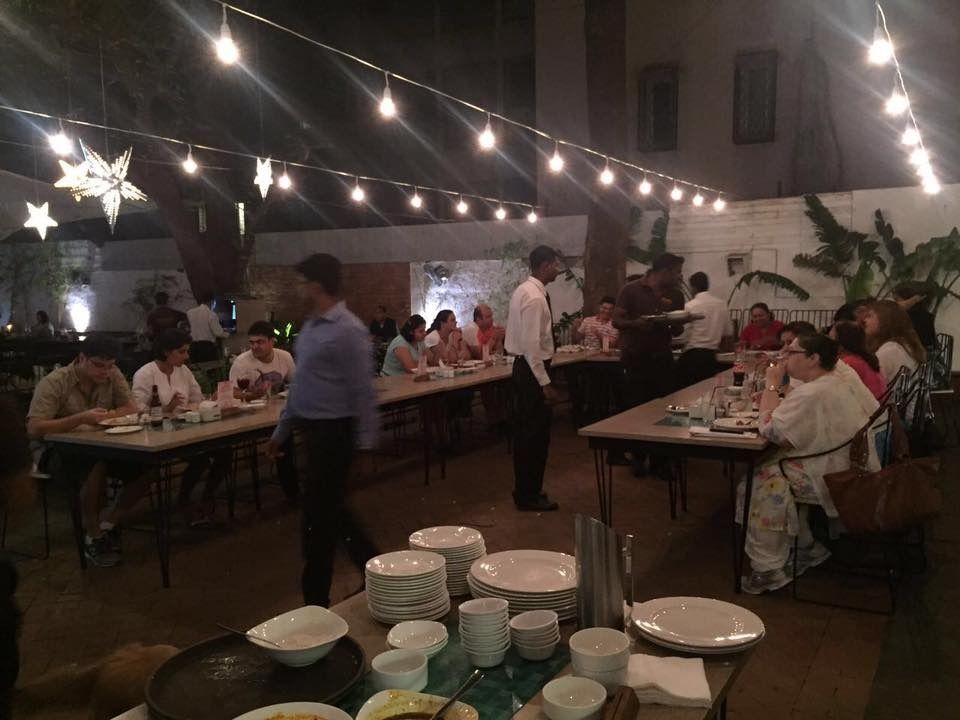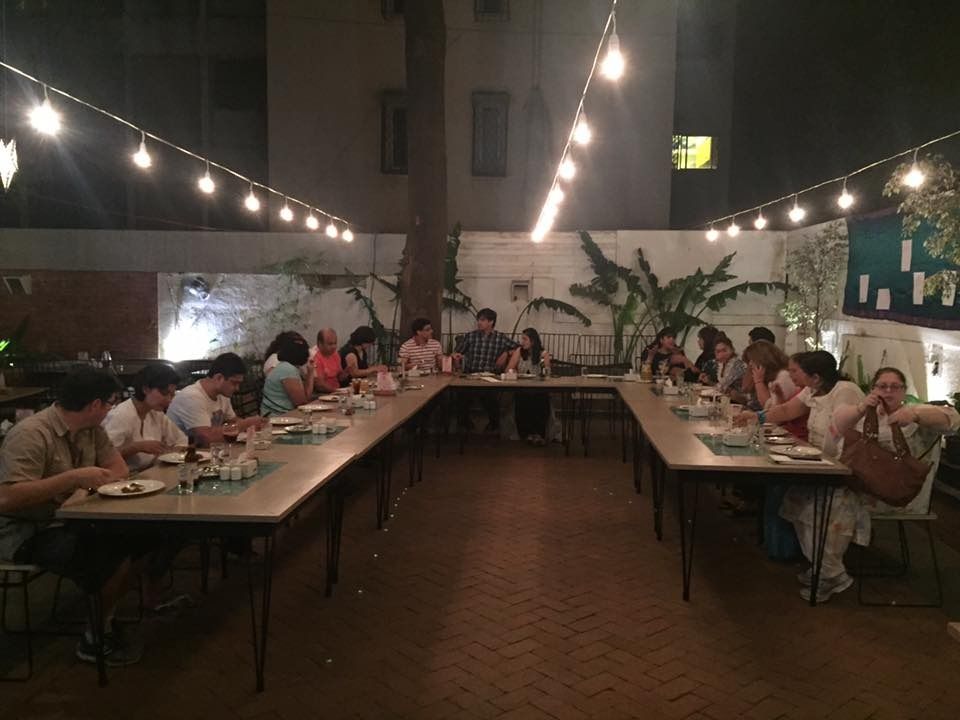 Definitely, I would love to participate in such an event again, trying out new cuisines and delicacies.
Let me know if you are interested in participating in the next event in Pune as well, and I'll let Richa know. Cheers for now then.