From what I have learnt so far about the fashion world, apparently it is quite common for couples to wear "twin outfits". Matching clothes in a way make the couple look cute together, and it is also a subtle way of announcing to everybody else that they're together :)
Celebs all across the world have done it. David Beckham and Victoria did it, Kim Kardashian and Kanye West did it, and so did recently divorced Angelina Jolie and Brad Pitt. (Ok ok, I really don't know if they all wore twin outfits or not, I'm just bluffing here, but if you're unfamiliar with the fashion industry like me, just nod your head and continue reading :P )
So here's our attempt at wearing twin outfits :)
As I have mentioned in my previous post, I went to Mumbai to celebrate my dear friend Abi's birthday. My girl too flew down from Mizoram to attend the birthday party. And then she fell ill because of the sudden change in climate (and probably Sunny's awesome cocktail concoction), so I looked after her until she was well enough to travel back to Mizoram.
I know, sometimes since our Mizo community is small, people love to gossip about other people. We initially planned not to post any pictures of her visit on social media, but since Abigail was going to post the photos of her birthday party anyway, people were going to find out. So I guess I should mention that the main reason why she came down to Mumbai and Pune was not because of Abigail or me, it was to buy new stock of clothing material for her couture.
She has her own fashion design studio back home, where she serves quite a large clientele. And from what I have learned from her, what differentiates the many designers in Aizawl, is the material they use. Most of these fashion designers, especially the ones who graduate from renowned fashion institutes, are more or less on the same level of expertise. They are all good in coming up with new and creative designs to making really fancy and unique clothes, and so what sets them apart from each other is the material and type of fabric they use. And for that, they don't usually buy their fabrics from Mizoram, as it has become "common" (also, they are sold at an expensive rate in Mizoram, leading to lower profit margin for the designers). Some travel to Tiruppur to get new supply of fabrics, others go to Surat, and many even travel all the way to Thailand and China to buy their fabric materials.
And that was why she was in Mumbai and Pune. To refill her material stock. And as luck would have it, it was also the perfect time to wear our twin outfits together :)
All the twin outfits mentioned below were personally designed by DP herself, unless stated. What makes her creations stand out is that she not only designs them but cuts them herself. She also seldom creates flashy and ornamental decoratives, and instead likes to make simple, classy and elegant designs.
First up from our list of twin outfits was this really cute couple T-shirt. The two T-shirts read "Together Since 2013" when we stand together :)
Twin Outfit 1
Fabric: Two plain black T-shirts purchased from ZARA.
Me: Round neck, with customized digital print at the back "Together 20".
She: V-neck, with customized digital print at the back "Since 13".
DP got them printed from Khatla before coming down to Mumbai. And I must say the print quality was very good.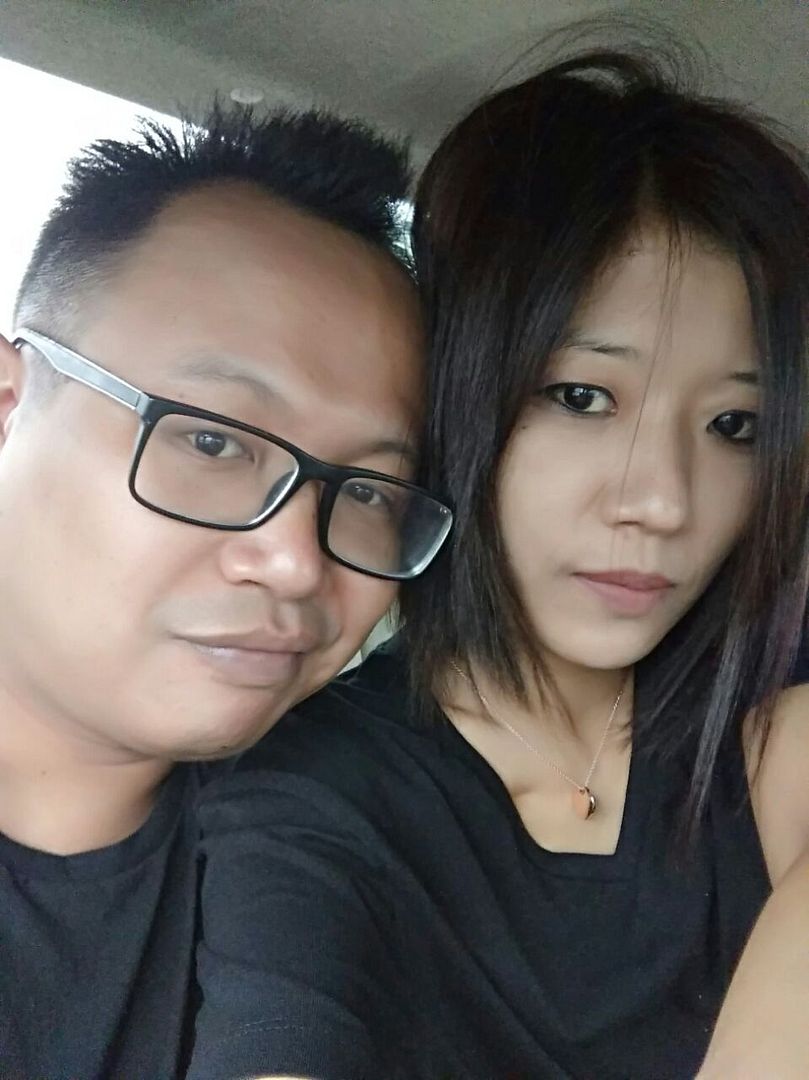 After that, since we had to dress according to Abi's birthday party theme, DP and I changed into our Black and Gold color theme clothes that she herself designed.
Twin Outfit 2
Me: Round neck, full sleeve, black single jersey fabric with leather patchwork appliqué on the shoulders. Khaki pants from Westport. Casual shoes from ZARA.
She: Reverse appliqué black sleeveless dress, stretchable cotton and synthetic fabric. Heels from Addons.
Back in Pune, I booked a table for us at The Flying Saucer Sky Bar, one of Pune's renowned restaurants. It had an awesome roof-top view of the city, and the food was equally amazing. This was where we wore our third twin outfit :)
Twin Outfit 3
Me: Louis Philippe slimfit blue shirt from Import Hut, Zodin Square, which DP brought with her from Mizoram. Blue denims from Pepe.
She: Inverted pleat blue dress, stretchable twill cotton. Bag from Forever 21.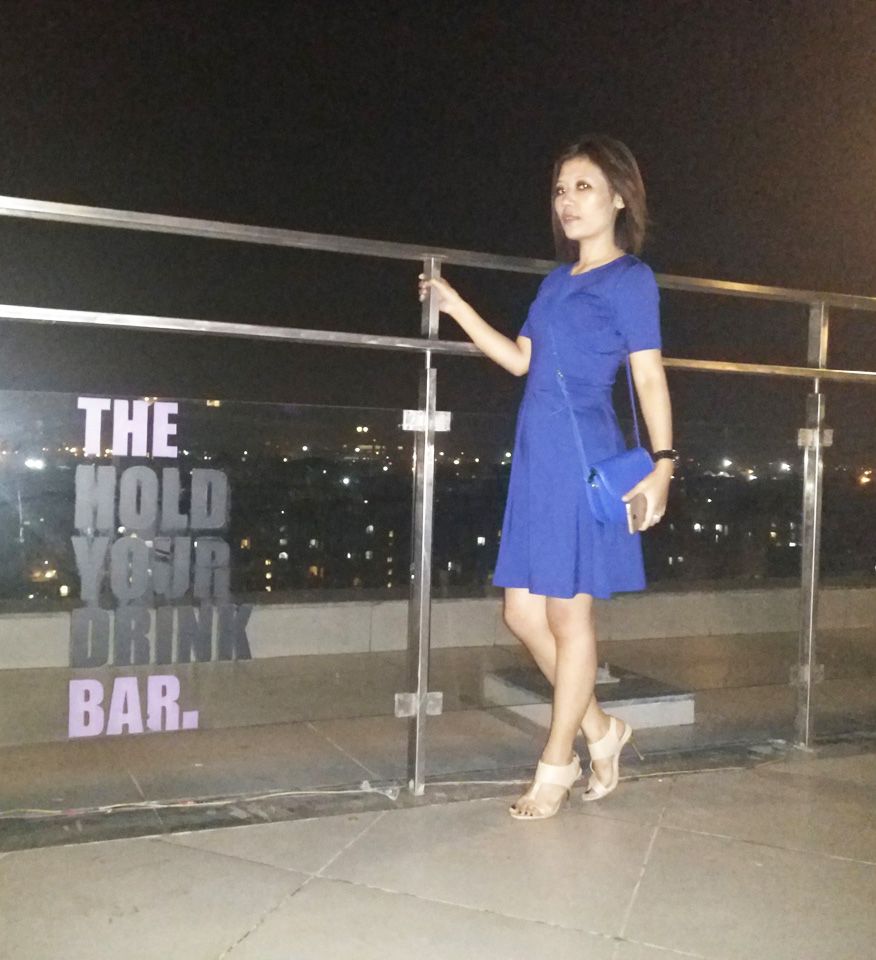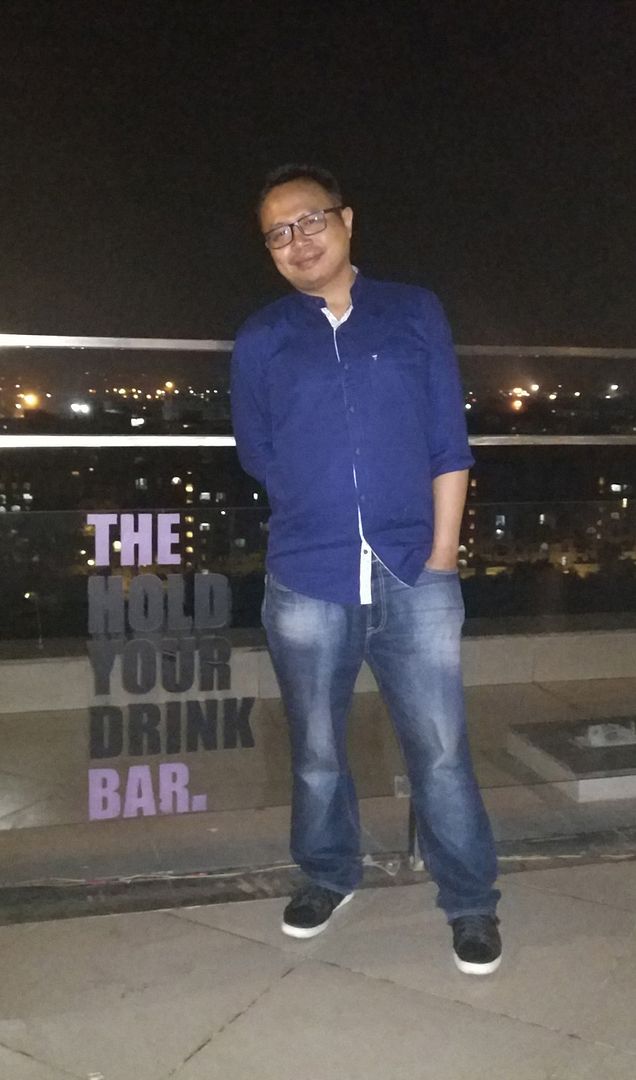 My friends recommended we try the Prawns tempura, and it was the best we ever had.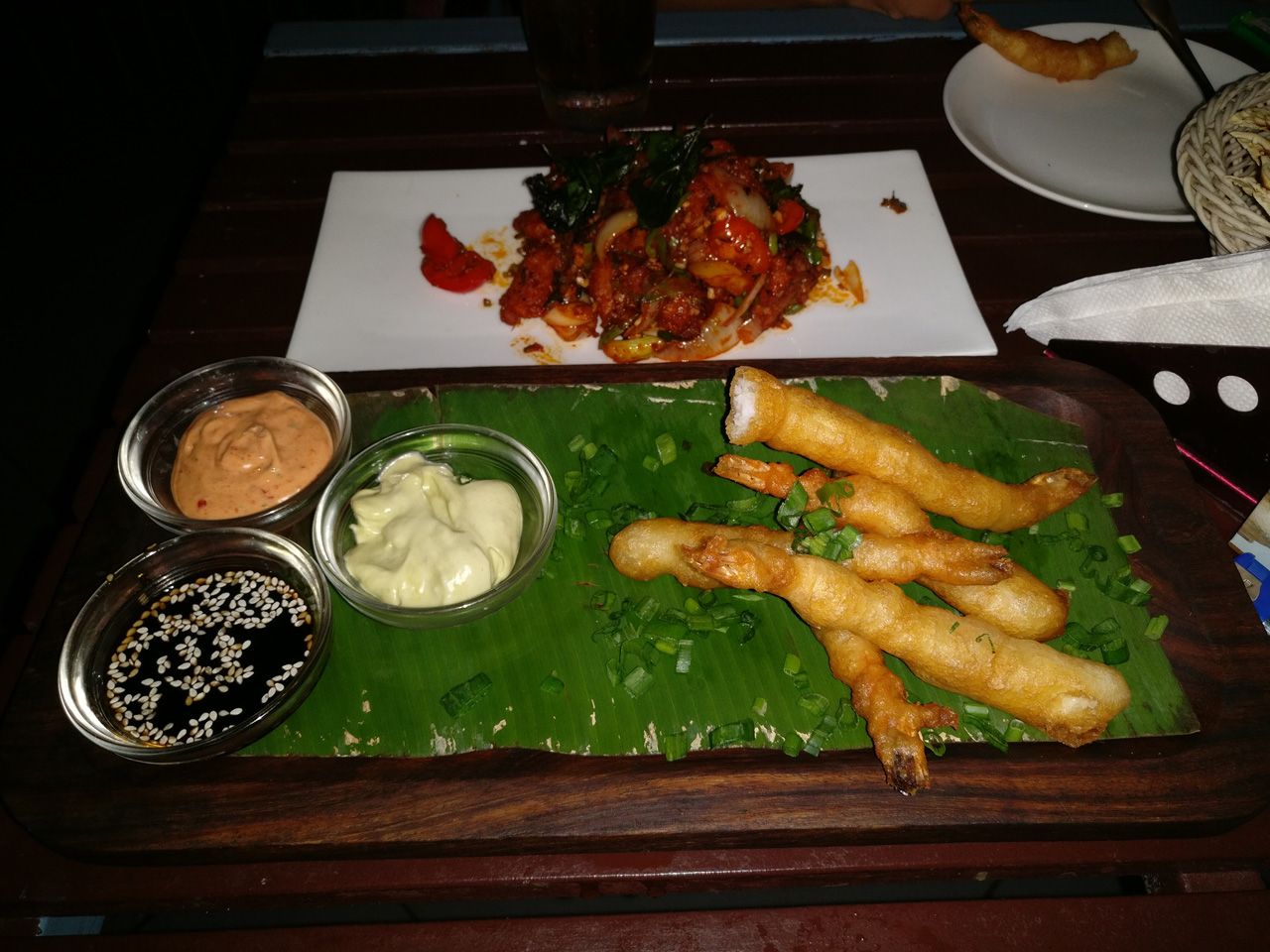 Twin Outfit 4
Fabric: Single jersey grey fabric made of wool, cotton and synthetic fibre, imported from China.
Me: Normal T-shirt with front open round neck piping and button. Casual shoes from Marvel.
She: Same design, with longer knee length cut, binding roll up sleeves and bow at the back.
So the one day we had to ourselves together, we spent it on shopping. Went to various malls buying stuff and having fun. I really like this T-shirt because of the comfort.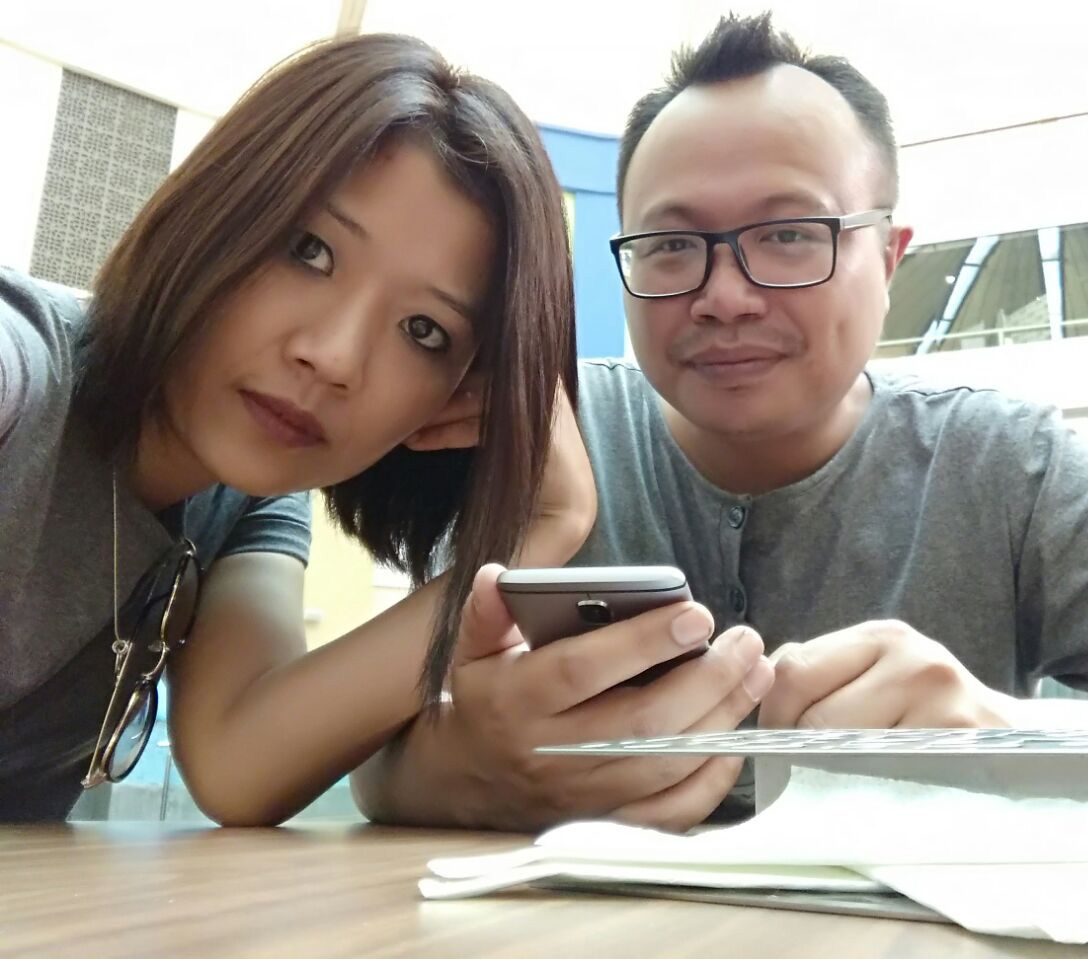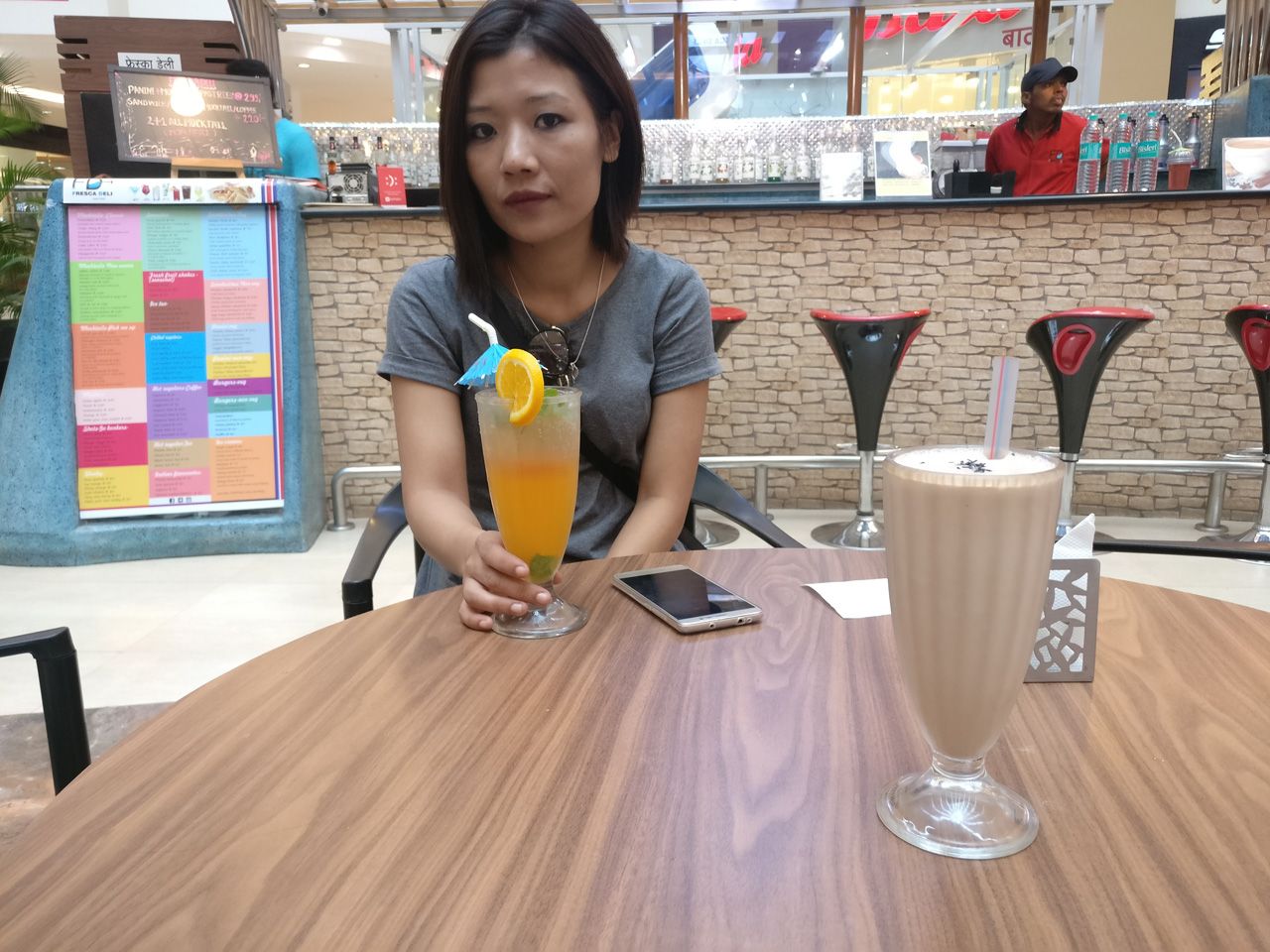 Though it was extremely tiring shopping the entire day, the attire was so comfortable that it felt good wearing it while taking a break from shopping :)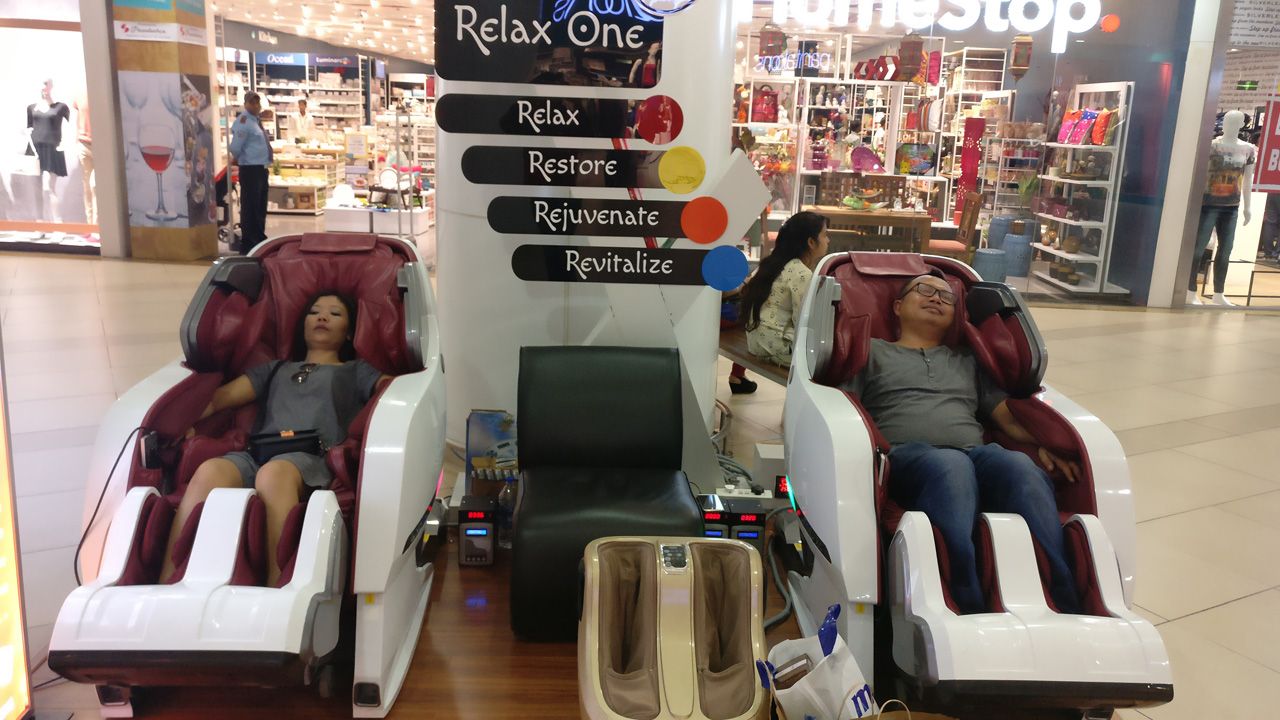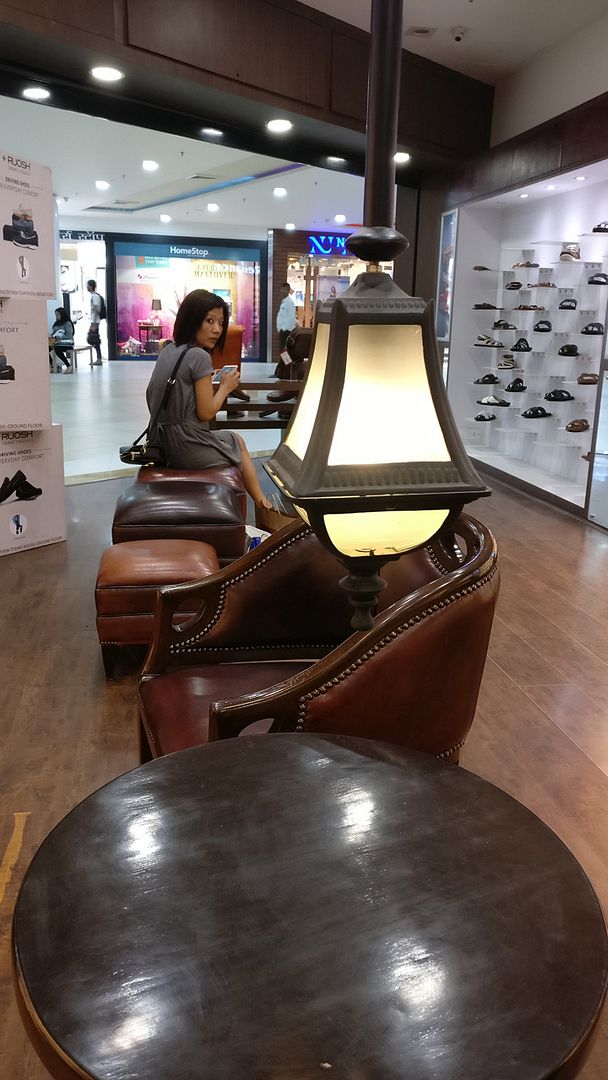 Twin Outfit 5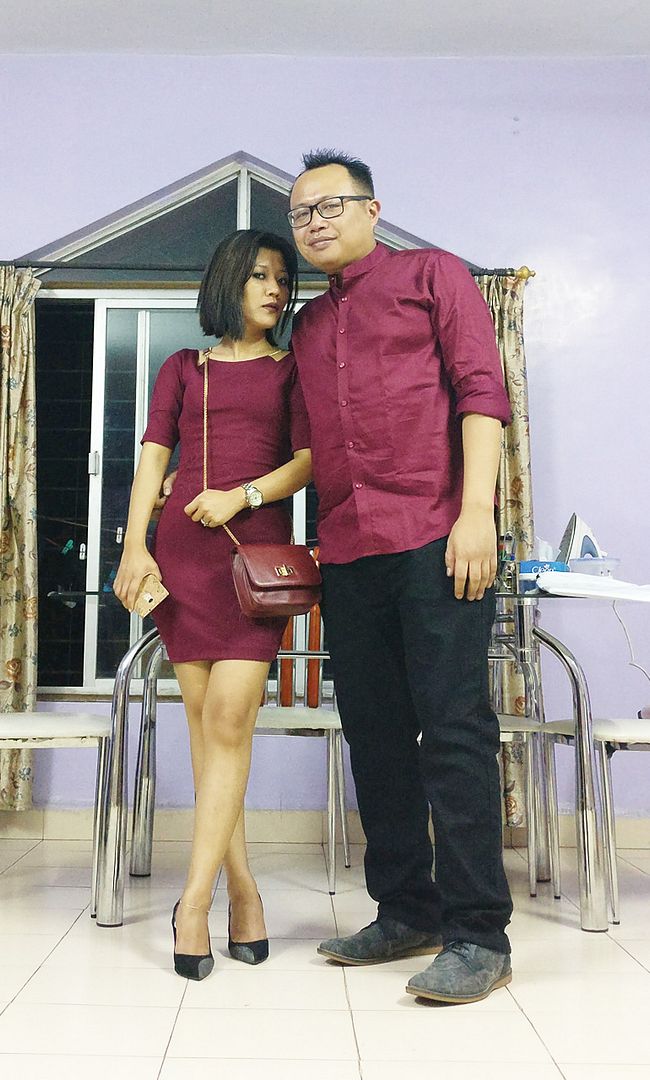 Me: Maroon slimfit semi-formal shirt from Van Heusen. Black denims from Lee. Shoes from Ruosch. (All purchased earlier the same day :D )
She: Same material as the earlier blue dress but with different design and cutting, pleated sleeves and gold chain along the neckline and netted appliqué. Shoes from Charles & Keith.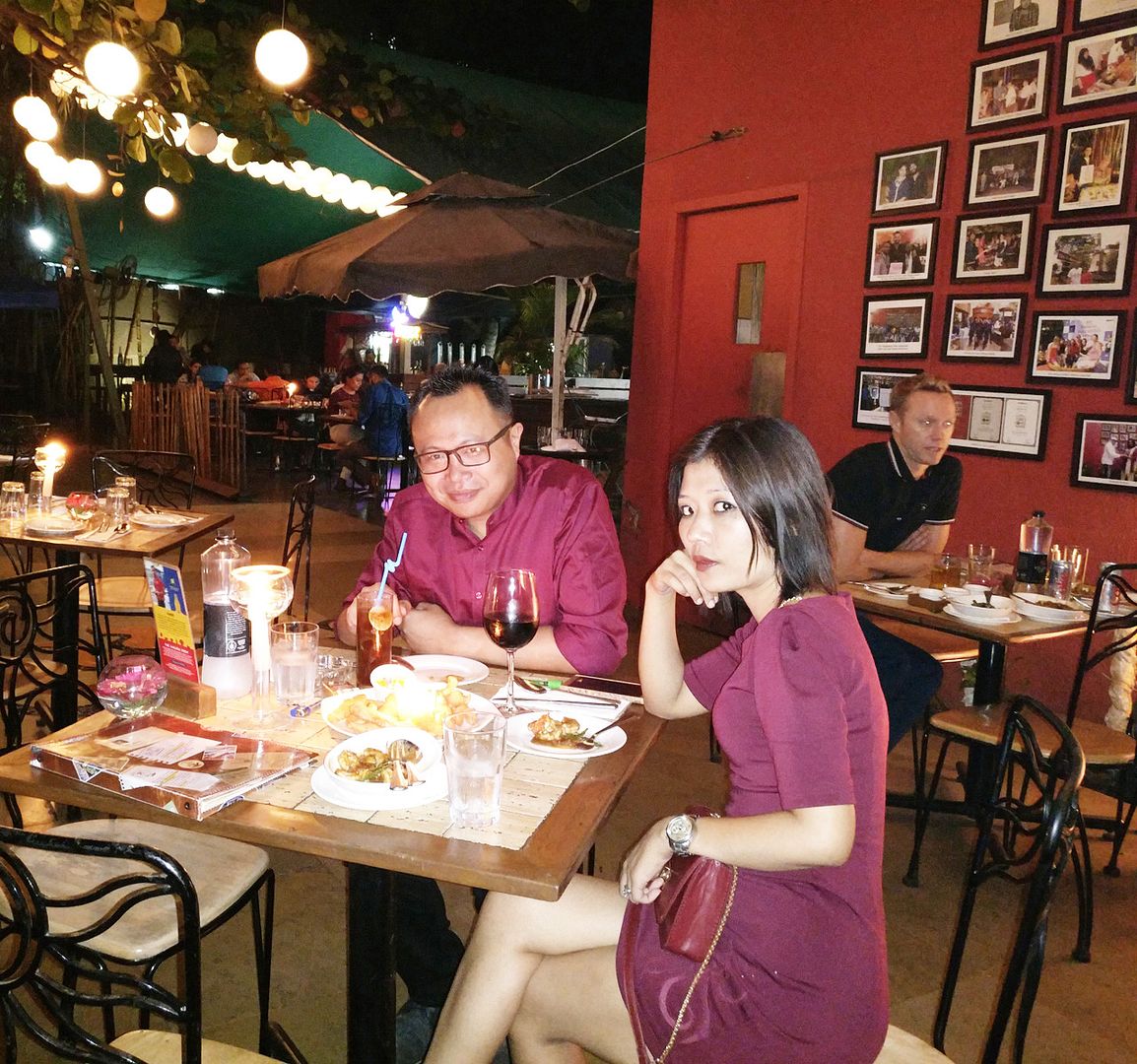 Malaka Spice. The perfect place to have our last dinner together. I think our outfit theme too blended well with the restaurant's ambience. The food was delicious as expected, though a little bit expensive.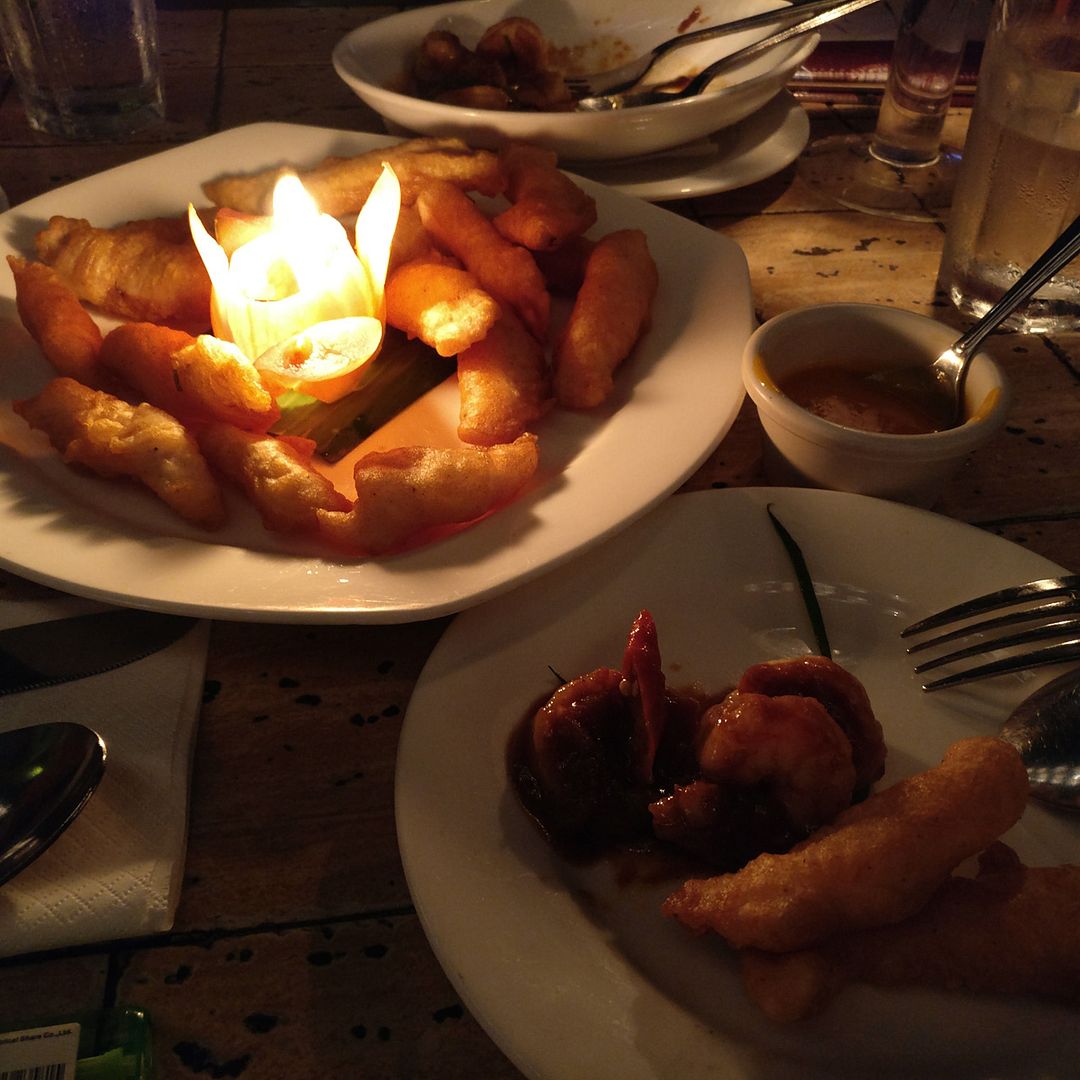 As the restaurant was just walking distance from my apartment, we strolled back slowly together, hand in hand, under the romantic street lights.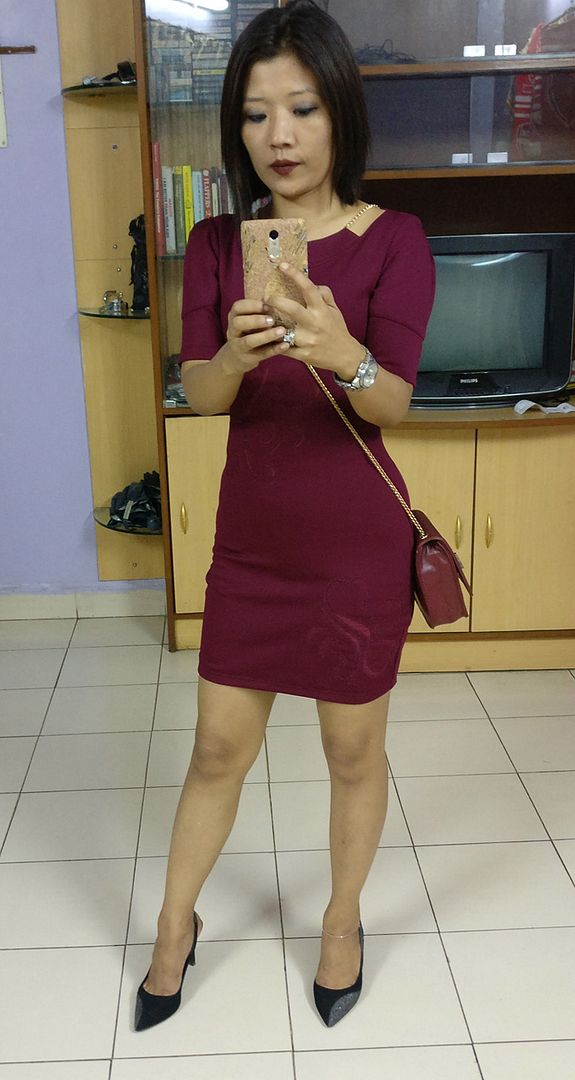 And with that, our twin outfit journey came to an end, for now.
Looking forward to many such journeys in the future. As I have mentioned in my other posts, if you want to get such wonderful clothes made for you, you can always contact DP. Her address and contact number are given below
The Colney Select,
H/No E-19, Top Floor,
Opposite RTZ Sports Goods,
Khatla Peter Street,
Aizawl,
Mizoram.
Contact number: 8731001838