During my vacation back in Mizoram last week, I had the honor of being invited to give a short speech to the students of ICFAI University, Mizoram. My audience were the MBA, BBA and BCA students, along with a few faculty members including my sister Dinpuii who teaches Management, fellow blogger Jerusha aka dignified cow, and u Mahumi, the Head of Academics.
As it was sort of an impromptu speech (I was freelancing as a driver for my sister), I didn't have the time to prepare a presentation or slides, so I just talked freely about how life in the corporate world is, the struggles we have to face daily, coming out of our comfort zones and stuff, hoping I could inspire some of the students. I had to speak in English as it is the medium of instruction within the institute.
The student interaction was not much, but apparently, that is how things roll in Mizoram. Most of the students just sat there quietly even when I asked them questions. I did manage to crack a few jokes here and there though, and the audience responded with a laugh, so that was a relief. :)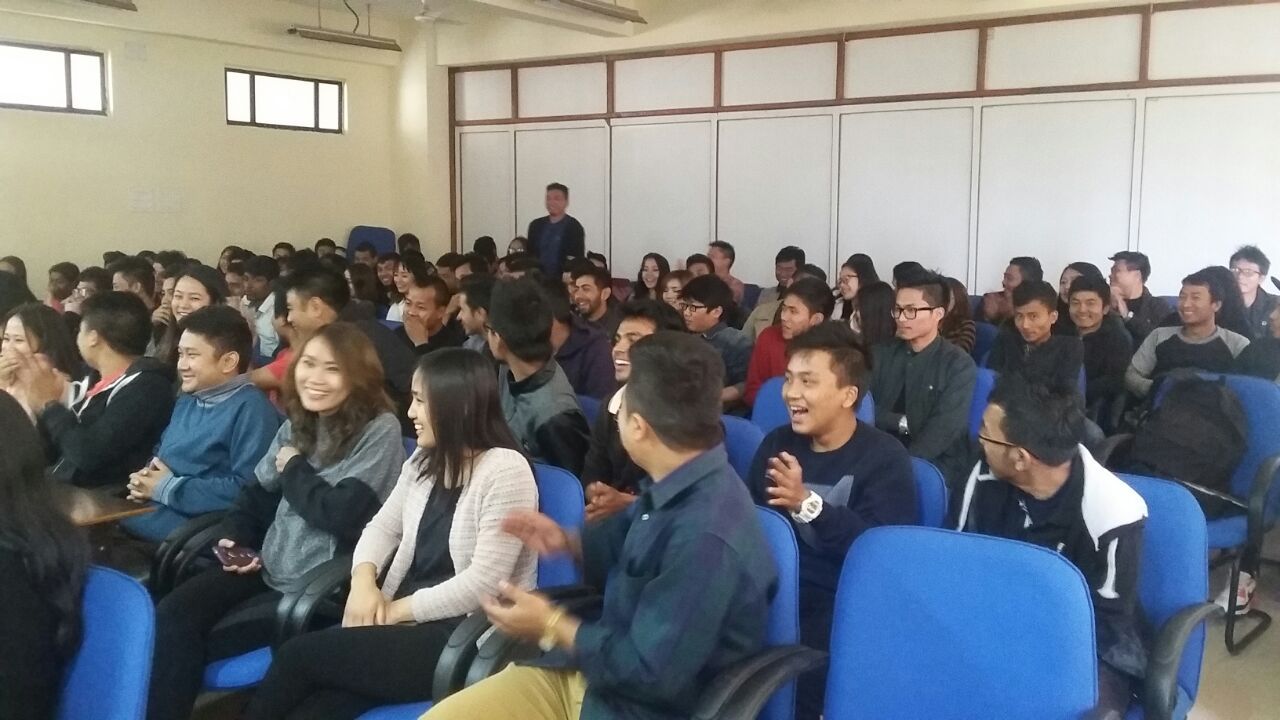 One of the points I mentioned to the students was about the usage of English. Having spent a majority of my life outside Mizoram and being an executive member of the NEHM (North East Helpline Mumbai) when I was in Mumbai, I had encountered and counseled many youngsters from the North East who felt insecure because they "didn't speak good English".
Let me be clear on this. There is NOTHING wrong if you can't speak English properly. Our Mizo community sometimes tend to dwell in this misconception that being fluent in English equals to being educated or classy. Trust me, that is nothing but a gross Colonial hangover. You don't have to be embarrassed if you speak broken English with a Mizo accent. Look at me. You may only know me as somebody who writes in English, but if you speak to me in English, you will hear me speak English not just with a Mizo accent but a mix of Tamil accent as well! :)
Till now I cannot pronounce certain words like "three" properly. Even in Engineering college, my Mallu friends would purposely ask me how many items (three) they were holding, and I would reply with a hand gesture by raising my three fingers to indicate "three" (and then slowly lower my index and ring finger to give them the middle-finger salute) :D But then we were close friends and I had long accepted the fact that I will never be able to pronounce it properly.
The problem is, when we start making fun of our people who speak English with an accent, we tend to make them lose confidence. And that is one of the main symptoms I have seen among Mizos who hesitated to go the distance. I have dealt with Japanese clients, Spanish partners, Middle-eastern customers and so on who couldn't speak English for nuts. But at the end of the day, they were able to deliver what they were trying to convey because they had confidence. And that is what counts. Not your accent. Were they embarrassed they couldn't speak the Queen's English? Definitely not. So why should you be, my fellow tribal brothers and sisters? :)
Never forget that English is not your mother tongue. It is not your obligation or prerogative to master the language. I write in English because I find it easier to express myself due to my upbringing, but this does not mean in any way that I regard it higher than Mizo. Unlike the Nagas who use English and Nagamese as their lingua franca, we Mizos do not face the pressure of speaking in another language. Of course there are certain professions where you are required to speak English fluently, but when that is not the case, it is best to leave it at that.
The reason why I am a bit wired up is because of the recent video that had been sent across various WhatsApp group among our Mizo community. Aizawl FC beat East Bengal at the I-League yesterday thanks to a goal by Danmawia. There was a short post-match interview with him in English where, let's just say, he didn't speak English quite like the weatherman on a BBC channel.
And the sad part was, many Mizos laughed at him.
First of all, you might find it ironic that I am addressing this issue of speaking in English, in English. But I find it even more ironic that so many of us so called football fans who love International players such as Lionel Messi, Neymar, Diego Costa, Alexis Sanchez etc who can't speak English properly, suddenly mocking our own flesh and blood when he attempted to speak in English.
If you think Arsene Wenger speaking English with a heavy French accent is "changkang" while a sportsperson from Mizoram speaking broken English is "ṭhing", boy you really need to get your priorities re-checked.
I still remember that time last year when Shoaib Akhtar tweeted in English and people made fun of him…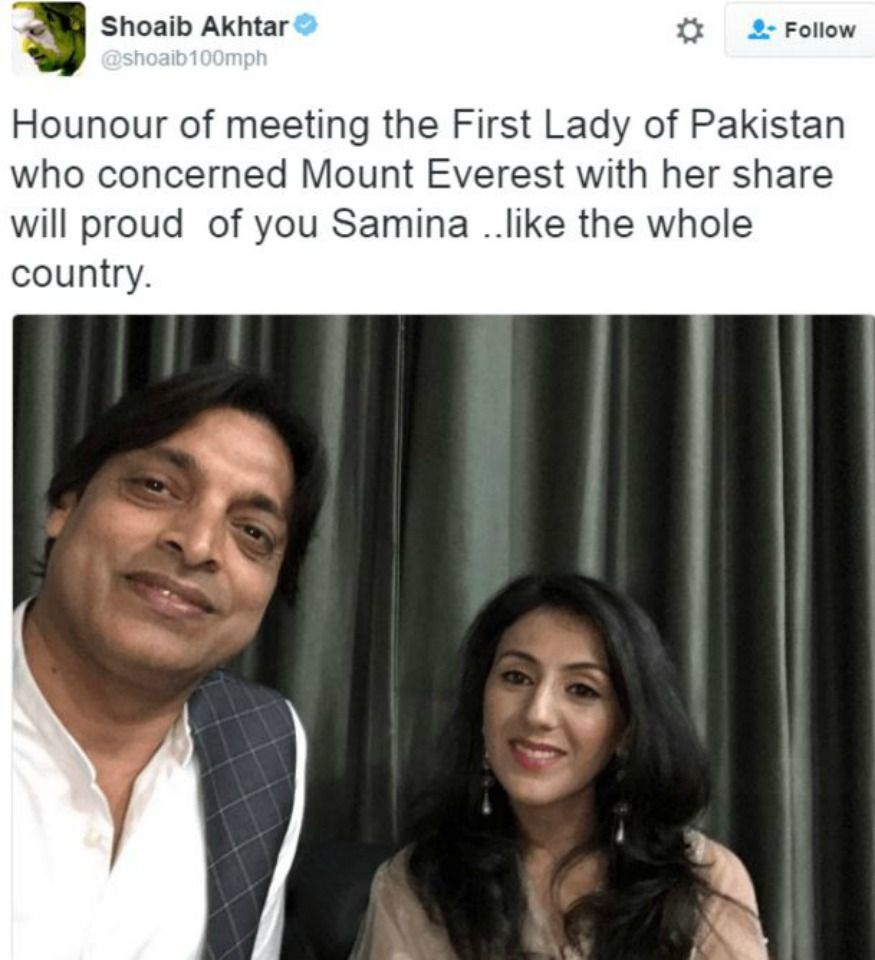 And suddenly, India and Pakistan were united (one of those rare moments), lashing out at those who made fun of him because of his English. He's a cricketer for crying out loud, not an English professor. When it comes to English, we have our own Sachin Tendulkar who speaks English really well. I had the grand honor of meeting him personally at his home when we were pitching for his official mobile game "Sachin Saga" (which will be released on Android and iOS next month). Such a down-to-earth person IRL, we spoke for hours about his game concept, in English, but what made Sachin greater than Shoaib is not his fluency over English but his mastery over cricket. Period.
And that's where the focus should be.
Sure it is good if you can practice and improve your English, I am in no way discouraging anybody from perfecting a foreign language. Just keep in mind that it is not the epitome of what defines somebody as an intellectual. We need to move away from this mindset that fluency over English means "changkang".
At the same time, I need to point out that when I occasionally use English on Facebook, it does not mean I am "in ti changkang", a comment that I have frequently seen other people make. As long as we keep assuming people who write in English are "in ti changkang", then we will keep laughing at the Danmawias and many more to come when they can't speak English properly. This presumption needs to stop, now.
Just speak in whichever language you're most comfortable with, what matters at the end of the day is your confidence. I will end this post with this amazing and cute video :)
See? He gave zero effs :)