Hehe… big lesson learnt. Next time, DO NOT fall for everything you read on the internet! I am talking about my current favorite TV show - The Designated Survivor.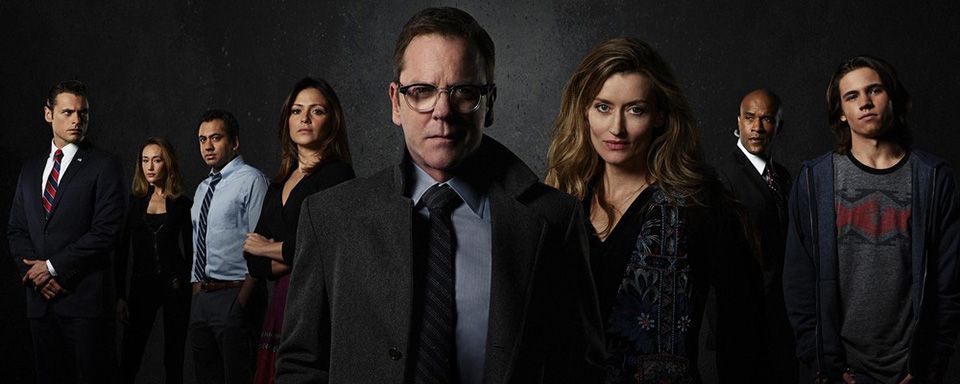 I started watching this show not just because of the interesting plotline but because of the awesome casting from some of my favorite TV shows - Kiefer Sutherland (aka Jack Bauer from "24"), Kal Penn (Harold & Kumar series / House / HIYM), Maggie Q (Nikita / Stalker), LaMonica Garrett (The Last Ship / Sons Of Anarchy), Natascha McElhone (Californication / Revelations), Malik Yoba (Empire / Alphas) and Virginia Madsen (Scoundrels / Witches of East End).
Such an action-packed cast. Sutherland needs no introduction. Maggie Q kicked a lot of asses in "Nikita" with her deadly martial arts skills, Malik Yoba was this superhuman anti-hero in "Alphas" who was filled with rage and became stronger the angrier he got, LaMonica was a lieutenant on board the nuclear-powered Destroyer in "The Last Ship" and a deputy sheriff battling notorious biker gangs in "Sons of Anarchy". Even Italia Ricci was a super-villain (Silver Banshee) in the TV show "Supergirl".
But in Designated Survivor, apart from LaMonica (Secret Service) and Maggie (FBI) firing a couple of rounds from their handgun, you will not see any of these stars get into hard action. But even with that, the show is absolutely awesome.
The reason why I said I'll not fall for what I read online again is because two months ago when Designated Survivor had their mid-season break, the show ended in a cliffhanger. Somebody tried to assassinate President Kirkman but was distracted in the last second and the bullet could have hit somebody else. The show ended with that.
And then I read this on IMDB and immediately posted this scathing blog post, about how it no longer made sense to wait for the new episodes because we already knew who got shot.
I even got a hell lot of traffic for the above blog post, most of them originating from the US. There was like one new visit via search result every 5-10 minutes! The page hit for that particular post almost hit 2000 right away!
But, yeah, as it turns out, the joke's on me!
I just saw the two latest episodes of Designated Survivor aired after their mid-season break, and it was nothing like what was mentioned in the above plot!
As you can see from the above image, IMDB initially posted the plot as:
Episode 11: Someone tried to kill President Kirkman but missed and hit someone else. Now the FBI will find out who did it.
Episode 12: Someone killed President Kirkman's wife and the FBI and Secret Service is doing everything to track the killer down.
Hah. Those didn't happen at all. In fact, everything is exactly OPPOSITE what was written above, hence the reason why I think it wasn't just some random troll but the writers of the show themselves who trolled all of us!
As both Kirkman and his wife laid on the floor after the assassin fired his gun, there was blood on both of them. I was expecting the clichéd, "Oh I've been shot… wait a minute… this ain't my blood, it's my wife's blood!" from Kiefer Sutherland… but hell no, it was his wife who said that! Yup, President Kirkman was indeed the person who was shot!
Dayymmmm!!!! That was a good troll indeed. I raise my glass to whoever wrote those plotlines at IMDB. You had me, you really had me good.
Lolz. Once again, good stuff. This Episode 11 will go down as one of the best surprises I have ever experienced when it comes to TV shows :)
Even in episode 12, President Kirkman's wife wasn't killed as mentioned earlier, she's very much alive, but two other main characters were killed off, making the show more and more suspenseful! (though I have two very big questions regarding the last scene of episode 12 – how the hell did Peter MacLeish's wife get there behind Maggie Q when they were surrounded by the FBI, and why is Maggie Q not washing off that blood stain on her forehead, it's been at least 3-4 days since she was apprehended, comon gurl, you're hot but you gotta shower sometimes too :D :P )
It would be interesting to know other people's reaction to the way things turned out, but unfortunately, IMDB had discontinued their Messaging Boards as of last month, so I cannot even visit those old threads where people were lashing out at the show for giving away "spoilers".
Keep this show rocking. It's getting better and better. Cheers!