blogger.com has finally changed its interface. Lolz. In my 8 years as a blogger, they've made a change only once, and that time too it was more about template design and features. This time, it looks like they have revamped the entire backend UI.
Frankly speaking, it looks more like a WordPress backend now, and navigation is much smoother and slicker than before. Monitoring your blog visitors is also much easier now with a built-in analytics report right on the dashboard itself.
I haven't had the time to explore much, but from my first few impressions, I'd give blogger a thumbs up (seriously, it's about time!) and inserting images seems to be just a matter of copy-pasting too.
However, there is one flaw I noticed immediately, and it's about the new post editor.
Again, this post is meant only for those few people (like me) who still like to write their post first on a Microsoft Word document before copy-pasting it to the post editor. I guess we prefer MS Word because we are too lazy and the auto-correct feature seems to solve a lot of problems for us. Lolz.
A year ago, I wrote about Five important blogging tips for those who use MS Word on blogger.com. Now that the interface and CMS editor have changed, I guess those tips don't mean much.
In this new blogger post editor, it is no longer possible to copy-paste your article from a Word doc to the "COMPOSE" or the "HTML" section. I mean, it is of course possible to do that, but if you do it, your entire formatting (paragraph, alignment, line breaks etc) will now go haywire.
In the previous blogger version, I advised you all not to paste your word document article in the HTML section and that you should paste it in the COMPOSE section only, right? And once you did that, you could click HTML and everything would still be formatted the way you wanted it.
In this new version, if you paste anything in the HTML section first, you will lose all paragraph and line breaks!
And if you paste it first in the COMPOSE section…
…and then click HTML to format your post, you will now unfortunately get this sh*t.
Yup, blogger apocalypse!
But don't get scared, I know a way to prevent this. I am familiar with this type of display result as Posterous is having this exact same CMS editor feature! Your entire post in posterous will go for a toss if you copy paste the content from a Word file.
One simple solution to this is – REMOVE MS Word formatting.
You can easily do this by using a TEXT document (.txt extension). Once you're done writing your blog article on an MS Word document, simply copy-paste the content into a text file, with the exact line break and paragraph spacing that you want. Once you do that, again copy the content from the text file and paste it now in the new blogger editor under COMPOSE section.
Thadaaa! Problem solved.
Your post will be formatted exactly the way you wanted it to be.
And even if you click HTML on the editor after pasting it in the COMPOSE section from the text document, you will get this -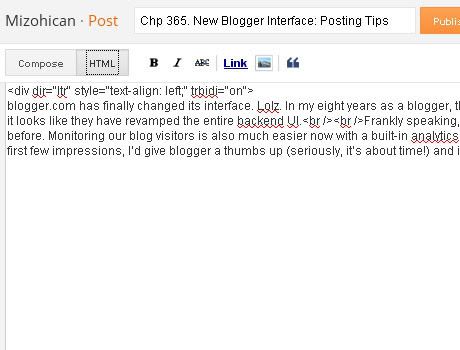 See how clean the codes are now! All those unnecessary and irritating MS Word related codes are gone, and this section now consists of just the basic (and proper) HTML codes which you can easily edit if you are even a little bit html-savvy.
If you are really interested in seeing the difference between pasting your blog article from an MS Word directly, and from a text document directly, here are the two results of this very same post –
From MS Word document to COMPOSE section – eww!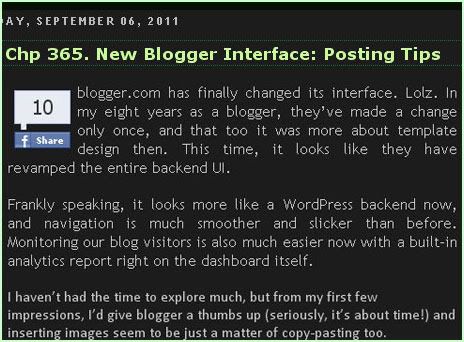 From text document to COMPOSE section – wow!

Of course most people do write their blog posts directly on the blogger editor directly, so I guess this post will not mean anything to such people. But to all those who use MS Word docs to write your blog post, this is how you can easily solve your formatting problems with the new blogger interface.
I don't know about you, but me, I am kinda like an OCD patient when it comes to webpage layout and content uniformity. I die slowly every time I see an ugly blog with unequal and varying font sizes, spacings and colors randomly placed here and there (unless it is done purposely with an artistic direction).
Hope this helps. If you have a better solution to this or any other tips regarding the new blogger interface, please feel free to share here.
Cheers.