I'm a hardcore Gooner. I've been an Arsenal fan long before the Invincibles days. Back during engineering college days, it was really difficult getting to watch a match telecast on TV, mainly because we were hostellers and if we wanted to watch a weekend match at a friend's place, that meant having to take a weekend pass. Even though my friends and I were divided in the Arsenal-ManUtd camp back then, we couldn't always watch the games on TV.
But after college, I moved to Hyderabad for a year because of CAT coaching class, and that was during the Invincibles era of 2003-04. And yup, because of easy access to TV in my PG room and the fact that I wasn't doing anything much in Hyderabad other than morning coaching classes and self mock tests for an entire year, I never missed a single match of that entire 49 games unbeaten run!
That is why I cherish my bond with Arsenal so deeply. Trust me, watching every match of those 49 unbeaten games really made me feel like being a part of that achievement :) Of course after 2004, I got into college again followed by work etc, and I couldn't always watch a match on TV anymore. But truly, those Hyderabad days were the best.
[My PG room, Christmas 2003, with my neighbor Hyder from Iraq]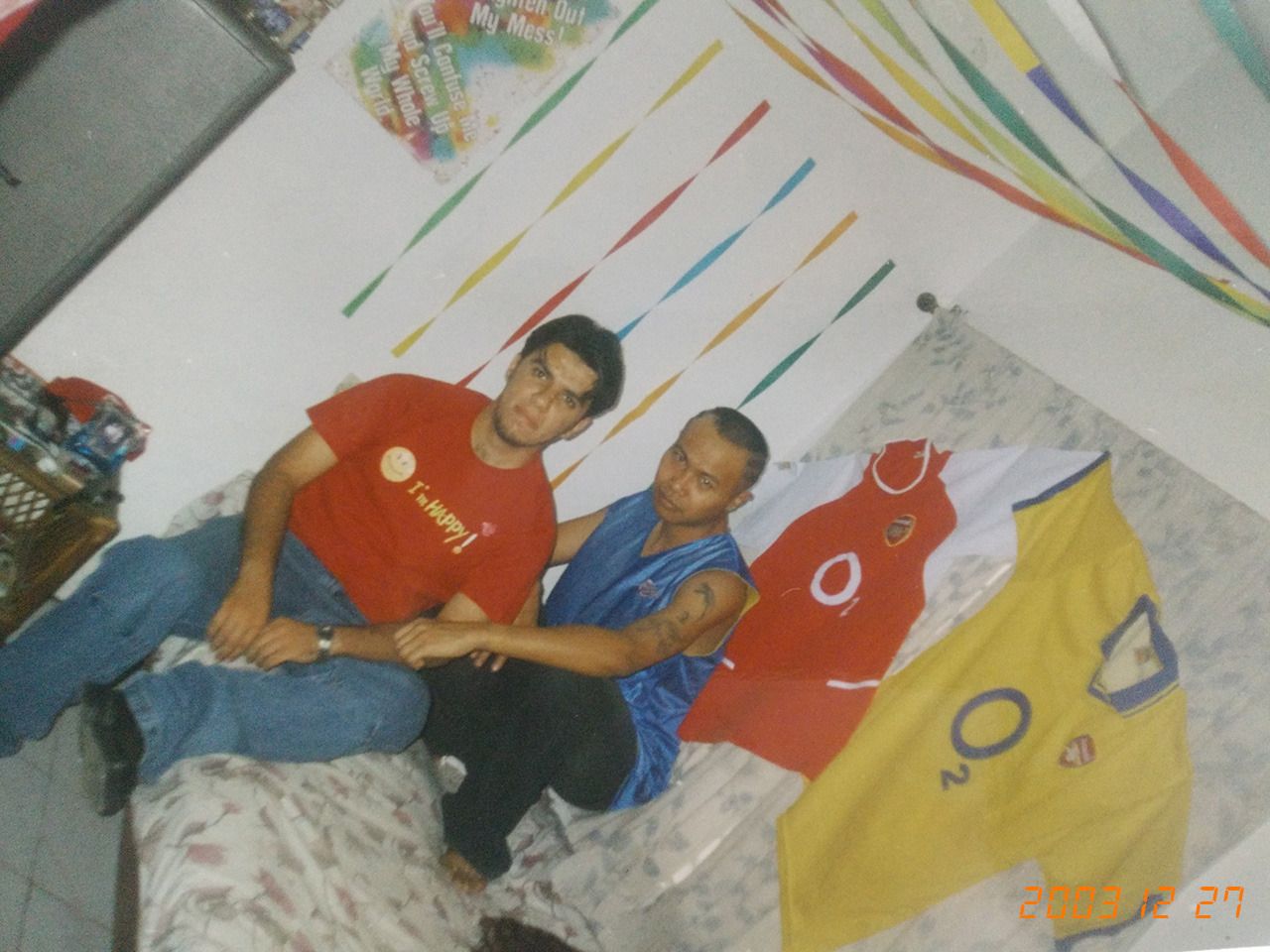 As you can see from above, those were some really corny X-mas decorations :D along with my only two (back then) Arsenal jerseys hanging at the back. The good ol' O2 days. And I would watch every single Arsenal match from that very same spot on my bed.
Today, year 2015, I am still a hardcore Arsenal fan, but due to internet connectivity and social networking, it is much easier now to discuss about football with other Arsenal fans or argue with rival club fans. And yup, that's the best part about football I guess, getting into a heated argument with fans of other football clubs :)
If their team lost, we would mock them, and if our team lost, they would mock us. That is the rule of football fan fanaticism :) And everything is in good spirit. If you're gonna make fun of other fans, then you should also be able to accept it when they make fun of you too.
Like for example, yesterday we saw a lot of shockers. First of all, Chelsea managed to win at home against Norwich City (OMG!). Secondly, Liverpool thrashed ManCity 4-1 at City's home (whoah!). Thirdly, Leicester City is now currently on top of the table (holy mackerel!). Fourthly, over at La Liga's El Clasico, Barca humped Real Madrid 4-0 at Real's home turf (dayyymmm!). Fifthly, back to the English league, ManUtd managed to win in extra time against Watford due to an own goal (so lucky!). And sixthly, Arsenal visited WBA and lost by an own goal in spite of a 75% possession (so unlucky!).
And of course, with Arsenal losing while ManUtd, Liverpool and Chelsea won, I was immediately tagged or mentioned in numerous comments and posts on Facebook :)
Aaaahhh… like I said before, this is all a part of football fan war, and this week, we shall take all the banters and insults and troll posts with open arms :D
But one thing I must point out is, whenever ManUtd wins and Arsenal loses in a particular Game Week, my friends always bring up the "3000" issue.
What is the "3000" issue?
The 3000 issue is a very infamous incident among online Mizo football fans. It was this landmark and momentous occasion when I challenged DigiMalt to a bet on Facebook, a bet that was witnessed by more than 10000 people.
The bet was for 3000 bucks.
Back in 2012, Arsenal had reached the "round of 16" at the Champions League. Unfortunately, Arsenal faced AC Milan in the first leg and lost 4-0. Now to beat AC Milan with more than 4 goals in the second leg was quite impossible, though there was still a small chance of doing that.
In the meantime, my dear friend DigiMalt who is also an admin of inkhel.com, one of the top Mizo websites for sports, published an article with the headline - "Arsenal knocked out of Champions League". This was condemned by many, especially Arsenal fans.
He even challenged people to a bet to prove him wrong. I of course jumped in immediately, accepting his bet on the basis of technicality. Yes, the chances of Arsenal beating AC Milan in the second leg by more than 4 goals was bleak, but technically, they weren't still knocked out of the league yet. I carefully framed my sentence structure and DigiMalt who was all pumped up right then, accepted my bet!
A truly funny incident indeed. Read all the screenshots of that incident below and be the judge and tell me if you think Digi or I won that bet :D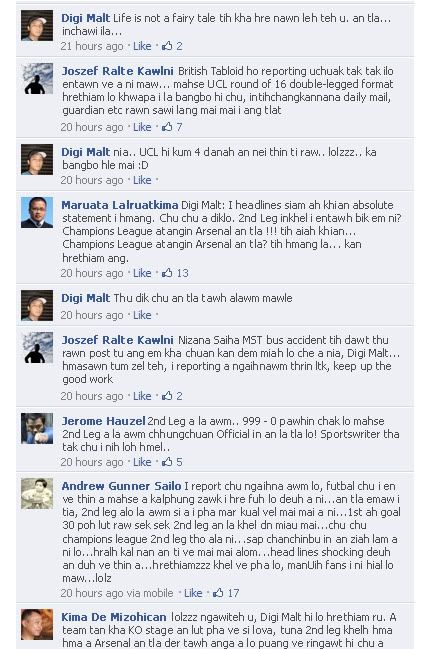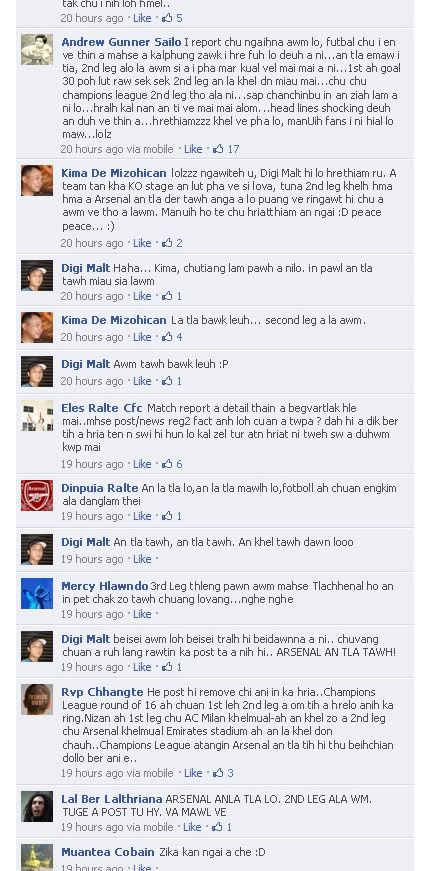 Eventually, many days later, Arsenal did beat AC Milan 3-0 in the second leg, which was an amazing feat, but that wasn't enough to move through, in terms of aggregate score. But as you can see from the bet above, the bet was about whether Arsenal was knocked out of the Champions League back then or not after the first leg, which as you can see, was apparently not so.
I am still waiting for my 3000 bucks to this day DigiMalt! :D
Whenever I meet people, they would ask me if Digi had paid up his end of the bargain. The other day I met the Chief Minister of Mizoram Pu Lal Thanhawla and the first thing he asked me was, "Digi a chuan i cheng 3000 chu a pe tawh che em?" And I meekly replied, "La pe nang"…
Ok just kidding about that last part… but seriously DigiMalt, where is my 3000? :) :D :P