#TBT otherwise known as #ThrowbackThursday is a weekly social media trend, where people post old photos or events to share their memories with others. This is particular common among Instagram users, though Facebook and Twitter too have seen their fair share of #TBT posts. As one social media analyst wrote, "There aren't really any limitations or rules as to what can be posted on a #TBT, but it can be fun to participate as it really just gives people an excuse to post more."
So today being a Thursday, here is my #TBT post. Now this is one of my old posts from misual.com, and in my earlier blog post "Interview with Zonuni" (who currently must be extremely nervous as hell since the Aizawl Munical Corporation election was held today and results to be announced later tonight!) Zonuni mentioned that she really liked the way I interviewed Jenny. I did receive a couple of messages from friends asking me for that interview link, but since misual.com is still down, here is me cross-posting that old interview excerpt from our site db.
Now do keep in mind that it was just a casual interview done in good fun. Also remember this took place in Jan 2007, so a lot of things happened after that. And as usual, my photos are of really low resolution because back then, size was a big deal while uploading so I used to resize all my photos before putting them online. :(
January 3rd, 2007 10:35 am | Sports | Sandman | 6788 Views
Rushed back from the misual.com tea party yesterday for a dinner party hosted by my cousins. Also present at that dinner was none other than our much cherished and adored Jenny, World Boxing Champion. She happened to be my cousin's wife's cousin :-) That's what I love about our close knitted society - There is always a link somehow.
So I decided to interview her, exclusively for misual.com, with questions that no other newspaper or website would have asked her before: Some serious questions, some cheeky ones, and a few personal questions that made her blush like a budding red rose.
Me: Eng chawhmeh nge tui i tih ber?
Jenny: Thlaiah chuan samtawk hi tui ka ti ber. Sa chu… ka sawi thei mai lo. Tui ka ti vek. (giggles)
Me: Sikul i kal lai in mipa naupang ho in an hlau thin che em?
Jenny: Hlau ve bawk e.
Me: Mipa naupang engzah nge i velh tawh?
Jenny: Tumah ka vel ngai lo.
Me: Pawnfen nge kekawr hi hak nuam i tih zawk?
Jenny: Kekawr hi ka ha tam hrim hrim a, pawnfen chu a hma chuan Biakinah chauh ka ha thin a, tunah chuan function velah te pawh ka ha tawh.
Me: Pheikhawk sang i bun ngai em?
Jenny: Bun ngai eeee. Bun nuam ka ti, a hniam hi nuam ka ti lo zawk.
Me: Favorite band/singer?
Jenny: Han sawi duah thei pawh ka ni lo, ka duh hnem ve lutuk. A bik tak chuan Isaac leh LDP te hla sak hi nalh ka ti. Love songs ah chuan Teteii Ralte hi nalh ka ti. A dang pawh an awm ve nual tho.
Me: Push-up leh pull-up hi minute khatah engzah nge i tih theih?
Jenny: Push-up chuuu 25-30 vel a niang minute khatah chuan. Pull-up chu a tlem lutuk (laughs) ih… 5-10 vel chauh ka ti thei.
Me: Eng boxing movie nge hmuhnawm i tih ber?
Jenny: "Million dollar baby" kha hmuhnawm ka ti lutuk. Mahse, a thawnthu kal dan kha a hrehawm ka ti…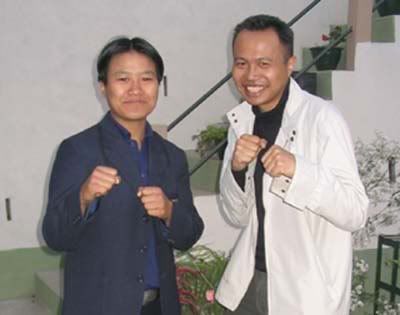 Me: Chhas i nei em?
Jenny: Nei lo (blushes)
Me: Star te i nei em?
Jenny: Nei lo (blushes again)
Me: Favorite color?
Jenny: A dum.
Me: Horoscope i chhiar ve ngai em? i awih em horoscope a in ziak te hi?
Jenny: Aw ka chhiar ve zeuh zeuh. Han awih bur chu ka ni chuang lo a, mahse a chang hi chuan thenkhat hi chu a lo dik ve thin tho a…
Me: i tet lai hian barbie lem i insual tir ngai em? Boxing gloves te hi an kut ah i vuah ngai em?
Jenny: Aih (laughs and then punches me on my arm. It really hurts!)
Me: Eng thawmhnaw nge hak nuam i tih ber?
Jenny: Baggy jeans leh cargo, chuan a chung lamah hi chuan cotton tee shirt.
Me: Eng tikah nge pasal neih i tum?
Jenny: Hre lo le (smiles). Tunah tak chuan ka la inkhel hrih a, idea a awm lo. Pathian in a hun a tih tih hunah a ni mai.
Me: i hlimni ber hi enge?
Jenny: Ka hun tawng zawng zawng hi chu a hlimawm vek. Pathian malsawmna ka dawng reng a, a hlimawm vek.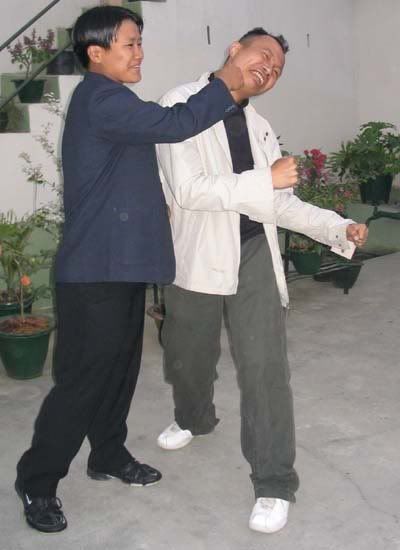 Me: i lungngaih ni ber, i thil tawn tawh ah?
Jenny: A ber bik chu ka nei lo, hei vanduaina te hi chu kan tawk ve tho a, mahse a bik taka lungngaih ni ber bik hi chu ka nei lo.
Me: Love songs ah i luangliam ve ngai em? In ti sek chungin em ni i luangliam thin?
Jenny: Luangliam lo (smiles and punches me again). Love songs hi chu nalh ka ti ve tho a, ka ngaithla ve thin, mahse luangliam tur em em chuan ka ngaithla ngai lo.
Me: Kei hi hmeltha min ti em?
Jenny: (laughs out loud, not a very good sign!) Ti teh reng mai.
Me: i kal kual vel tawhna ah khawilai nge nuam i tih ber?
Jenny: Italy kha nuam ka la ti ber. Khawi laiah pawh Biakin hmuh tur a awm reng a, Biakin dar hi a ri reng bawk a, a ropui khawp mai.
Me: Pangpar hi mawi i ti ve em?
Jenny: Aw ti ve eeeee.
Me: Mawi i tih ber enge?
Jenny: Rose.
Me: Eng rawng?
Jenny: A sen leh a eng.
Me: Gas bur engzah nge i put theih a rual in?
Jenny: Hrelo (laughs out and punches me again). Ka la pu chhin ngai lo.
Me: Mi i kut tum i hmuh hian an hlau thin che em?
Jenny: Kut tum ka hmuh ngai lo (smiles).
Me: Thla khi mawi i ti ve em?
Jenny: Ti e, mawi ka ti lutuk.
Me: Aw kan lawm khawp mai, kei leh misual.com ho chu, hetia i hun min lo hmang pui te hi.
Jenny: Keipawh le.