Many people from Mizoram, especially those in the art field know her name. Amoii. The famous artist.
She had rubbed shoulders with the likes of legendary Mizo artists like Pu Tlang Rokhuma and Bishop Stephen Rotluanga while managing her own popular Studio "Art Novelty Gallery". She had won numerous prestigious awards and conducted many successful exhibitions.
The PMO official Twitter account even tweeted this last month:
She is a prodigy as she has acquired all her drawing and painting skills by herself and not from any fancy art schools or institutes, spending most of her free time since she was a kid sketching and painting as she grew up. Her paintings sell from around ₹ 5000 to ₹ 50,000/- And yes, as I have mentioned in the beginning, she is quite a celebrity and everybody adores her paintings.
But what people don't know is that, her first published work was actually supposed to be a comic book with me!
Lolz. Just kidding. But here's a funny story.
Back in the late 90's when I was still in school, I used to write short stories in my free time while the guys of my age back then were busy chasing skirts and partying. I was this complete nerd slash geek slash loser that no girls wanted to hang out with (which still hasn't changed much today). I did have a crush on one of my neighbours, though I was too shy to talk to her. Let's just call her "F". :)
"F" is Amoii's younger sister.
Of course "F" was way above my league, she had all the cool older guys in leather pants and "Defendor" jackets coming over to her house all the time, including people who are now currently IAS officers :P
Sadly, I never stood any chance. But Amoii understood my plight and played the role of a gracious neighbour and concerned sister so as not to make me feel bad, and we eventually got to talking about my short story collection. She loved my scripts and she wanted to draw the art and turn it into a comic book!
I had never been that excited. We met a couple of times to discuss our comic collaboration, talking about the plot, the hero, the setting etc., but eventually, my summer vacation was over and I had to head back to my boarding school back in Tamil Nadu.
That was an unforgettable Summer of '99.
Here is an old photo of Amoii waving at me from her balcony, lolz.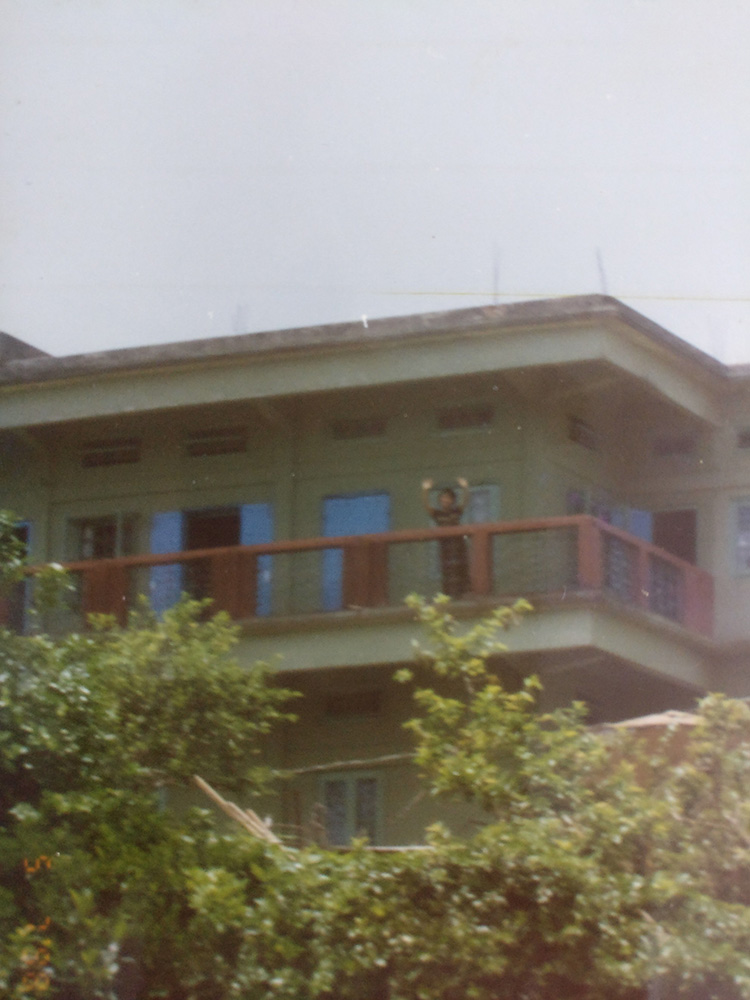 I called her up from our landline that day and told her I'll be standing on my terrace and then I ran upstairs panting and took a photo of her as she came outside and waved at me. Oh those difficult times, lolz. That was her old house above where she and "F" used to stay, before it was demolished to make way for our Chaltlang South Presbyterian Church.
Soon, both "F" and Amoii got married and we never got to talk about our comic venture again. She too had been extremely busy, pursuing her self-taught art and craft career (oh did I not mention she excels extremely well in crafting as well). And so during my recent vacation back home, I made it a point to visit her to catch up on old times and check out her work.
Like I have mentioned in earlier blog posts, one of my favorite WhatsApp groups is our Mizo Bloggers group, and a few of the members like Bazik and Didini had mentioned Amoii's works on numerous occasions. I had to see her masterpieces in real life too.
And so on Jan 3rd this year, I visited her Studio.
Just to be clear, her Studio was a mess. But not shabby mess mess, more like Creative mess mess. What needed to be showcased were all neatly framed on the walls with the perfect lighting falling on them, while paints, tubes, palettes, canvases and papers were strewn all across the floor. My kinda mess!
Here is a brief glimpse of her studio that day.
The paintings you see above are not just by her but her peers, friends and students as well. They all looked so awesome.
I was surprised to find my dear friend Mazami in one of her portraits!
What a befitting depiction indeed. This acrylic on canvas has been aptly entitled "Think out of the Box". Notice Mazam's breast? She's a breast cancer survivor and one of the bravest women I know of. She has inspired a whole lot of other cancer patients and is indeed a shining beacon for those in despair.
I really love how Amoii had set up the whole lighting and false ceiling inside her Studio as well.
That day, Amoii was currently working on a painting that Matea and Parteii had ordered for their living room. It saddens me and Amoii so much to know that our friend Matea is no longer around to see the completed work. He would have loved it so much, Amoii had given extra care and effort to the painting and included all the elements they wanted in it.
Here is she working on that painting for Matea and Parteii.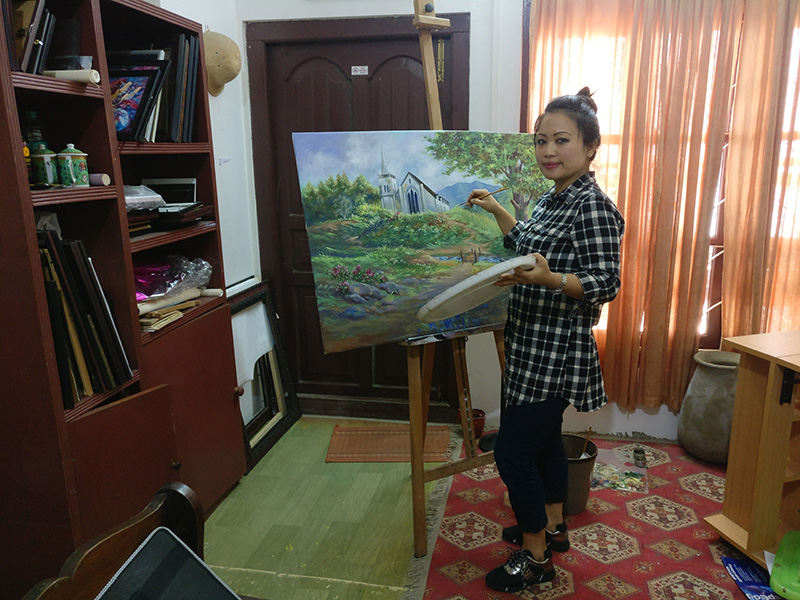 I actually asked her to just pose and fake it as if she's currently painting, but she got right into it, mixing different paints on her palette and stroked the canvas with her brush that she explained to me as, "giving brighter shading to the meadows". It was super impressive just watching her work. That, my friends, is how genuine artists operate. They don't just fake things.
Here are a few more of her superb collection, some sold and some still available…
"Story of the Warriors", sold to Dr. Lalrinawmi of UK.
"Endless Love", Acrylic on canvas, collected by Minister Lal Thanzara.
Acrylic on Wood painting, a commission work.
"Dream of Flying", Acrylic on canvas, 2015.
"Emancipation", Acrylic on canvas.
"Shackled", Acrylic on canvas.
"Source of Life", sold to a customer.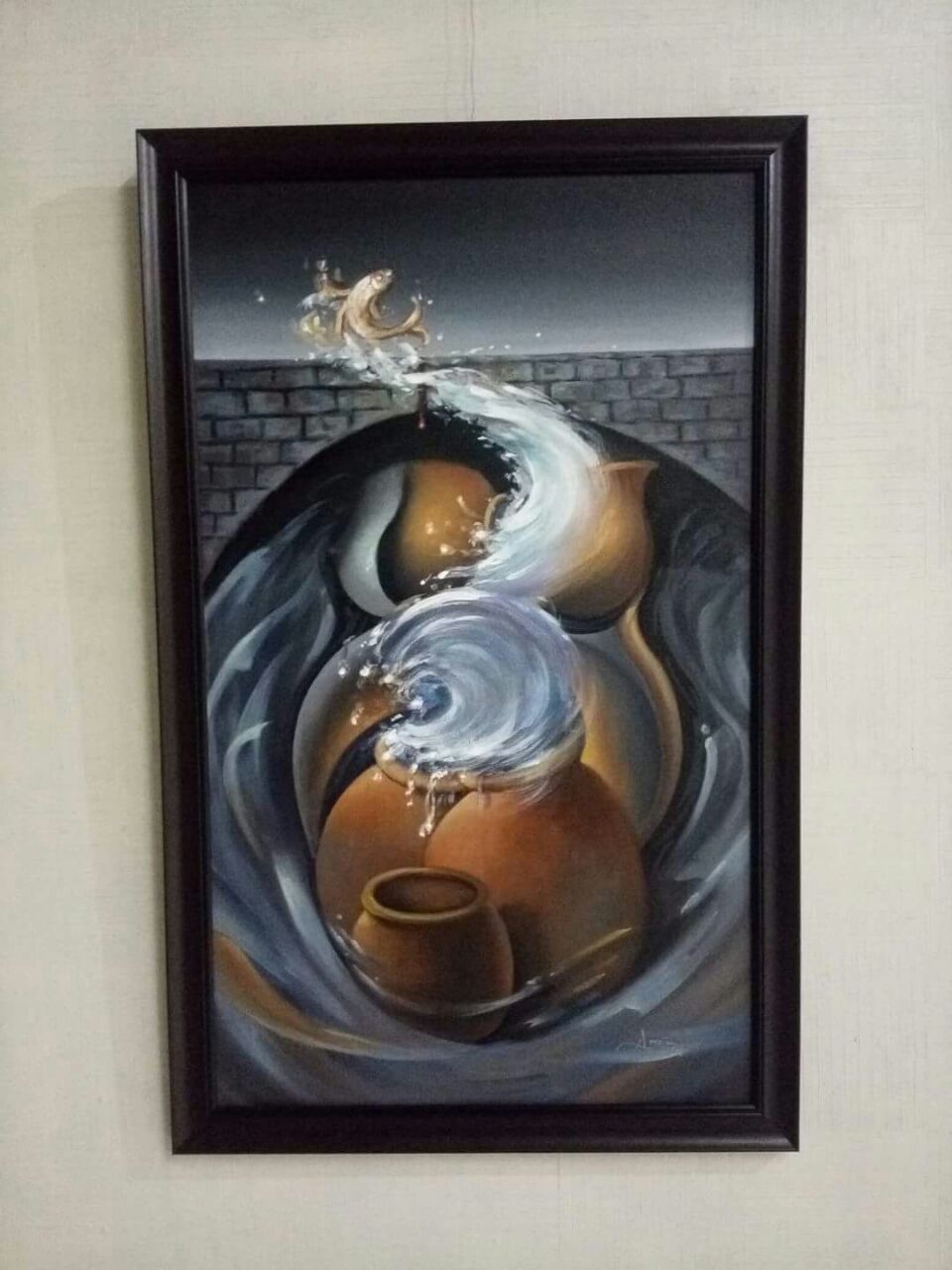 Apart from just churning out great masterpieces, Amoii also conducts seminars and classes at her Studio, and exhibitions are also held there at regular intervals. Her exhibitions are usually contemporary with a touch of Mizo tradition.
Recently, she had organized "Aizawl Art Festival" for the first time in Mizoram and it was a big success. Young and professional artists attended, including many other artists from other North Eastern states as well. They also had a seminar and life study, which the young artists greatly benefited from.
Apart from all these painting, crafting, teaching and organizing exhibitions, Amoii is also an active proponent of feminism in our Mizo society, working for the upliftment and empowerment of Mizo women. Here is one such snippet of her art performance.
Man you can't be more multi-talented and multi-functional than that. Her husband is also the owner of "Soltee" restaurant which I have mentioned in my previous foodie post, so their family has covered everything from fine art to fine dine!
For those of you in Aizawl who wishes to visit her Studio, the address is: Art Novelty Gallery, Chaltlang, Venglai. From Dawrkawn, go towards Chaltlang field / Tourist Lodge. Don't take the road going up to Mount Carmel school or the road going down to Salvation Army church. After you pass those two forks, just before the first left curve, her house is situated right there on the left side of the road.
Go up that long flight of stairs and at the top is where her most beautiful Studio lies (if you go a bit further down the road, the first house on the right is where the most beautiful man lives :P )
You can also contact her at +91 9436150488 for any enquiry on her paintings or if you would like to order or purchase any painting.
I hope to see more wonderful work of art from Amoii and here's me wishing her a big success in her future endeavours.
Until then, cheers everyone.