My good friend
Marzie
does her "Monday Music" posts every Monday, where people take part and share their favorite songs. It's a way of facing the Monday blues, collectively.
Well, this week being an extreeeeemly stressful week, I think I will share a couple of my favorite songs today so as to mark the end of this hectic week and relax to the soothing music for the weekend. Next week, expect a lot of serious, hard hitting, controversial articles that will touch the core of socio-ethnic issues right up to racism and religion. Until then my friends, let us relax for a while.
[Ps.
Mizo Blog Directory
has been updated. Those who haven't registered yet, please do so. Also check out the
Mizo Tweeter Directory
managed by CodeAries.]
You like this mascot?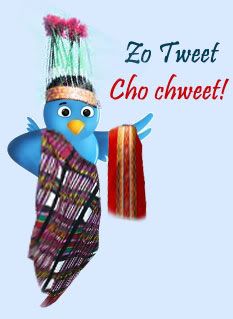 Now back to the post…
Friday Music Leisure :
First up is a band that I generally don't like because they're a Melodic Black Metal band. I love Symphonic Gothic Metal, which is
way
different from MBM. But this band changed their style completely for their latest album, which is more acoustic & symphonic in nature.
Yup, I'm talking about the Swiss band Eluveitie. This album comes under "Folk Metal" genre, but some may argue that it is more of Acoustic Folk. Whatever, it is AMAZING. Here is the song "Omnos" from the album "Evocation I - The Arcane Dominion".
DON'T SKIP IT! I know many of you may not like my taste, but this song is different. I swear! It's not "noise" (as one of my dear visitors bluntly admitted!). Just listen to the sweet symphony for a few minutes and I'm sure you'll like it too.
Aluveitie - Omnos
The lyrics are in Gaelic, an ancient language of the Celts. Eluveitie means "I am the Helvetian". The first stanza and chorus goes like this:

Eluveitie Forum: Lyrics of Omnos.

Immi daga uimpi geneta,
lana beððos et' iouintutos.
Blatus ceti, cantla carami.
Aia gnata uimpi iouinca,
pid in cete tu toue suoine,
pid uregisi peli doniobi?
Aia gnata uimpi iouinca,
pid in cete tu toue suoine

Aia mape coime, adrete!
In blatugabagli uorete,
cante snon celiIui in cete!

Vrit- me lindos dubnon -piseti
Vrit- me lindos dubnon -piseti [x2]
The translation is about a young innocent girl and a big bad wolf walking together in a dark forest all alone. The girl falls in love with the wolf but he takes advantage of her and defiles her, roughly snatching away her virtue & innocence, shaming her for eternity. She begs him to stay with her after that, but he walks away, now that he's done with her. The little girl then cries, "I was a fair and pretty girl. Now I'm poor and overcome with shame. Now only the deep pond awaits me."
Dark, melancholic and extremely poignant. It's like Little Red Riding Hood meets Josef Fritzl. But then, aren't most folklores like this, especially the Nordic ones? This song is quite metaphorical too, applying perfectly in today's era. Look around you. I'm sure you'll know at least a woman or two who have faced such a situation before…
------------------------------------------
Second song for Friday: You see that beautiful angel blinking at the top-right corner of my blog, over my big big ugly head? Yeah, that girl is Ailyn, Sirenia's latest vocalist. I am soooo in love with her. Have even mentioned about her a couple of times on my blog too. Their latest album "The 13th Floor" was released a few months ago, and as of now, there are two music videos already produced. Here is one of them, entitled "The Path to Decay".
Sirenia – The Path to Decay
Oh mannnn… so in love am I. Ailynnnnn, will you marry me please???? I mean, it's not just her face… it's her freaking voice. Somewhere deep inside, her angelic voice has struck a deep chord with my soul, bonding the two together for eternity. Ahhhhh…
------------------------------------------
Third on my list is a new Polish band that spewed out a lot of debate in the Metal world regarding if it is symphonic goth or alternative goth. Frankly speaking, I think it is alternative metal because the vocalist pales in comparison to the other symphonic gothic babes out there… her vocals are too plain and… simple. There is none of those sudden changes of pitch, style and emotions etc so common among other bands.
Nevertheless, it is a good song. Frontman Mauser is the ex-guitarist of popular Death Metal band
Vader
and vocalist Aya (Anna Stefanowicz) is hot. Here is their music video of the song "whisper".
UnSun - Whisper
I think you'll know what I mean by "being too plain and simple to be SGM" if you listen to this song.
------------------------------------------
The last song for Friday Music Leisure is more of a Friday-based theme song – Industrial Metal! I love Industrial Metal because it is something you can actually party & dance to, sans the head banging (not that I'm saying I don't like to head-bang).
Here is the song "Follow Me" by PAIN (not to be confused with the American Punk/Pop Rock band of the same name). This song features Nightwish's new vocalist Anette Olzon. Readers of my blog may be familiar with my post:
The Women in my Life
where two of Nightwish's new music videos "Amaranth" and "Bye bye Beautiful" are featured. Olzon may or may not be better than Tarja Turunen, but this song with PAIN is a masterpiece, and an apt song for a Friday night.
Pain featuring Anette Olzon – Follow Me
Olzon looks kinda old in this video, doesn't she?
------------------------------------------
With that I covered four of my current favorite songs, across four different genres – Folk Metal, Symphonic Gothic Metal, Alternative Metal, and Industrial Metal. I hope you like them too, although I'm not expecting much response for this post… Still, I do hope you spare some time to listen to them. I would really appreciate that.
Here's to Metal. Cheers!