So just like the last World Cup where the team I was madly rooting for made it to the Finals, this World Cup too, the team I've been cheering for made it to the Finals! Yippeeeee!
The only difference is, unlike the last World Cup final, this time, my team is going to win the cup. Ohhh Yeahhhhh…
What makes this World Cup final awesome is that it is a repeat of the 1990 World Cup, where Argentina and West Germany met in the finals. It was a match featuring legends such as Maradona, Klinsmann and Lothar Matthäus.
It was the first World Cup I remember watching on TV, even though people who owned TVs in Mizoram back then weren't that many... and I can't recollect which channel - was it Doordarshan or Bangladesh channel or one of those "khawchhak" South East Asian channels that we could get by simply adjusting our TV antennae, a task that could be performed only by a "highly specialized" antenna twister, a stud who was admired by all the damsels around him [Do read later: History of Studs in Mizo Society from 80's onwards]
West Germany went on to beat Argentina in the 1990 finals. The two teams had also met earlier in the 1986 Finals too, where Argentina won. The reason why I remember the 1990 World Cup so well is because my all-time favorite World Cup anthem TO THIS DAY is from that Italia '90 World Cup. Ladies and Gentlemen, for nostalgia and old time's sake, I give you – "To Be Number One by Giorgio Moroder Project. [embedding had been disabled :( or you can watch the live performance below from another source]
This is a song that most Mizos remember till today, a song that has inspired people across different sports. There's a rumor that the reason why they included the lyrics "Playing hard, but always playing fair" in the chorus was because of Maradona's infamous "Hand of God" in the previous 1986 World Cup, lolz.
Seriously, this is the bestest World Cup anthem ever. Screw those waka waka and ole ola nonsense by Pitbull and Co. That is why I will be playing this song nonstop before the Finals tonight. Wooohoooo comonnn Germanyyyyy!!!! Comonnn Arsenal :D
So, for the last match of this World Cup 2014, who are you supporting?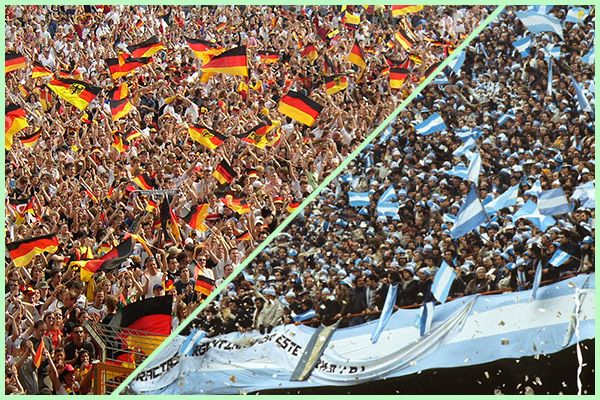 It is going to be an awesome match, with the brilliant Germans admired for their display of team-work so far, and with Messi vowing to avenge the 1990 Finals defeat. But I don't think that will be possible because back in 1990, Argentina was playing only against West Germany. This time they will be playing against West + East + North + South Germany. Bwahaha lame joke is lame! :P
And if you're an Argentina fan, get ready to play that song "Don't cry for me Argentina" once the match is over. Bwahahaha…
But seriously, Argentina is going to give it their all, so one can't really say who's going to win. First of all, it is almost like a home match for the Brazilian neighbors. Secondly, apart from trying to avenge their 1990 Finals defeat, most of the players in the current squad want to avenge their embarrassing 4-0 defeat to the Germans in the previous World Cup. So yeah, this is one pumped up Finals.