The past three days we were in Gurgaon for a couple of business meetings. The meetings really went well, and we celebrated every night :P
Back when I was in Delhi, I used to visit Gurgaon occasionally and that too just for the parties and then head back to Delhi. I've never actually stayed there, and man, it was actually very beautiful!
We stayed in this really awesome apartment with a breathtaking view overlooking the Golf course. 27th floor. Yup, we were definitely high all the time :P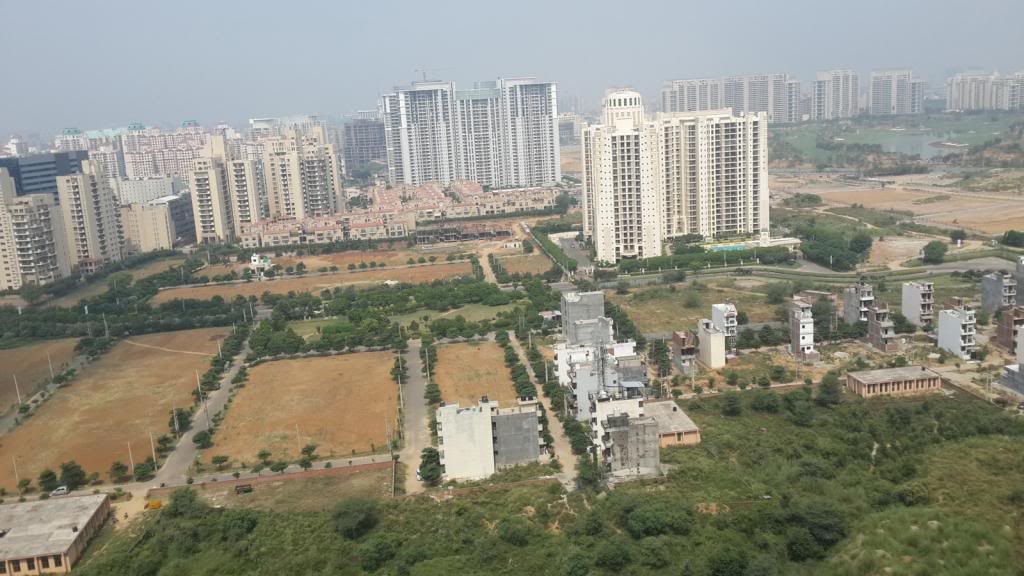 And yup, the centralized AC apartment came with a lot of high-tech gizmos like one of those luxurious rain waterfall showers, a well stocked mini bar, and a full body massager chair.
Many of the office buildings had quite unorthodox structures too, which I guess, gave Gurgaon its own distinct identity.
And of course our day wouldn't be complete without smiling at the typos :D
And no matter how advanced the city seemed and how posh and up-market the buildings and societies we went to were, none of the high-rises had a 13th floor!
Triskaidekaphobia too much? But then again, who am I to compare superstitions because most buildings here in Mumbai including the Bombay Stock Exchange don't have a 13th floor either.
Fashion makeover
So after two days and three nights of endless meetings and discussions in Gurgaon, we were finally all set to fly back to Mumbai. I decided to make use of my remaining time and so I finally got to meet my good blog friend Suzz in person.
She blogs at Mawipui Loves. She is currently a NIFT student, blogs mainly about fashion, has an opinionated insights about almost anything ranging from culture and society to politics and religion, and she's just 19! She is fiery and feisty, a hardcore foodie and a devoted Christian.
We met up at DLF Promenade and after an hour of window shopping, we had lunch at L'Opera.
Quite an expensive place, but it's definitely one of the best bakery/pastry shops I've ever been to here in India. And having to spend some time there with the immaculate Suzz was totally worth it :) Although I must put a disclaimer here that she currently has a boyfriend :P
Here is she posing with her favorite Macaroons - pistachio and raspberry flavored. Heavenly taste indeed.
Some of the other awesome food that we had. Definitely a 5/5 stars rating for everything we ordered.
After lunch, we talked about fashion. I told her I don't know much about fashion and style, and she looked at me from my feet to my head and solemnly said, "I can tell". :P
She said my sense of fashion is soooo August 2013, that I must keep myself continuously updated. Just kidding :P She didn't say such stuff, but yeah her passion in fashion is obvious if you visit her blog.
I told her I wanted to buy new shoes and she was more than eager to take me shopping to select for me. All my life, I have always bought shoes from Bata, Adidas, Nike, Reebok, Puma etc. These were the brands I knew and was comfortable with. And I can't tell the difference between good and bad shoes.
I have also never set foot inside brand outlets such as Zara, Aldo, Bluefly, Marks & Spencers, S.Oliver etc. to buy shoes, and that's exactly where Suzz took me! Such a new experience for me. She made me try on various shoes and loved a lot of them.
"You're not only the Co-Founder of your own gaming company, you're also still a bachelor. Never forget that. You need to improve your fashion taste and level up your league if you want to stay in the game", she wisely told me! :) Oh she is indeed a gem.
Finally, we decided upon these two shoes from Zara. Not bad aye? My first two non-Sporting franchise branded casual shoes! :)
We hung out for some more time after that, took a few more selfies together to remember the moment and finally she left as she had to attend the Mizo Church service held at Green Park.
I went back to pack and we left for the airport at 6 pm.
It was indeed a very memorable trip to Gurgaon, having such a kickass successful meeting regarding business, and also finally having to meet an online friend in real life. Cheers.
Next upcoming post: The most coincidental coincidence of all coincidences!
You don't wanna miss that! :) :)