Tubby is a stainless steel four-compartment round plate with a kickass attitude of never judging you based on what you eat. She is currently the love of my life... my super bae :)
Tubby is 100% food grade stainless steel, BPA free, toxin free and dishwasher safe with a dimension of 15 cm radius and 3.5 cm height. She weighs a modest 120 gm, though she doesn't want people reminding her about that.
We first met online at Amazon and fell in love immediately. I was hesitant a bit at first because I've never done this whole online dating thing, but the day she came into my possession, it was the most memorable moment for me. Total bliss. She filled the emptiness that was in my heart and stomach.
On a serious note, I really do love Tubby because she reminds me of my school and college hostel days. Those days when we used to eat food on such a plate with different compartments, giving it this whole "Mess" vibe and feeling. And trust me, it is so convenient when you have different gravies you don't want mixing together.
The reason why I bought my own plate is this - I work at an awesome organization that has an office space at a truly modern Corporate center called "Sky One". As you can see from the photo above, our office is diagonally opposite Westin, KP. If you're a Punekar, you would have probably seen our office if you had crossed the Koregaon Park - Kalyani Nagar bridge, it's a tall 17 floors 1,85,000 Sqft building with complete tinted glasses. Hard to miss.
We share this Corporate center with a couple of other companies like TVS, Peugeot, Aviva, Exusia, etc occupying various other floors. There are two common cafeterias that serve breakfast, lunch and evening snacks for all employees, and the menu offered by the caterers is really good. The only problem I have with it is, it is 100% veg.
As a hardcore non-vegetarian, I decided to order lunch every day from Zomato and eat them at our office's Pantry room instead. And that is why I bought my own personal plate for office, thus kickstarting the adventures of Tubby :D
To keep each post short, I will be updating this section in a TV show-esque style, dividing each "season" into "episodes". There will be 10 episodes per season so as not to bore you all. So here is my first season of the Adventures of Tubby.
For the pilot episode, I give you Masala Punjab Da. I order from this place regularly because it is quite cheap. Most of the stuff I order from here are Thali combos that come in compartmentalized disposable boxes, hence Tubby is not required. But on those few occasions I want to eat individual dishes, Tubby comes to the rescue. Above is their Chicken Hyderabadi Biryani (₹190) with Boiled eggs (₹40) and fried Papad (₹25). Goes very well with my fermented Bamboo shoot pickle. Every order from this restaurant comes with two complimentary Gulab jamuns as I am a "Zomato Treats" member.
Next up is Café Hormuz. This has been my favorite restaurant lately. I really love this place because they serve the most awesome authentic Parsi cuisines that I know of, and the best part is, their quantity is small but cheap, which means I can order a variety of different dishes without spending much. If I order Dal tadka from other restaurants, it usually costs around ₹120-170 and the quantity is for two people, but from this restaurant, the quantity is enough for just one person and costs ₹80.
I will post the Parsi dishes I've ordered from this restaurant in the next season. Above is their Puri Bhaji (₹60) and Chole + 2 Bhature (₹60) with Kheema Ghotala (₹75) and Lemon Mint Iced Tea (₹35). For the uninitiated, Kheema Ghotala is a popular Parsi dish comprising of Kheema (minced meat) mixed with tomatoes and eggs. Pure yummm.
Another favorite joint of mine - Grab A Bowl. I was ordering so regularly from it at one point that the founder actually called me up one day when I didn't order for a couple of days, to enquire if I was well or not :D All their combos come in neat disposable boxes, and my favorite is their "Bengali Fish Thali" (which is not on their Zomato menu anymore but the owner makes it specially for me if I call him up). Above is their Pork Coorgi Curry (₹305) with Add on Rice option. They also have Pork Vindaloo and Pork Kerala Roast. Every order comes with a complimentary Walnut Brownie and Hot Chocolate Sauce.
95 Pasta n Pizza is a good place for fast-food. I haven't been to this place but I am picturing it to be a side stall popular among college kids because they also serve different varieties of Maggi meals. Above is their Chicken Baked Alfredo Pasta (₹270) and Double Egg Roll (₹70). I love pastas but I usually don't order them through Zomato because they get cold pretty fast. The best Pastas are the ones you eat in a restaurant straight from the oven with the cheese still melting. Yummm.
One of the reasons I really love about Aundh is the presence of this restaurant called "Chennai Menu". Unfortunately, they don't deliver to KP and Kalyani Nagar. But South India Co. isn't that bad. Above is their Butter Masala Dosa (₹80), Tawa Wada (₹60) and Ghee Mini Podi Idly (₹70). They go sooo well with my fermented Bamboo shoot pickle and Raja Mirchi pickle.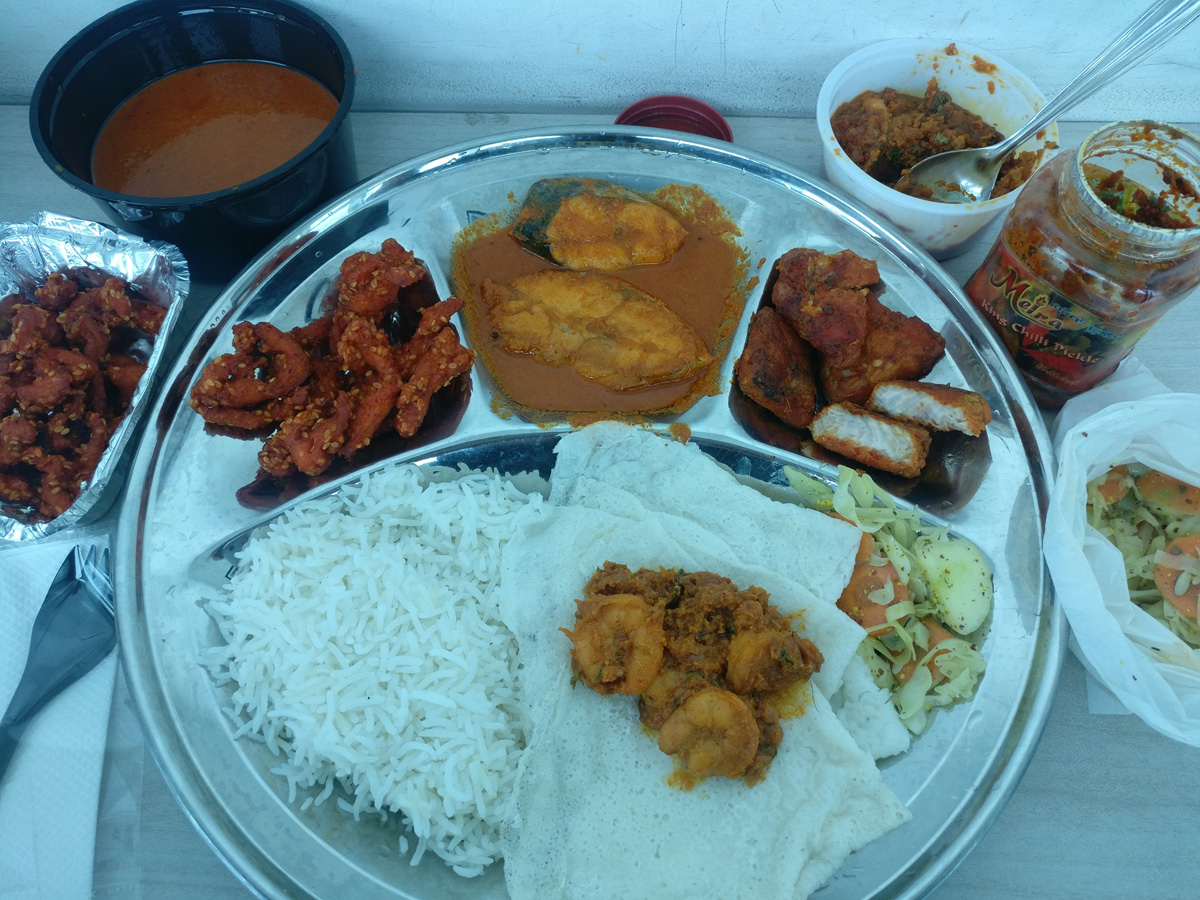 On days I feel like splurging a bit of cash, I order from Arctic. One of the best restaurants in Kalyani Nagar for sea food. Above is their Surmai Combo which comes at a steep cost of ₹500 (plus taxes). This combo consists of Surmai curry, Prawns sukha, pan fried Basa, sesame Chicken, rice, salad, and an option of 2 Neer Dosas or Rotis. I also ordered extra Neer Dosas at ₹15 each. Neer Dosa is more of an Udipi – Mangalorean cuisine, quite different from the Dosas of Tamil Nadu and more similar in taste to the Appams of Kerala. You also get a complimentary Walnut Brownie.
Food Fuel is another awesome place to order from. I used to order so regularly from it that the owner Moheet Samtani even added me as a friend on Facebook :D The quantity of one combo dish is a bit less, so I usually order from here when I am not too hungry, otherwise I need to order two combo dishes. Above is their Palak Puri with Aloo Bhaji Box (₹159) with Kheema Roti Box (₹150). Very filling. Their complimentary dessert for Zomata Treats members is a "Flavoured Cashew Candies" which I find so weird to taste. Other than that, I really love their menu, especially their Aloo Bhaji. It has that proper home-made flavor and aroma.
Now I don't always eat fattening food, sometimes when I feel like I've gained some weight, I go for healthy food. Salad Grills is my go to place for that. The fact that they have an almost perfect user rating of 5/5 proves that they're the best when it comes to health food. Above is their Italian Chicken Salad + Chilli-Guava Ice Tea + Cheese Garlic Bread [2 Pieces] Combo which costs ₹295 and a Classic Fruit Delight (₹95). The creamy Italian dressing is super yum and fermented bamboo shoot pickle goes very well with is as it is also a bit sour and spicy. Lost 5 kgs after eating this :P
Now back to Junk food :P I love The Bohemian Kitchen, except that it is a bit expensive. I order from this restaurant only when I've accomplished some tasks and I feel like rewarding myself. The Bacon with Cheese Fries you see above is costs a whopping ₹286 which is more than double the cost of the Regular-sized Spicy Chicken Classic Burger which costs ₹136. But man it was soooo good. Gained 5 kgs after eating this :P
I'll end this post with food from Masala Punjab Da again. Dal Khichadi (₹105), Egg Bhurji (₹60), Veg Crispy (₹135) and Fried Papad (₹25) are enough to fill me up and put a smile across my face. And this was the day I took Pork Raja Mirchi pickle to work. A simple yet delicious meal, especially for that "end of the month" time when you're running low on cash :D
So that was Season 1 of the adventures of Tubby. Be sure to tune in next season when this show returns. Tubby loveeee.