So many things to write about, but being a World Cup season, I guess I can put those off for later. Like for instance, yesterday was a Nationwide curfew, with the opposition parties
forcing
asking people not to step outside.
Schools, colleges and offices were all closed, with the entire transportation division shut down here in Mumbai. Vehicles and shops were vandalized. One of my colleagues Sanket who was on his way to office had his bike tyres deflated by an angry mob after they forcefully stopped him on the road. Fortunately, that was the only thing that happened to him and they didn't beat him or thrash his bike (further).
I could write about the hardship the common man (aam aadmi) faced and the debates on news channels between various political parties. Or I could write about how I spent the entire day staying at home, cooking and watching the entire season 2 of Castle, season 1 of White Collar and the complete limited series of "The Pacific". Ah, what a series marathon and relaxing "holiday" it was.
But being a World Cup season as mentioned before, with the whole once-in-four-years exclusivity,
and
with my team the Dutch progressing to the semi-finals after beating Brazil 2-1, I can't help but write about how much closer I am to seeing my team finally win the coveted title.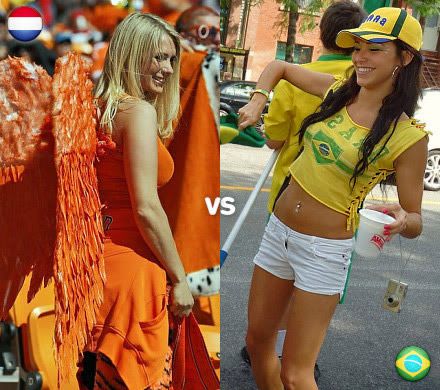 [A moment in history. Ned 2 – Bra 1. Pic source:
WorldCupGirls
]
For 4 World Cups I have been supporting the Netherlands now. They have been rightfully called the BEST TEAM to have never won a World Cup. This time, I hope that designation will never be upon them again.
I was too young to know about the legendary Cryuff, but I was a fan of Van Basten and Ruud Gullit (not much TV access those days but I still remember reading about the Dutch '90 World Cup disaster, losing to W.Germany). They were the first two footballers whose posters I had, while the rest of my friends were adorning Maradona posters on their bedroom wall. And of course there were the two Arsenal legends Overmars and Bergkamp, one of the main reasons why I started supporting Arsenal, and have been a hardcore Gooner for more than 10 years now because of that. I really miss those "
Bergkamp is God
" days, much before anybody knew who Henry was.
Not to miss out the others like Kluivert, Seedorf, Cocu, Davids, Koeman, de Boer, Nistelrooy, Hasselbank, Van der Sar, RVP, Sneijder, Robben, Kuyt, Huntelaar, Babel, de Jong, Heitinga etc. And of course the captain Van Bronckhorst - another ex-gunner. I can bet my arse he's one of the oldest players in the current Holland World Cup squad, or at least the most capped. He was there in the '98 World Cup squad too along with uncle Van der Sar

Tonight, Netherlands will be clashing with Uruguay. A team not to be taken lightly. Suarez may be out with a red card, but Forlan is still there. Gawddd I used to hate him so much during his ManUtd days. Now that there are no Manure players in this current 2010 Netherlands World Cup squad, supporting the team is even sweeter

The winner of tonight's match will meet the winner of Germany and Spain in the Finals. Uruguay definitely has a better history when it comes to the World Cup, winning the coveted title twice while Netherlands is nil. But then, didn't people say the same thing with Brazil too who had won five times before? And what was the result again?

History is not meant to be relived, but to be written. And that's what the Dutch intend to do tonight.
The other side of the table, I hope Spain beats Germany. Because Spain looks like an easier opponent for Netherlands. Lolz. The Germans look scary right now, especially after thrashing Argentina 4-0 with flawless counterattack (something that will forever be mentioned again and again and again in the future whenever people talk about the World Cup).
But let's leave that aside for now. Tonight, once again I will be screaming from the top of my lungs –
HUP HOLLAND HUP
. And maybe occasionally exchange tweets with
ladyarse
, who is the only Arsenal columnist that I follow on Twitter who supports Netherlands too. It would be a dream come true to see the Oranje win this World Cup.
Plus it would be a sweet oh so sweet victory in office, as my colleagues and bosses brushed aside the Netherlands team as a mere "Underdog" team!!! Underwhaaaaa? We shall see, my dear
Girija
,
Sukruta
,
Jonathan
,
Prakhar
,
Preeth
,
Meghana
and
Tarana
.

NOTE: Currently there is a bug in blogger.com. Your comment will appear briefly, but once you refresh the page, it will disappear. I am sure blogger.com people are looking into this issue right now.

NOTE 2: Problem solved!