LoLz. I know I haven't updated my blog at all due to hardcore campaigning on a couple of new brands for the past one month. Anyway, I was just digging through my drive and saw this old post of mine which I didn't post eventually.
It's an ode to Old Monk. lolz. Yeah, there was no supply of Old Monk rum in Mumbai some time ago. None of the wine shops had it, and the only place where one could get this rum was at expensive pubs and restobars.
But soon after I wrote this post, Old Monk was back in full swing in the market, so there was no point posting it. But then, I did spend a lot of time writing this post, and since there had been no post for quite some time, let me just post this just for the sake of posting. lolz. Cheers.
And hope you guys can appreciate the humor (if you do find it), and not judge me

--------------------------------------------------------------
Old Monk, Old Monk, where art thou?
There's no longer happiness in my soul. Ever since my best friend, Mr. Old Monk
died
, my life had become an endless journey of self pity and depression.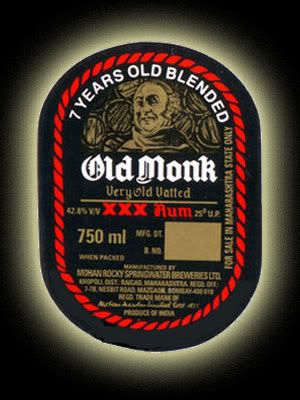 Nearly a month has gone by, and Old Monk Rum is still extremely scarce here in Mumbai. Gone are the days when every wine shop used to stack them up neatly on their shelves, glimmering proudly from above, as if they are shouting out to you, "Pick meee, pick meeeeee! Forget that snobbish Sula wine above, or that flaky bottle of vodka, or the snooty whisky bottle below. I am here for you, and only you. I am even ready to take a bullet for you!!!"
Old Monk. My teacher. My companion. My blood brother. They said you're leaving me… Quo vadis?
One bar owner told me you were stopped because you're undergoing a "renovation" of some sort and that you will be back in the market soon with a new branding, new logo + symbol, new content, and new MRP.
Oh no!
So that means no more "7 years old aged rum"? No more seeing that fat baldy old man in the logo who had been an inspiration to me in my deepest darkest hours? I don't care about the MRP because the cost defers from place to place. Old Monk full bottle (750ml) costs around 130 bucks in Bangalore, 240 in Mumbai and around 220 in Delhi. And of course less than 100 bucks in Daman & Diu and Goa, while it is 700+ bucks in Mizoram (ze black markets… that's what my friends tell me

).
But why deprive us of this drink?
I know, Old Monk isn't exactly the type of drink that sells like hot cake at a posh restobar. Or the type that can get you laid if you think your drink can impress a woman and suddenly make her feel…
Paris Hiltony
. It's all in the drink, buddy.
But Old Monk has been there for me through thick and thin. Hence, this is a post dedicated to you, Old Monk my friend. For being there when I needed to clear my head and write a blog post, or for getting me kicked out of B-School. Lolz.
Here you go, Old Monk. Some favorite goodbye songs of mine. with their lyrics altered, specially for you. A parody.
Sing to the tune of "
Leaving on a Jet Plane
" by John Denver.
All my mugs are cracked
I'm ready to die
I'm standing here outside the bar
I hate to go home without any drink
But the dawn is breaking
Its early morn
My bro is waiting
He's watching some porn
Already I'm so sober
I could die
So binge me and pour for me
Tell me that you'll fill me up
Fill me like I've never drank before
Cause I'm leaving on a jet plane
Don't know when you'll be back again
Old Monk, I hate to go…
Sing to the tune of "
Wake me up when September Ends
" by Greenday.
Some gurl has come and passed
passed out on my bedroom floor
Wake me up when this dry drought ends
Did you know that Old Monk's stopped
seven weeks has gone so slow
Wake me up when this nightmare ends
Here comes the waiter again
offering me vodka
Drenched in draught beer again
wishing that it was rum
As my memory dies
but never forgets what I drank
Wake me up when Old Monk is back.
Sing to the tune of "
Goodbye To Romance
" by Ozzy Osbourne.
A dry day has been and gone
Tomorrow will I find Old Monk
or will it pain?
Everybody's having rum
Except me, I'm the lonely one
There's no Old Monk.
I say goodbye to Old Monk, yeah
Goodbye to friends, I dare you
Goodbye to all the booze
I guess that we'll binge
We'll binge in the end
Sing to the tune of "
Goodbye
" by Air Supply.
I can see the veins popping in your eyes
And I know how hard you drink
You deserve to have one more shot.
I can smell your burp and I sympathize
Cops doing breath analyze
Oh it'll never smell the same.
I don't wanna gulp you down
I don't wanna bottoms up
i don't wanna drink it all
Coz then you might vanish
You would never ask me why
My fart is so disguised
I just can't live so dry anymore
I would rather leave Mumbai
Than to ever change my brand
There's nothing left to drink but McDow.
--------------------------------------------------------------------
Cheers!

Related reading:
An ode to Vodka
.